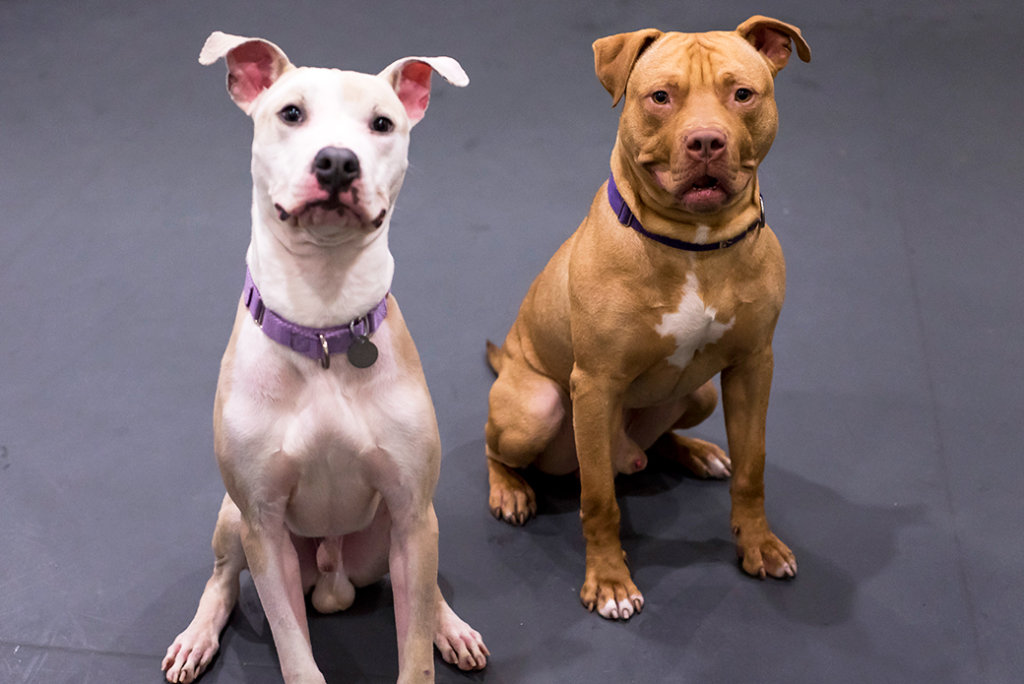 At the ASPCA Gloria Gurney Canine Annex for Recovery and Enrichment (CARE), which houses dogs seized by the NYPD as part of animal cruelty investigations, a two-year-old pit bull named Hercules acts as a helper pup to other dogs in need. Hercules is one of six helper dogs at the ASPCA.
A former cruelty victim, Hercules was severely underweight and covered with multiple ulcers and wounds when he arrived at the ASPCA in March. Named by staff for his fortitude, Hercules is a heroic guide for other dogs at the ASPCA who are fearful and severely under-socialized.
"Using a helper dog is often much more effective and efficient than if we try to bring a fearful dog out of its shell all by ourselves," says Victoria Wells, ASPCA Senior Manager of Behavior and Training. "It's a huge leap instead of a baby step when you can pair a fearful or under-socialized dog with one who is more outgoing."
Hercules has helped more than six dogs overcome their fear and poor social skills, while helping others build confidence and be less timid. Helper dogs like Hercules should be comfortable around other dogs, though not exuberant or overly rambunctious.
The extent of the helper animal's role depends largely on the behavior of the dog in need. "For a dog who is shut down or catatonic, we'll expose him to a neutral dog," says Victoria. "This allows the fearful dog to relax or engage in the company of a being that can better communicate with him than we can."
A helper dog may inspire another dog to walk around a room or down a hallway. "He may also coax a dog to go outdoors, which some are terrified of. But they'll go if they can follow a helper dog," says Victoria.
When a blind German Shepherd named Wiley arrived at the ASPCA, he was so fearful that he refused to move. The ASPCA Behavior team utilized a helper dog to guide Wiley out of his shell.
"We had to carry Wiley out of his kennel into the training room, and then back into his kennel," she remembers. "The only thing that piqued his interest was when he heard another dog bark. So we brought in a puppy and noticed that when the puppy approached Wiley and sniffed him, Wiley would respond. Soon Wiley started interacting with people, then walking and playing, and his behavior turned around completely."
Crimson, a six-year-old, blind shepherd mix rescued by NYPD officers, showed an interest in another dog's pups at CARE and was soon designated as a helper dog to assist with their socialization.
"Crimson was vaccinated and mellow—and the puppies weren't overpowering or too rambunctious," says Kris Lindsay, Technical Operations Manager. "They boosted Crimson's confidence and helped him navigate, and the pups benefitted because they needed to meet other dogs. It also gave their mother a break."
As our helper dogs go on to find loving homes, the results of their heroic efforts will be felt in the many animals whose lives they touched.