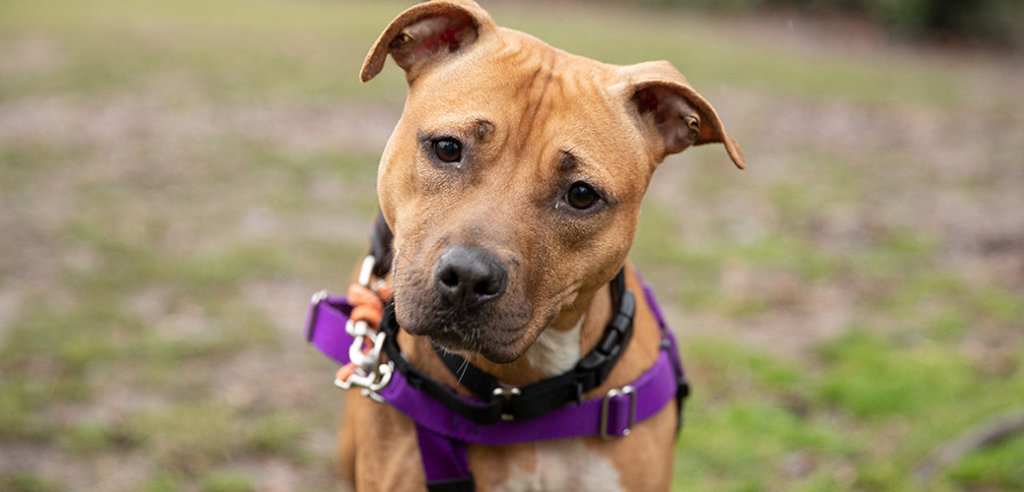 Second chances happen every day at the ASPCA—cruelty victims become beloved family pets, homeless animals settle into new digs, and so many are finally given the love they deserve. Rescue dogs are so much more than their pasts or their breed, and we are so fortunate to be able to make so many happy endings possible for deserving animals.
"Adoption is about gaining trust and loving them," says Byron M., a recent ASPCA adopter. "From my limited experience there are all different types of rescue animals, and they make very loyal and great pets. It's not so much about the breed as it is about personalities matching."
For Byron, the experience of adopting a rescued pit bull-mix has been rewarding to say the least. And for his gal Soba, her second chance was a once in a lifetime opportunity to meet her perfect family.
From Difficult Beginnings
Last October we met Soba, a dog who was truly ready to start over after being brought to the ASPCA alongside 27 other dogs in relation to suspected dogfighting. Following the rescue, we provided medical care and sheltering for the dogs, whose journeys had only just begun, while the criminal investigation continued.
Upon intake, Soba showed that she was a social, friendly gal, though she remained shy and fearful of new situations or experiences. For dogfighting victims and animals who come from suspected cruelty, this type of behavior isn't uncommon since their experience with the outside world may be limited. Though Soba had some fears to overcome, we never doubted that the right adopter would come along and show her that the real world isn't such a scary place, and that the love and care of a family could make all the difference.
Byron M. and his wife lost their dog of 12 years in early February. While grieving this loss, Byron felt that they didn't have the time to bring a new dog into their family given his work schedule. But then, the pandemic hit NYC, changing everything for millions of us. With he and his wife suddenly experiencing more time at home, Byron decided they should visit the ASPCA Adoption Center and find a new furry friend.
Byron tells us that he initially had his eye on another adoptable dog, but soon found himself charmed by Soba. "We decided on Soba because she was the most active and had a 'take me home face'," he explains. "She was the only dog not laying there watching people. She had her tail wagging when I walked by, and when we did the meet-and-greet she came and said hi to me and my wife—that's when I knew we would take her."
Byron and his wife officially adopted Soba in March, but their journey to becoming a family didn't stop there.
Adjusting to Life Outside of the Shelter
Though they knew initially that Soba would take some time to warm up, following her adoption, Byron soon discovered just how scary new things were to Soba. "When we went to leave, she did not like the sliding doors," Byron says. "That was my first clue she might have some life to experience."
And after going home with her new family, Soba began to experience lots of new things that life had to offer. Fortunately, Byron was by her side every step of the way to help her overcome her fears and gain her confidence in her new home.
"She was afraid of entering new buildings, apartments, elevators and cars, but little by little she trusted us and started to get rid of those fears," he tells us. "We used to live in an apartment on the 5th floor and we had to take the stairs until she got comfortable using the elevator, it took a little while but eventually she was fine to ride the elevator. Same case with the car—her first ride was awful. She shook the whole trip and couldn't relax, but now she can't wait for a car ride because she knows it is an adventure every time."
Byron and his wife worked with Soba every day, little by little, to help Soba blossom into the happy dog she is today. Byron also adds that as her fears started to leave her, Soba's confidence and trust in herself grew as well. She has traveled the East Coast with her pet parents, from Maine to Georgia, and also to Wisconsin and Oklahoma.
Loving Soba for Who She Is
Soba's life now is full of quality time with her pet parents, trips to the dog park, camping trips and adventures! Byron and his wife dote on her and feel lucky to have her as a part of their family.
"She's just enjoying life," Byron says. "We camp a lot and she enjoys to hike with us. We also recently moved to Jersey City and our neighborhood has a beautiful dog park."
Far from her beginnings, Soba proves that love, patience and understanding go a long way. Her second chance at the life she deserves is one that we hope to see for many more dogs like her.
"Soba is an awesome dog, We couldn't have asked for a better dog," Byron says. "Her transformation has been huge."