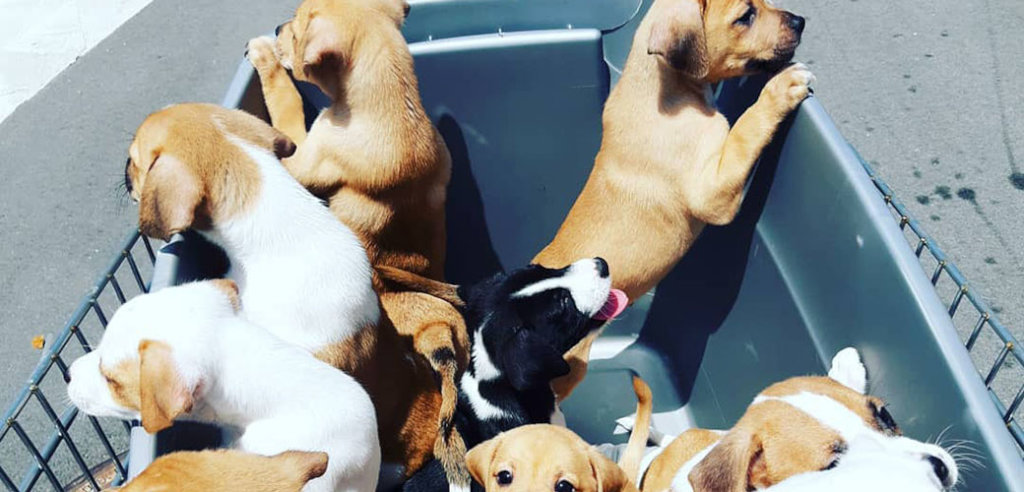 Leonard "Leo" Shelton of Liberty City, Florida, tried for weeks to round up a neighborhood stray dog.
"She would never come to me," Leo says of the large terrier mix he called Sheila. "She looked pregnant, tired and worn out. But I knew I had to find a way to bring her home and help her."
Leo, who moved from Philadelphia to Miami in 2004, lives just minutes from the ASPCA's new Community Veterinary Center (CVC) which opened last November in Liberty City. When he finally caught Sheila, Leo made appointment for an exam there on February 18.
Sheila was rescued by Leo just days before giving birth to 11 puppies.
Dr. Hyunmin Kim treated Sheila for fleas, confirmed her advanced pregnancy, supplied a leash and a collar and—most valuable to Leo—provided helpful advice about Sheila's impending delivery.
Early the next morning, Sheila delivered 11 healthy puppies in Leo's one-bedroom apartment. In just five hours, his family of canines—including his Lab mix named Buddy—went from two to 13.
Helping Leo and Sheila
A day after the pups were born, the ASPCA Community Engagement team, including Marlan Roberts, Manager, and Cassie Vazquez, Coordinator, visited Leo's home to check on Sheila and the pups and provide food for the nursing mother.
"Leo really wanted to do what's best for them," says Marlan. "Even through these challenging circumstances, he persevered."
The Miami team planned to give the pups their first set of shots on April 5—when they would be seven weeks old.
Because he doesn't have a car, Leo borrowed a shopping buggy and placed the pups in a tub that fit snugly into the cart. All 11—Apollo, Boss, EJ, Junior, Liberty, Mini-me, Nikita, Pebbles, Ringo, Saint Ben and Sweetie—were examined, weighed and vaccinated.
Leo visited the ASPCA's food distribution center in Miami several times during the pandemic for pet supplies.
"The entire staff, even security, was extremely friendly and understood my challenges," recalls Leo. "We all really connected through Sheila."
"Leo broke down every barrier to get those dogs what they needed," says Marlan. "He took them on without thinking twice and then found resources. The man is a saint."
Leo was determined to give Sheila's puppies the best start at life so they could grow up to be happy and healthy.
"Leo got those pups off to a great start," adds Jennifer Klotch, Licensed Veterinary Technician for the ASPCA Miami Community Medicine team. "He made sure Sheila was as healthy as she could be, and he socialized the puppies, even bringing them by in the shopping cart to show them off. He did right by Sheila and took on a lot."
"He's one of the most inspiring cases we've had, that's for sure," says Cassie. "We supported him through all of that and will continue to support him."
Feeding Pets During A Pandemic
Providing free pet food in four cities nationwide, including Miami, is one way the ASPCA has supported families with pets during the COVID-19 pandemic. As of July 3, more than 35,241 pets in Miami have received free food, including 17,680 dogs and 17,561 cats. And from April 7 and July 7, the CVC helped 542 clients and 736 pets during 974 CVC visits.
"There was a need before the pandemic and it's increased," says Cassie. "Many families had financial restraints before and have now have lost jobs. Those we've served are very grateful."
Leo made multiple trips to get food for his pack and got Sheila up-to-date on her vaccines.
"The sheer number of dogs was my biggest challenge," says Leo, who cooked a rich broth for the growing brood. "But I was always all in. It was never a case of, 'I don't think I can do this.'"
As the pups grew, Leo admits his thinking evolved.
"I went from, 'I'm gonna keep them all,' to, 'I'll keep one or two,' to 'I want to get them all adopted.' After three months, even Sheila was ready for them to leave."
Finding Homes for 11
Leo promoted the puppies on social media and kept track of their adoptions through regular posts. EJ was adopted first; Apollo last. Two adopters even drove all the way from Brooklyn, New York, to adopt Nikita and Sweetie. They met Leo at the CVC for the pups' booster shots, flea and tick preventative treatments, and de-wormer.
His next step is to have Sheila spayed once the CVC gets back to its non-emergency schedule.
The CVC has been a great resource for pet parents like Leo who love their animals and want to do everything they can to ensure their health and safety. Leo watched the ASPCA's CVC being built and is forever grateful.
"I was like, 'Yes! It's about time!' Of all the areas in Miami, it's a blessing the ASPCA is here," he tells us. "I don't know what I would have done without you."