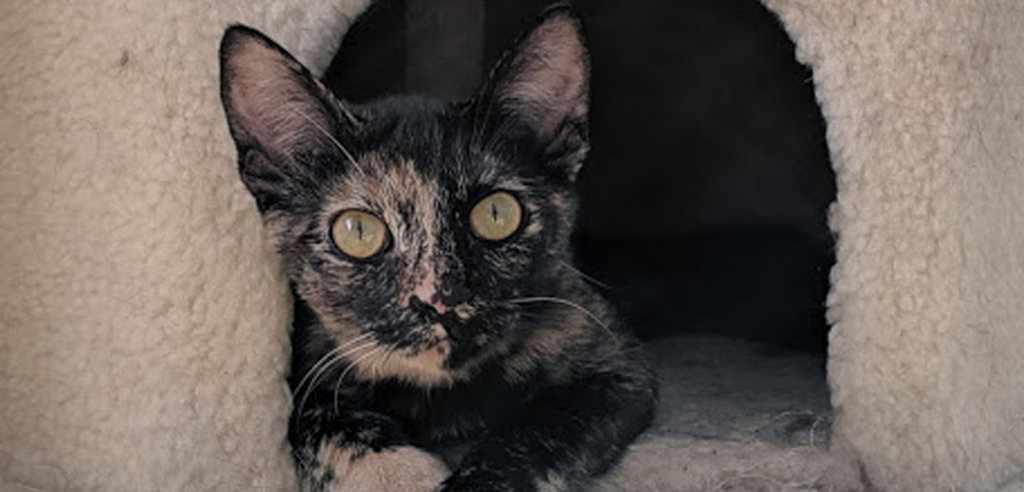 When North Hollywood residents Elliott and his girlfriend Stella popped into their local Petco, they expected to adopt a cat they had seen online. But instead, they fell in love with Pepper, a four-month-old female kitten with a tortoise-shell coat.
"When I first saw her, she won me over by making a cute little noise and putting her paw against the glass," explains Elliott. "She has very sweet eyes, her mouth looks like she's smiling, and her right paw is cream-colored—identical to the left paw of our other tortie!"
Pepper went home with Elliott and Stella on August 24, 2019, but her journey from homelessness to home-sweet-home was not easy.
Pee Wee Program to the Rescue
Pepper had been admitted as a stray to the Baldwin Park Animal Care Center on June 18 earlier that year. Upon her intake, staff noticed that Pepper had just a partial left hind limb, the origin of which is unknown. In addition, because Pepper was under five lb. and slightly fearful, she was placed in the ASPCA's Pee Wee Program, a foster program for kittens in Los Angeles, through the Baldwin Park and Downey L.A. County Animal Care Centers.
"The ASPCA helps the county by taking on cases like Pepper's since we have the resources to handle them," explains Nadia Oseguera, the ASPCA's Manager of Foster Care in Los Angeles. "We felt Pepper's best chance at a long and healthy life was through our Pee Wee Program."
"Even though she hissed at people at first, Pepper easily accepted petting," says Nikki Marquez, Coordinator of Animal Placement and Logistics in L.A., who fostered Pepper for seven weeks. "With time and patience, she adjusted to her surroundings and new people and showed promise, soon blossoming into a sweet kitty."
An Extra Obstacle
While in foster care, Nikki noticed Pepper had difficulty walking and that her partial left hind limb had become infected. ASPCA veterinarians quickly determined that Pepper would be more ambulatory and comfortable if the remainder of her limb was removed. Tri-pawed kitties can live happy, full lives just as well as their four-legged feline friends, and the team was confident that with time and patience Pepper would thrive on three legs. FixNation, an ASPCA partner clinic with the capacity for more complex surgical procedures, conducted the amputation.
"Admitting Pepper into our Pee Wee Program gave us the opportunity to address and resolve her medical issues before putting her up for adoption," Nikki explains. "Trying to place her in a new home with a partial limb would have been challenging and likely unsuccessful considering the medical follow-up she needed."
"Something like a limb amputation can strain the county's shelter staff," adds Nadia. "The procedure is more complex than a routine spay/neuter surgery, the recovery time is longer and the animal would need to spend more time in the shelter, taking up kennel space that could house another animal. That's why this kind of fostering is so important."
Learning to walk after her amputation was challenging for Pepper, and Nikki had to hold her stable when she used the litter box. But Pepper was soon active again, even approaching Nikki's other cats to play.
"I'm glad I was able to provide the time and patience to show her that humans are good," says Nikki. "The Pee Wee program saved Pepper's life."
According to Foster Coordinator Chantel Bolanos, more than 1,650 kittens have benefited from the ASPCA's Pee Wee Program so far this year.
Three's Not a Crowd
Elliott says that Pepper's new feline siblings, five-year-old Fig and two-year-old Plum, are getting used to Pepper, and that the three cats were easy to introduce to one another.
"Pepper tries to be respectful of their space, and she'll even nap as close to them as she can," Elliott says. "Other times she can't help herself and runs straight into them trying to play. She's just very interested in them, and we know they're going to be best friends soon."
Elliott explains that Pepper also has no problem "zooming" around on three legs.
"She's a great cat and we're really enjoying getting to know her," he says. "It always strikes me how different cats' personalities can be. I've always loved them, and I can't imagine living without them."