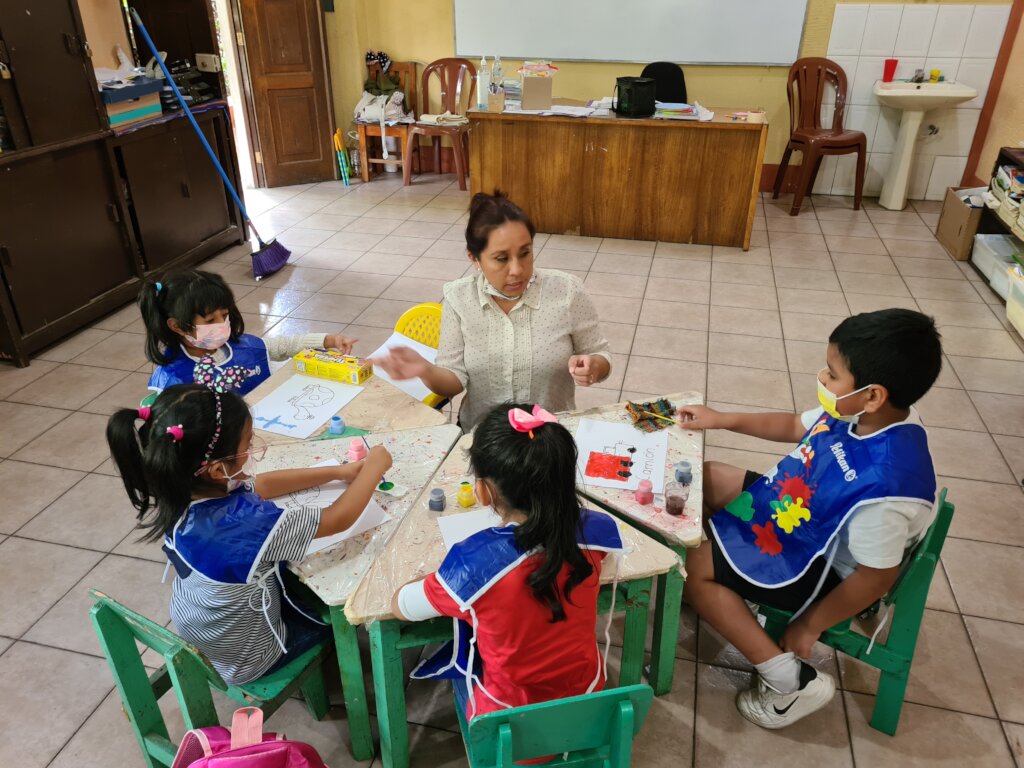 As we mentioned in a previous report, last year the decision was made that our Dreamer Center School would not be reopening and functioning as a school but rather as a reinforcement centre for children to catch up on learning they had missed during the pandemic.
This reinforcement programme was a relative success, with over 94% of our children in the scholarship programme passing their school year and moving up. Last year we had 215 children enrolled in our reinforcement programme and this year we hope to have many more taking advantage of the support we are offering.
Our three teachers, Salem, Gaby and María José, have been preparing for the reopening of our reinforcement centre, which is due to open its doors in early April, by visiting over 50 public schools in Antigua and the surrounding villages. The schools have shown a lot of interest in the centre, as the gaps in learning have been apparent and there is a real need for children to have extra learning outside of their standard classes.
Thankfully, schools are no longer working through a study guide system that excludes those in most need of support. This year the classes are in-person with the hope that returning to classrooms with teachers will help children to start making progress again. The funding of public schools is such, however, that some schools are struggling to find teachers and so classes are being combined or postponed. It will be extremely difficult to give children focused or specific support and to fill in learning gaps if there are oversized classes as the children won´t receive the attention they need.
We are basing our planning decisions on statistics from the Ministry of Education, who have identified certain areas where there is a greater deficit in learning. These areas are maths and communication and language (also known as literacy). In these subjects the legacy of covid is apparent, with many more children than expected unable to read, write and calculate to the expected level. These skills are fundamental for Guatemalan children to be able to raise themselves out of poverty and so the deficit is extremely concerning.
As we did last year, however, we will be monitoring the children and taking into account the other needs that they may have. Last year we had extra classes for computing, art and science and so, if we see the need, we may start them up again as well.
We will also be opening our computer room and library for the children to have free use of to support their homework. The vast majority of our children have no access to internet in their houses and so are unable to access much of the learning that they are required to do. By allowing them the use of our computers and internet they have a much better chance of making progress in classes and living up to their full potential.
For many of our children, there is no way to access their education in school or at home because they have no food security. Schools are not currently providing lunch for schoolchildren, and so it can be extremely difficult for children to concentrate and learn on an empty stomach. We want to counter this and give children the best chance at
learning by providing food security for them. Our cook, Zully, will be cooking meals and snacks so that when children come to the Project they are able to focus on their learning rather than their stomachs.
At Asociación Nuestros Ahijados and The GOD'S CHILD Project our mission is to reduce the gaps of extreme poverty in vulnerable and excluded populations, to guarantee equal development opportunities through programmes in food and nutritional security, to support families through secondary, technical, and vocational education, health, child nutritional recovery, volunteering and Service teams, housing, economic and social empowerment of women and their families. We also fight human trafficking through long-term solutions to the causes in Guatemala, India and the United States. Nuestros Ahijados is an affiliate of the organization THE GOD'S CHILD Project (GCP).