Project Report

| Dec 30, 2022
Migrant teenagers and children united by a mural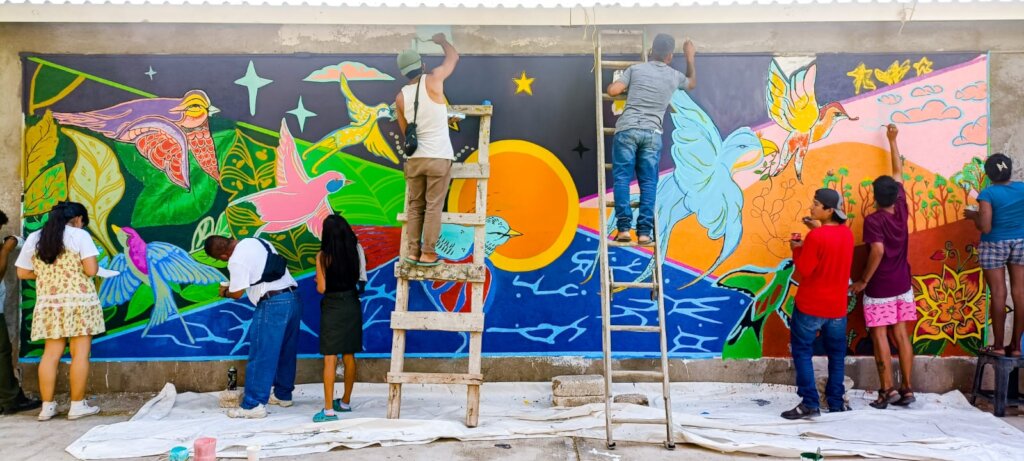 Happy new year! This is our last report of 2022, we feel full of joy about sharing with you how the Arts and heritage program closes this year. Few reports ago, we talked about Jademidori, a plastic artist who is part of UMPO's family. She inspires us through her art, she has the gift to materialize the beauty of the regional culture.
This time, Jademidori guided a communitary mural which was made in the migrant shelter in Cd. Ixtepec, Oaxaca. We have noticed that there are really few activities in which the native people can be involved with the migrant population of our territory, so we make this project to gather migrants and non migrants. The truth is that we live in a multicultural region, and that at the end, this variety of cultures is what makes our lands such a beautiful place.
We have been working at the shelter with different programs and projects, but this was the first time in which we felt real communitary participation, around 30 people participated to elaborate it. With a lot of dedication, even teenagers participated, they usually don't share time with others because of their own stories and legal processes. In this mural they were the main stars. They were attracted to the possibility of making something that will remain, something in which people will not judge your work. Being capable of erasing and starting again, resulted to be a very healing process for them. Children were around too. The most surprising thing was to discover that there were so many talented people, like Ivan from Venezuela, who is a recognized plastic artist, the mural was one perfect fit for him.
Spaces like migrant shelters are usually places without light, with shades of gray, although inside, people have so many colors and life. Yeah, there are a lot of stories "que apachurran el corazón" (squeezes our hearts), but still, the energy of being in movement stands out above everything. In the mural we draw birds, which symbolizes movement, migration, nature, and a road. Everybody took a part of the wall, and represented their countries and their stories. A sun, a jungle, the place from which we came, the Quetzal of Guatemala. África, Venezuela, Oaxaca. Everyone wrote their name, people enjoyed creating a space for them but also joy for who is coming. Non-migrants recognize that migrants are also part of us in a way, and that it is in our hands to give them a good memory of Istmo de Tehuantepec and our original cultures. In the mural a phrase of famous musician Drexler was written: "We are alive because we are in movement".
The shelter, and the migrant community was very happy with the results so we are planning the next intervention to develop community integration, you will know. Thanks a lot for making this possible.