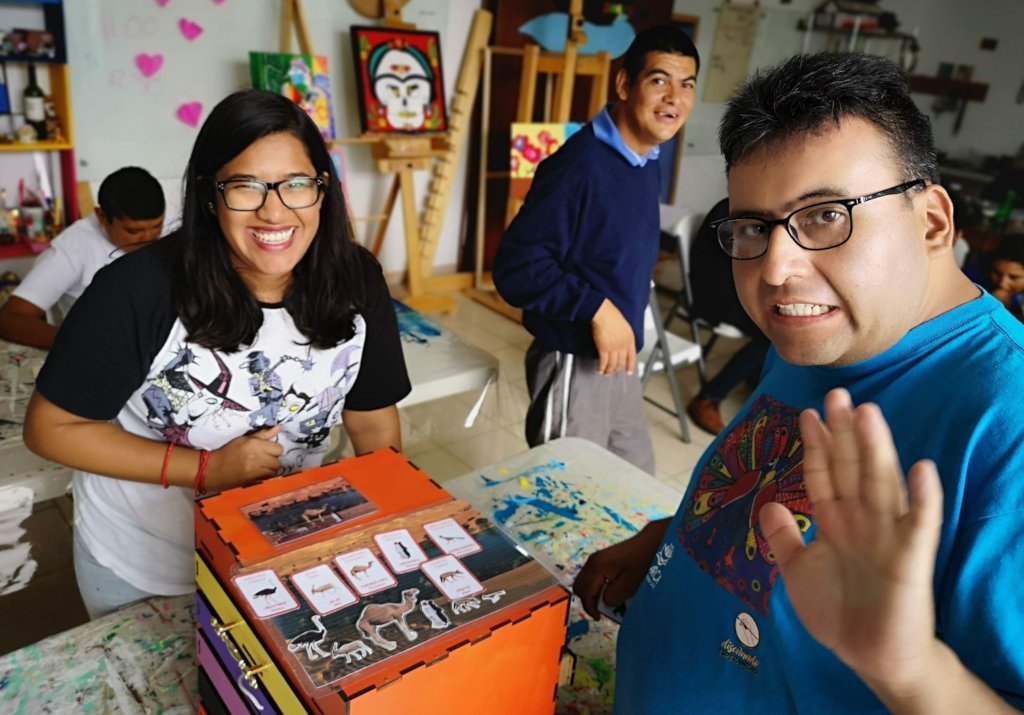 Daniel is a 36 year-old man with intellectual disability, who is also deaf. When Daniel first arrived to the workshop of El Arca, he seemed to be very shy. It was hard for him to communicate with others, and he avoided eye contact and other interactions. He worked for about four months in the bakery area, quietly and in an organized manner. And then one day, Isabel, the assistant in the bakery recalls, Daniel very decidedly shed his facemask, hairnet and apron, and marched to seat himself at the table in our art workshop, where others were drawing and painting. Diana, although surprised, provided Daniel with materials and he began drawing and experimenting with colors. His participation in the art workshop permitted him to open an unsuspected and very rich channel of communication, improving Daniel´s life immeasurably as well as progressively enabling him to engage in communal activities as never before! He clearly glows with happiness while drawing and painting, and shows great satisfaction with the completion of each work of art. He enthusiastically photographs everything he produces. His works are varied and include amazing cats, and some colorful versions of Frida Kahlo and other Mexican women. He now cordially greets and takes leave of his companions in the workshop on a daily basis.
Including Daniel, there are now seven members with intellectual disabilities participating in the art workshop. They paint on small wooden coasters, frames, and wooden boxes for tea bags, mobile phone holders as well as large canvases for special orders. Along with others, Daniel has been joyfully expressing his creativity and consistently perfecting his artistic taste and technique.
Daniel's paintings and those of other artists in our community are beautifully framed through the efforts of other Arca beneficiaries participating in our carpentry workshop. Their production has been greatly enhanced through the use of new tools, recently purchased through the generosity of our GlobalGiving partners. We cannot thank you enough!
A total of 24 adults with intellectual disabilities benefit from all the activities in our day center in Santa Bárbara, Querétaro. In addition to the art workshop, the carpentry, bakery, and jewel making areas, all enjoy daily zumba sessions, weekly yoga and folkloric dance classes, and share the noon meal together. Once a month, the group visits a museum in the beautiful city of Querétaro, or goes to the movies then to a coffee shop, or enjoys the outdoors in one of the parks in or outside the city.
This project has had real life changing impact on the lives of these persons, in little but significant ways. Thank you for participating with us in this beautiful work! Blessings from Santa Bárbara, Mexico, and stay safe!!