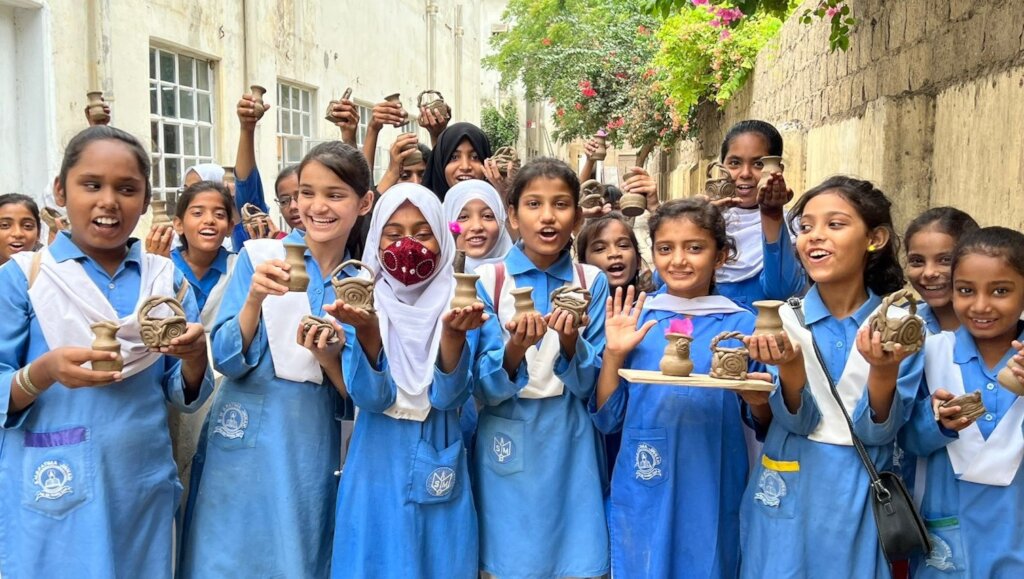 With the onset of spring, a new wave of inspiration swept throughout the school and especially our art program for girls. The month of April brought a temporary pause in regular classes due to the government mandated census duty. Despite the teacher's leave of absence, the teachers and the students have ensured that the spirit of learning persists. Student motivation was unmatched as they used their free periods to self-practice and diligently complete their assigned tasks.
Students also participated in a competition integrating art with social issues. On the 27th April, 30 students from grades 6, 7, and 8 participated in a recycling competition. The competition was held by Lincoln's Corner which is a partnership between the Embassy of the United States of America and select institutions in Pakistan. Eight of our students also won the competition, a testament to their commitment to sustainability. All students came back cheerful and reinvigorated with their learnings. The teachers observed that many of them integrated their learnings in subsequent classes.
Creativity also shined through a K-Electric organized art activity: Khel Kod aur Khayaal. K-Electric, Karachi's electricity provider created a general safety book in extension to which they conducted various activities merging safety measures with art. This made the event a fun and interesting undertaking. Students artistically expressed themselves, developed the existing stories further and explored their world of imagination.
The Dynamic Festival conducted by Dynamic Trainings Systems, a fitness gym in Karachi, provided an opportunity for the students to showcase their artistic prowess. From clay work, to pop art portraits, symmetrical portraits, zen tangle art, split portraits, comic art etc. The various products included handmade jewelry, soap trays, paintings, tote bags, notebooks, badges and candle glasses. The proceedings from this entrepreneurial adventure went to our young artists. Some of our students were also present to showcase their skills and interact with people who enjoyed art. Students also conducted various interactive activities like live pot painting, Mandela art and coloring etc.
Over these past few months, our students have also eagerly embraced the opportunity to showcase their hard work and dedication during their exams. The promise of the upcoming summer break was a motivating factor for them to give their best, paving the way for a well-deserved vacation. During their exams the student's curated excellent artistic works bring their yearlong hard work to fruition.
Keeping up with yearly traditions, the onset of summer break bought the much awaited summer camp. The school came alive with the joy of students engaging in a variety of captivating activities. The summer camp provides students a week filled with exciting art forms that they would not have been able to attempt in their day to day classes.
The artistry of our students was on full display during the weeklong summer camp. Students embraced new experiences, delving into the world of origami, art, and craft, and even experimenting with clay sculptures. The camp became a hub of exploration and learning. This experience fostered holistic growth and left them with cherished memories.
During the summer camp, our art teachers orchestrated an array of engaging activities, including pottery, henna, leaf painting, wire art and tie and dye among others. All these activities allowed students to apply the theory they had learned in classes to practice. It also gave them the opportunity to explore new art forms. With no grading and the freedom to experiment all they could, students also enjoyed modern calligraphy art classes by the professional trainer bought in.
House of Pebbles, an organization committed to mental health, conducted sessions with students from classes 3 to 8 during the summer camp. They seamlessly incorporated stress busting activities with children while also tapping into student's art interests. They conducted activities like 'Art through Straws' and 'Paint your Emotions' to engage the students further.
Students were refreshed after their weeklong arts and crafts activities. A student after the summer camp said "In this camp, we took part in many classes like mehndi/henna, sports, art and self-grooming, which were really useful. Art and mehndi/henna were among my favorites. I was enthralled by this camp."
The art program for girls continues to be a story of passion and transformation. Our students surprise us with their artistic pursuits and quickly adapt to the new techniques taught in class. Our young artists believe in beautifying the world with their perspectives. Your support remains the cornerstone of our efforts and students' joy. We extend our heartfelt gratitude for your unwavering belief in our mission.
With the summer sun painting new dreams and possibilities, we eagerly anticipate the forthcoming school year. It is bound to be another year of growth and artistic exploration at the Zindagi Trust Schools. We cannot wait to come back with our student's achievements with our next report!