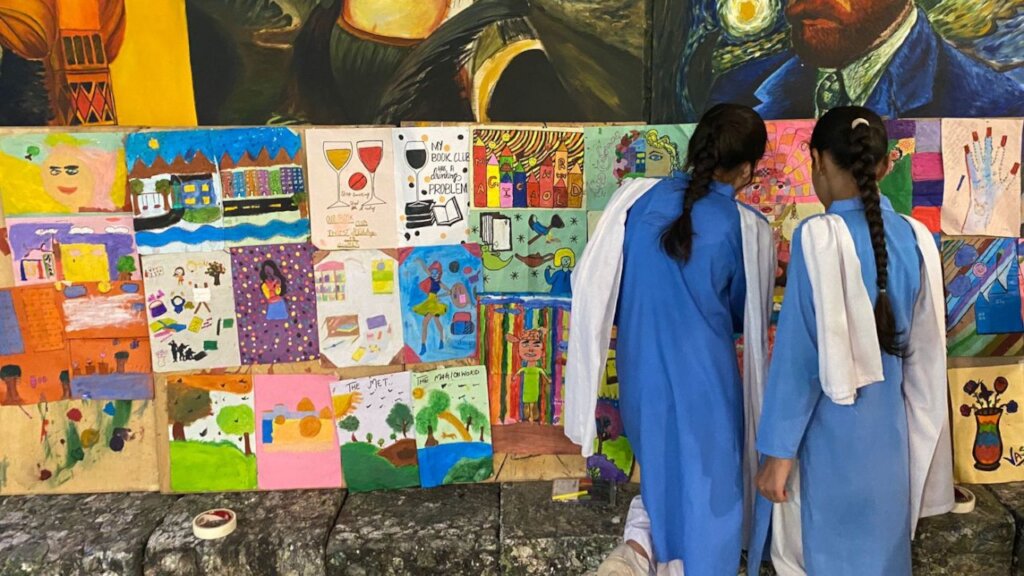 As the months ran forth and the academic year came to a halt for the summer break, the art program continued to bring students together in the schools of Zindagi Trust. During June 2022, Zindagi trust hosted a two week summer camp in their schools for students of grade 5-8 where multiple theoretical and interactive art classes were conducted. The focus of the classes was to channel mental well-being through art and inculcate a positive mindset in the children, providing them an avenue to express their emotions creatively. Our art program head, Ms. Shakil held classes inspired by the renowned artist Judith Butler's style of work. Students were given different figures such as old dolls and soft toys alongside material such as tape, markers, ropes, buttons etc. to reimagine and recreate what their personal figure would look like. Majority of the students quoted that the process was quite cathartic and brought about a plane of self-awareness that they had not thought of before.
Similarly, other classes such as mandala colouring, origami making, zine-making helped students instil patience in them while narrating their personal experiences and stories through art. At SMB Fatima Jinnah School, the students even painted a wall mural that visualises the map and culture of Pakistan. Students were also taught art DIY projects and cards that they can utilise to enhance their day to day lives efficiently. Students learned how to make pop-up gift cards including a special father's day card, alongside learning how to stitch bags out of discarded cloths or making jewellery and bands out of yarn. An exhibition was hosted at Khatoon-e-Pakistan school at the end of the summer camp where students proudly displayed all their art creations.
Prior to the art-intensive summer camp, in May 2022, The annual Colgate "My Bright Smile" drawing competition was held. Every year students participate in great numbers in the national and international level to gain both experience and expertise. This May, it was held at SMB Fatima Jinnah School and the theme was "Why My Bright Smile is Important." Students had to use the colours black and white using either crayon, paint, colored pencil, acrylic pastel, ink, magic markers, or line drawings to create their artwork. Students' artwork is judged on multiple fronts such as originality, creativity, and imagination.
To provide students with platforms that can augment their personal skills and confidence is what Zindagi Trust believes in. Mr. Roy, the Founder and President of Zindagi Trust has a YouTube series of local children's animated stories called Tiflatoon. He created the series to encourage students to sharpen their creative and urdu skills. The art department at Khatoon-e-Pakistan collaborated with the urdu department and guided students to prepare illustrations for Tiflatoon.
Furthermore, The High Commissioner of Canada, Ms.Gilmore paid a visit to Khatoon-e-Pakistan. She admired the infrastructure and programs at our schools, especially praising the art room. She commented that the standard of the art program is at par, if not better than in elite and private schools across the world. Moreover, August saw the return of students to school after a long summer break. As students settled in the new academic year, the art program commenced with new and exciting lessons. Grades 7, 8, and 9 are being taught elements of pottery, pop art, and memory abstract art.
Ms. Shakil also took the responsibility of designing a detailed art curriculum for grades 1 - 8. This curriculum is in the review phase and will hopefully be implemented in government schools across Pakistan to bring the progressive change needed.