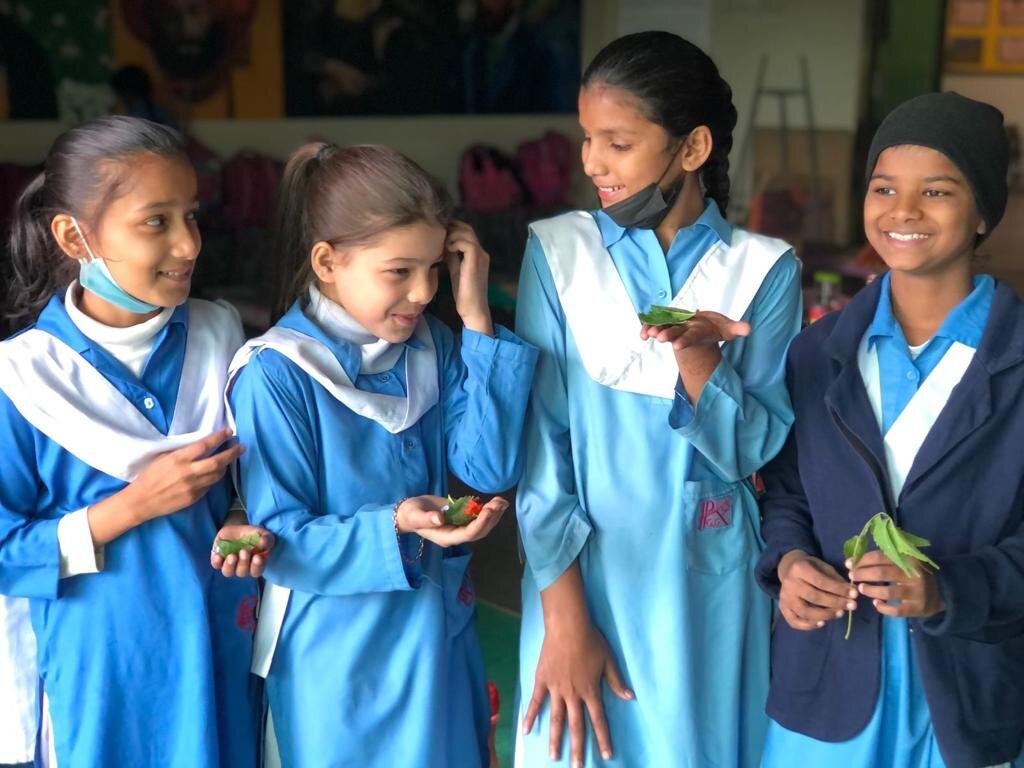 The art program is a key component of the holistic education that brims life to our schools at Zindagi Trust. Hence, consistent efforts are made to ensure the program continues to provide value and unmatched skills to the students.
In January 2022, informed teachers' observations at Khatoon-e-Pakistan (KPS) and SMB Fatima Jinnah School were conducted to evaluate the teaching performance in regards to student response, retention, and artwork production amongst many other assessment criteria. To maintain records of all the data, a file is kept for every individual teacher so progress can be gauged overtime.
Furthermore, expansion of the program is underway for which multiple measures are being taken such as the art room in SMB Fatima Jinnah is being revamped to improve the space. Two new faculty members with expertise in fine arts were on boarded recently, adding to the existing team of faculty with prowess in pottery and sculpting, crafts, collage making, and art education. A curriculum is being developed alongside lesson plans and activities for the schools of Zindagi Trust which would not only comprehensively cover theoretical concepts, but will be designed to incorporate emotional well-being through art as well. The art lead at both schools recently completed her MA in Art Education and is overseeing all amplifications of the program intricately and extensively with plans of bringing an expert curriculum consultant on board. Zindagi trust anticipates further substantial progress in the next few months, including developing a sculpture department, transitioning to digital mediums of art, and reviving the art club.
Zindagi Trust understands the significance of showcasing our talent to others to further motivate our students. In February, there was a mini art exhibition at Khatoon-e-Pakistan School where different art pieces by students of grades 1 - 10 were displayed in the art room. The District Education Officer paid a visit to the exhibition and was inspired by the various art methods that were displayed which included, patterned Zentangle portraits - each grid and pattern representing a personal artistic expression or trait, and pop art styled portraits integrated with stitching and printing. The portraits recreated on the canvas were originally photographs taken by the students of their classmates during an activity to sharpen photography skills and communication amongst the students.
As an avid believer of making holistic education accessible to all, Zindagi Trust's broader vision encompasses their programmatic interventions to be replicated and introduced in schools throughout the local state Zindagi Trust was please when other notable NGOs such as The Citizens Foundation (TCF) reached out to garner support in implementing similar art measures in their schools.
Learning art is not limited to the classroom; our students eagerly participate in external events that provide them with action-oriented and practical experience. Amna, an 8th grade student from Khatoon-e-Pakistan secured second position in the inter school drawing competition "Citypedia" organized by the Pakistan Institute of Development Economics. The theme of the event was "This is My City" and Amna recreated a stunning visual of the iconic and historical monument in Karachi - Frere Hall.
Similarly, students from KPS participated in the Secondary Educational Programming Workshop conducted by Karachi Biennale Trust in the month of March where students got hands-on experience of photography, videography, camera angles, script writing and storyboarding. Apart from the informative workshops, the program included a site visit to the Quaid-e-Azam House Museum where students were exposed to local history and architecture. Karachi Biennale Trust have also expressed interest in hosting their final documentary screening event at Khatoon-e-Pakistan with three other schools attending as guests.
Anam, the art department lead, is passionate about making lasting changes to aid both students and teachers. She envisions equipping teachers with developmental considerations like personality/cognitive development that they can impart to their students. In a conversation she quoted "A lesson about Van Gogh should not only enlighten students about his craft, but also teach them different underlying themes such as creative thinking, social responsibility, and any other messages students might be able to identify through art." She believes a teaching style like this can bring out students' individuality, which is the outcome the art team hopes for. The art program exists not just to impart knowledge and skills but to help students embrace their true selves and exhibit themselves through individualised expression.