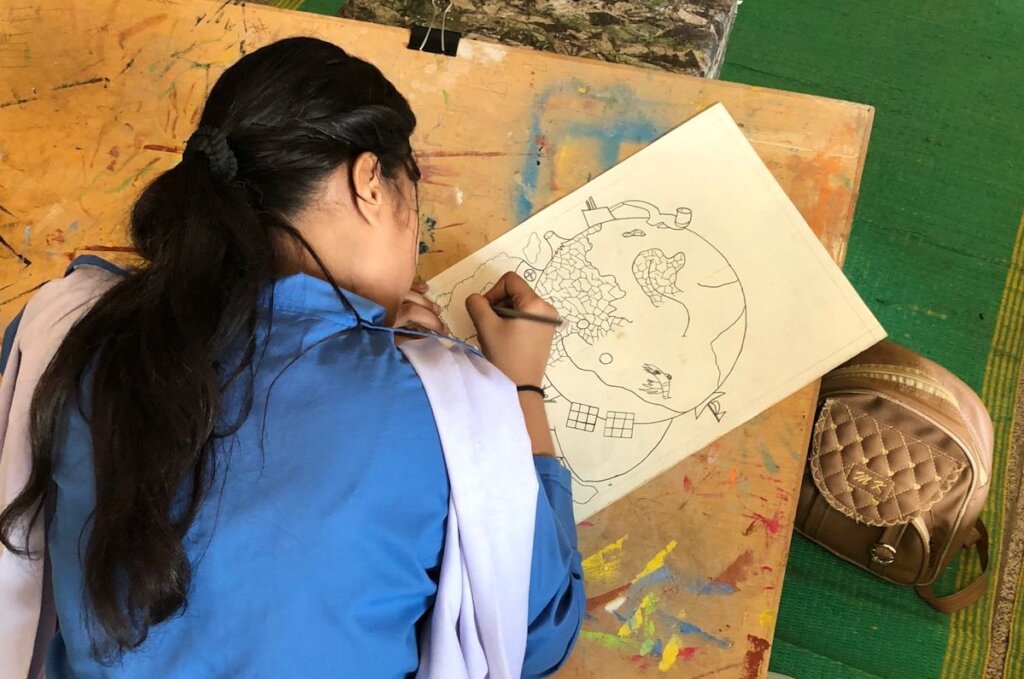 September 2021 saw a somewhat return to normal for students at our schools, as the campus doors finally opened to welcome them for regular classes. There was a period of readjustment as students navigated school in a world still struck with COVID-19. The return to school reinvigorated the spirits of our students, and what followed in the art department was active participation from them in the classroom as well as in various inter-school and regional competitions.
We witnessed numerous art events in the last few months of 2021. Some notable events include a Literacy Day Poster Competition organized by Giving Tuesday Pakistan, a Virtual Water Color Painting Contest by Splash, ArtBeat's National Child Art Competition, a UNICEF art challenge organized by AGI Denim, and the Faiz Mela. Students not only took part in these competitions for sheer interest, but they were also determined to be among the winners.
In October, our students participated in an art competition organized by ArtBeat, called 'National Child Art Competition.' It was held online across Pakistan and honored students of all schools and abilities. Some of the topics for the competition were "My Teacher," "My Doctor," "My School", "My Home," self-hygiene, coronavirus, and hope for the future. In the category of Sindh and Balochistan, some of our students were awarded with prizes. One student from Khatoon-e-Pakistan School (KPS) received the ArtBeat Special Award and one student from SMB received the prize of honor.
15 students from both of our schools participated in the AGI Denim sponsored UNICEF Children's Day illustration challenge called "Voices of Youth." Their vibrant artwork captivated the audience as two students from KPS secured 1st & 2nd positions and one student from SMB secured 3rd position. At the Literacy Day Poster Competition organized by Giving Tuesday Pakistan in September, 7th grader Alishba Shahid from SMB Fatima School scored 3rd position.
In December, we held a competition between KPS and SMB in collaboration with the Urdu department. This event, called the "Faiz Mela", had the theme of Faiz Ahmed Faiz's poetry and its fusion with art. Teachers explained the poetry to the students and suggested ways in which they could use art to express poetry in an aesthetic fashion. Students then prepared live artworks inspired by Faiz's poetry.
Furthermore, our curious students participated in the Children's Learning Festival at the Arts Council in December, where they displayed their brilliant artwork, including portraits, paintings, and painted pots. In the same month, a few of our students visited the Indus Valley School of Art and Architecture (IVS) thesis display, where they observed beautiful art designs and interacted with graduating IVS students.
Head of the Art Department, Anam Shakil, was the one who developed the art program and organised all the art events. She said, "My personal goal is to introduce things gradually and carefully, and not to overwhelm the students because students have returned to school after almost two years. As much as to introduce many things, I want art to remain a source of relaxation for the students and become an avenue for them to express their emotions, so I try not to push for too many changes too quickly."
Apart from organizing art events for students to engage in creative activities and to hone their creative thinking skills, there was progress behind the scenes as well. For instance, the art department produced the Scheme of Study for art as a map to guide teachers about effective instruction, and to keep track of teaching and learning progress. To further help teachers excel at their job, there was a lesson plan development workshop held in September 2021 and an assessment rubric workshop in October 2021. Speaking about the progress made, Anam Shakil explained, "We also focused on teachers' professional development this year. We wanted to enable our teachers to work independently.
Ms. Shakil also pushed for art exams in both schools. Prior to this, there were no examinations for art like there are for other subjects, and existing examinations or test scores for art were not counted in students' final grades. Thanks to her efforts, our schools now have proper exams for art that measure student progress, and the marks are counted in students' final transcripts.
Art remains crucial for students' creativity and emotional wellbeing, and with steps like these, we are advancing towards an art program that meets these standards in the best ways. The months of September to December have surely been productive for art students, and we hope to continue with this in the coming months.