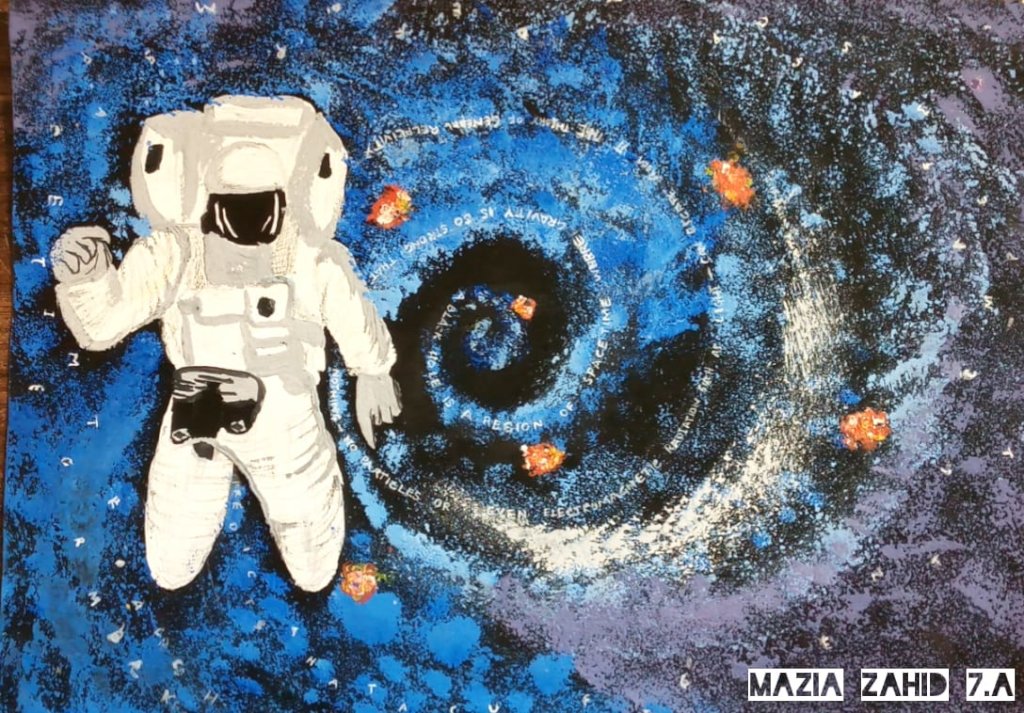 Since our last update in January, schools remained opened until April and students continued to arrive in gradual sets of two on alternate days of the week. At this time, the Art Program provided students with many activities and new learning opportunities despite the restrictions faced due to the COVID 19 protocols. In part this was helped by the return of Anam Shakil, who had helped design our art program in 2015, as Head of the Art Program.
Art Submissions
Students from the 7th grade at the schools in Karachi, SMB Fatimah Jinnah Government Girls School and Khatoon e Pakistan Government Girls School as well as at the Shangla Girls School, attended sessions with Yumna Majeed, a space educator who discussed the many wonders of space and the life of an astronaut. She encouraged students to create art for a competition about the different matters found in space which led to selected student submissions being sent to an international competition held by the Space for Art Foundation. The winners of this competition will get a chance to have their art sent to space – a prospect that our students found delightful and fascinating!
Our 9th and 10th grade students also attended a session with Rida Khan, an urban planner from Karachi Public, on a project about the local Clifton Beach. Our students learned about the role of urban planners and after the session submitted their recommendations on what a public beach should look like, as a part of the urban design process.
Art Activities
In art classes, among other fun learning activities, students were introduced to the work of brilliant local artists like Ahmed Parwaz and the calligrapher Anwer Jalal Shemza, also getting a chance to learn and replicate his unique style of gapped calligraphy. Students from Grade 8 at Khatoon e Pakistan Government Girls School also made self-portraits in which they recognized the achievements and problems they faced during the pandemic and represented them in creative ways. Another activity these students were given was to create fashion illustrations using materials that popped out of the page. Students were also told to draw upon their imagination to create animated characters as a part of a character design activity and many of them produced fantastic artworks that can be viewed below.
A Collaborative and Resourceful Approach
Having joined in March, Anam said that she had decided to work with teachers for improving the Art Program by discussing and brainstorming activities and critically thinking about student learning outcomes instead of providing pre-prepared lesson plans. Since the lockdown in April, Anam said, "We adapt activities so no student would need to buy a single resource, asking them to recycle paper, use items found in their kitchens and provide alternative ways of doing their assignments." Online teaching has been difficult and this resourceful way of creating art has made students excited and kept them engaged. We hope you enjoyed reading and that the creative spirit shown in our students' art brings you hope in these bleak times.