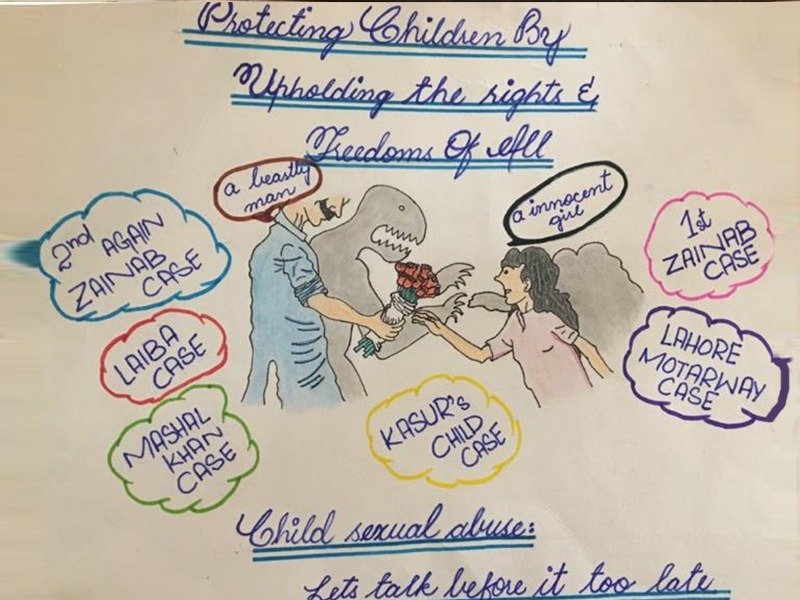 Since our last update, the COVID 19 pandemic has continued to make life uncertain for the children in our adopted government girls schools of SMB Fatima Jinnah Government Girls School (SMB) and Khatoon-e-Pakistan (KPS). October saw a reopening of schools with strict safety precautions in place - fifteen students were allowed to attend their art classes at a time with the freedom of using different mediums to create their artworks, to limit sharing implements. November was a tough reminder that we are not out of the woods yet as the lockdown was imposed and children were back at home once again creating their art as best they could with the material available. Despite the uncertainty students adapted to the challenges presented this time and were able to produce amazing work, even competing in multiple art competitions.
Art Competitions
Our students participated in a competition on Child Rights and Child Justice organized by Group Development Pakistan. Prior to this, students attended an online workshop in which they were introduced to the concept of child rights and the intent of the competition. Guided in person by their teachers (as by now schools had reopened), they sent in some very moving submissions, the best of which were selected to be showcased in Child Courts being established in Karachi. A student from KPS won 3rd place for her artwork in another competition on 'Fighting Corruption for a Better Future' organized by the Government of Sindh. Two students acquired a winning position in yet another art competition at the Art Council on tackling plastic pollution. Most recently, students are participating in an inter school art competition by the Korangi Academy, creating art on topics like 'women empowerment' and 'your contribution to the development of Karachi.'
Learning Art not just for Art's sake
The children weren't the only art students at this time. In the most recent school shutdown starting November, students were away but government teachers frequented the schools to conduct online classes and check students' homework. A group of government teachers from the SMB Government Girls School took the initiative to approach teachers from the art program to better their own art skills and help them teach different subjects in a holistic manner. The teachers – mostly from Kindergarten classes and the first grade – attend weekly workshops with an art teacher, seeking to learn art activities which would support their teaching of core subjects like Science and the languages better. Additionally, they also learned artistic techniques like shadow drawing to better their own skills.
Other Art Activities
At home, students used what they could find around the house, and created interesting pieces of craft with the direction of their art teachers. A simple element which was seasonal, inexpensive and widely available was wool. Students used wool to make cute winter chicks, yarn hats and the more advanced grade 8 students made wool clutches/wallets. Paper was considered for many activities apart from sketching and drawing, Grade 7 students used paper to create a model for a room, watches, rings and even a cake. Young students also repurposed buttons as pieces to contribute to their art work about nature.
Whereas at home, art became a way to stay occupied and be expressive and creative indoors, with schools remaining open in October, children were able to come to school and were given many activities which would enhance their learning including lessons in Life Skills based Education.