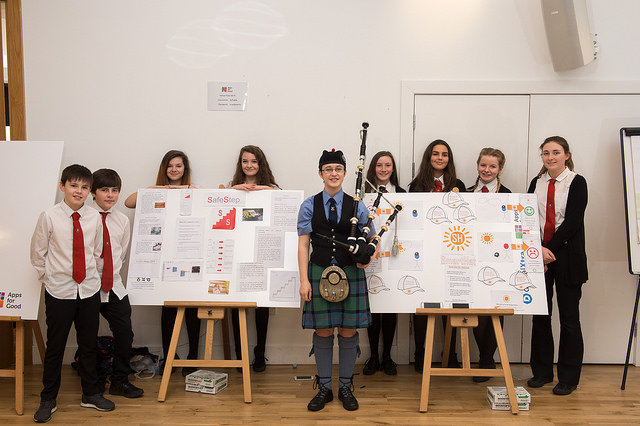 Apps for Good is running two major regional events in 2018
The annual Apps for Good awards hosted in London at the end of every school year has become synonymous with the Apps for Good course and gives students an exciting end goal in the form of competition with other schools. It's a great way to celebrate the success of all our students' hard work. However, we get hundreds of applications to the awards every year and the quality of the work makes it very difficult to decide who we shortlist and bring to London for the event. We want to celebrate the hard work Apps for Good students put into their projects as often and as widely as possible.
Last year we hosted our first ever event in Scotland which was rewarding for everyone involved. Off the back of that success, we're bringing back the Scottish event again this year to give more student teams the opportunity to showcase their inspirational ideas for tech products. The Scottish celebration will take place in Edinburgh on 23rd February.
More regional events are a great opportunity for our communities to all come together, connect and enjoy the passion and energy students have for their projects. They are also a unique opportunity for students to take part in a variety of skills workshops led by members of our inspiring community of experts who volunteer their time to deliver exciting activities. These sessions aim to bridge the gap between the classroom and the real world of work and offer students the chance to learn skills which will be useful as they move from education into employment.
As we begin to broaden the reach of our course and the localities of the schools who deliver Apps for Good content, we will hold our first event in our North West regional hub. Students from across the North West will gather in Manchester on 20th April to take part in a marketplace, skills workshops and a dragons den style pitching activity. We are excited to bring together students from across the North West region to share all their hard work with our partners and other members of the tech community in the North West.
This year we will partner with EPAM to deliver the event and are very excited about the expertise their employees will be able to provide to advise students on their projects. EPAM are a new partner for 2018 and are a great fit for our values and mission as engaging with and supporting the next generation of tech talent is a very important focus for their CSR operations and activities. Gordon, Lead Business Analyst, UK Co-ordinator for CSR is as excited as we are to launch our partnership at the event:
"As a company passionately committed to the power of technology to make the difference for our clients, EPAM is equally passionate about the power of technology to change the lives of the next generation of inventors and entrepreneurs. We're absolutely delighted to be partnering with Apps For Good on their mission to help young people make their future with new technology, and can't wait to see what the young people come up with!"
The buzzing marketplaces at both regional events will be a great opportunity for our communities to connect and meet the students from our growing regions. The students will have a unique opportunity to network with members of the local tech industry. The regional events will broaden our visibility across the UK and increase the number of students who can become actively involved in activities provided as part of Apps for Good. Events outside the classroom are fantastic for providing insight to the students to what working in the technology industry is really like. For our partners and attendees of the event it's a great chance to meet the next generation of employees and get inspired by their enthusiasm and passion for technology. We look forward to bringing all our communities together at different locations across the UK in 2018.
How can you get involved?
Join us on the day! Sign up to the Edinburgh event here. Sign up to the Manchester event here.
Meet our Experts - Natalia, UX Lead at Thomson Reuters
As part of the celebration of women achieving great things in the technology industry, we interviewed one of our female Experts to find out more about her journey with technology and her motivations for being involved with the Apps for Good Expert community.
A huge thank you to Natalia who is UX Design Lead at Thomson Reuters for giving us an insight into her career:
What or who inspired you to pursue a career in tech?
I always liked maths. My mum bought me a "Fun maths and logic puzzles" book and I realised that maths is fun! Love for math lead me to a degree in Computer Science. I also really liked art, but my parents said it could be hard to make money with the Art degree. That was more than 20 years ago in Russia, so hopefully things have changed since then.
But eventually I think I found the best of two worlds. As I see it, Design is where Computer Science and Art meet.
What do you most enjoy about your job?
The potential to improve people's life through Technology. Fifty years ago it was awesome if you had a landline phone. Now the latest news, TV episodes and even a taxi are in your pocket. But it doesn't mean it's easy for people to use.
The challenge I enjoy the most is solving the problems for different people with different personalities, lifestyle, eyesight, who are and are not tech savvy.
And sometimes the most simple solution works for a 80 year old granny and a teenager and everyone in between. Isn't it incredible?
The iPad is one of those examples for me. When Steve Jobs announced it, I have to admit I wasn't impressed. I didn't see the point of having a big phone. Or a poorer version of a laptop. But now I see my toddler use one and my mum who is 72 this year. And it's incredible that both of them love the iPad and find way more easier to use than any of the above.
How did you hear about the Apps for Good Expert community and why did you want to join?
I heard about Apps for Good from the boss of my boss Bob. He was very passionate about the subject; I saw it as an incredible opportunity to have. My life might have been very different if I had this chance when I was growing up.
It really makes you think about so many different sides of business. You look for a problem to solve, then you think how to solve it, how to build it. And then how to promote it. You'll think about whether this would make money or be popular. An amazing exercise to really understand how business works. And lots of friendly experts to help you on the way.
What are the benefits of young people to speaking to real-world professionals from tech and business?
It's the best way to learn what's out there. Who could you be, or not to be, what areas make you tick. Is it Marketing? Or maybe you're fascinated by complex technical problems? Or maybe you want to talk to customers and understand their problems? UX research. Visual Design? So many possibilities and you can get a real sneak peak into what this involves.
Want to know more about our Expert Community?
The Apps for Good Expert programme is an opportunity for student teams delivering the Apps for Good course to get advice and mentoring from real world Experts from business and tech. Apps for Good Experts get the chance to hear the students app ideas, share their skills and knowledge and get loads of energy, inspiration and new perspectives in return!
Experts meet with the students remotely over Google Hangout or Skype in one hour sessions and help them move from problem to prototype in a wide range of areas of expertise mapped to the course, including idea screening, technical and data feasibility through to marketing, prototyping and coding.
In 2016/17, Expert sessions were delivered to over 3200 students across the UK through our Apps for Good dashboard. Find out more and sign up at https://www.appsforgood.org/public/get-involved/become-an-expert.