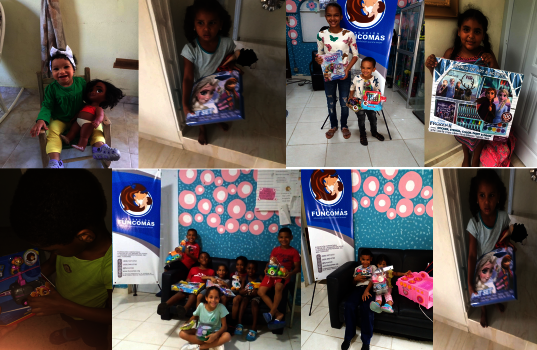 MEMORIA DEL PROYECTO
APORTA (programa de donación participativa)
febrero-abril 2022

Con gran entusiasmo presentamos el informe trimestral correspondiente al funcionamiento de este proyecto, dentro de nuestra organización durante el periodo febrero-abril 2022. El documento se elabora en base a los resultados obtenidos en la ejecución de nuestra estrategia de intervención 2021 y como respuesta de rendición de cuentas y agradecimiento a los seres humanos y empresas que durante este tiempo se han solidarizado con esta iniciativa realizando aportes de cualquier tipo para que sigamos desarrollando la visión de este proyecto.

Durante este período hemos logrado avances significativos en el desarrollo de nuestro proyecto, especialmente en términos de infraestructura y donaciones.
1. DONACIÓN DE JUGUETES
Durante este período, al igual que en años anteriores, desarrollamos una serie de actividades solidarias enfocadas a los niños. Durante la misma, que se llevó a cabo en algunos sectores carenciados del distrito nacional, se donaron cientos de juguetes, los cuales fueron acompañados de breves talleres lúdicos, entrega de refrigerios y animación infantil.
Estas actividades se realizan gracias a la ayuda de donantes presenciales y de quienes hacen su aporte a través de GlobalGiving. Además de quienes realizan sus aportes en especie, donando juguetes nuevos y usados para la realización de esta labor.
2. DONACIONES PARA ANCIANOS.
Este año hemos centrado algunos esfuerzos en apoyar a una población que se encuentra especialmente necesitada. Los mayores.
There are many families whose budget is affected by the high cost of maintenance and comprehensive health of their older adults.
This is why we have carried out a day of collection and donation of medicines and essential materials for the elderly. Thus, seeking to support them as direct beneficiaries and reduce the economic impact of their health on family members.
Among the main items delivered are: medicines, pillows, walking sticks and adult diapers.

3. NEXT STEPS.
To continue our participatory donation program, we are promoting various charitable activities for which we count on your support and that of our entire community.

1. Mother's Day: We will celebrate Mother's Day in the Dominican Republic with a celebration event for them that will include private donations of beauty and household items, as well as raffles for appliances. At this time we are in the collection stage, so we appreciate any contribution from you.

2. Beginning of the school year: A new school year is approaching and, as is known, many parents do not have the resources to equip their children with everything they need at the beginning. Whereas, the Funcomas team will be developing a collection of various school supplies with the purpose of helping the most vulnerable families with the economic weight of the beginning of the school year.
If you are interested in supporting, we will be receiving backpacks, uniforms, colored pencils, educational shoes or any item that serves this cause.
GRACIAS
No queremos cerrar sin antes agradecer a todos los donantes que con sus aportes hacen posible esta hermosa realidad de ayudar a los demás. Gracias por cada dólar aportado, por cada artículo donado, por compartir nuestro proyecto con tus amigos, por seguirnos en las redes sociales y por enviarnos siempre tus bendiciones.
Esperamos seguir contando con su apoyo.