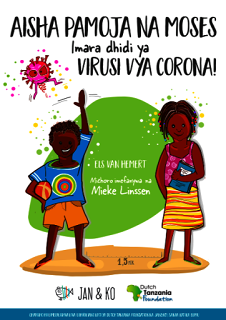 Hi all!
We hope you and your loved ones are doing well. Unfortunately, the coronavirus is still spreading and making new victims, also in Tanzania. But knowledge dissemination about the Corona Virus in Tanzania is limited. Mieke Linssen and Alberdine van Hulsbeek created a (audio)book to educate children about the Coronavirus. The book addresses the insecurity and excitement of children, whilst teaching how to behave to avoid further contamination simultaneously. Mieke and Alberdine developed this book in 5 different languages, amongst which Swahili.
"Aisha and Moses are the two main characters in the booklet "Aisha and Moses strong againts Coronavirus!". Aisha, a smart Tanzanian girl, paid close attention when her teacher explained why they could not come to school for a while. Moses however, a very vibrant little boy, doesn't quite get it and likes to be informed by his friend Aisha. Using illustrations in combination with a typical African context, this beautiful story is told. It is available in both text and audio and it is just a small file so it can also be used on a smartphone."
In order to reach the children in East-Africa, Mieke and Alberdine asked us, Driving Nurses, to partner up. In collabortation with our regular partner FTK Kilimanjaro in Lower Moshi, the booklet has now been printed and is already distributed in area of over 80,000 inhabitants.
For more information about Aisha and Friends, you can visit their website through the link below. You can also find the full story about Aisha and Moses on this website.
https://aishaandfriends.com/

We are beyond proud of this beautiful collaboration!
Kind regards,
Team Driving Nurses