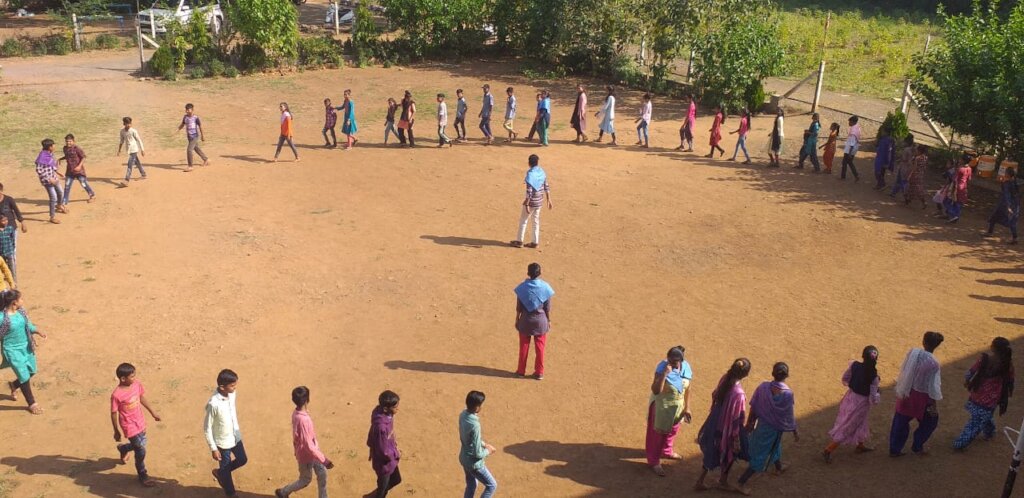 CHILD FRIENDLY VILLAGES:
The vision of child friendly villages is to realise the rights of children with involvement of all the stakeholders.
Currently, we are working in 14 villages of Samarpada and Sejpur Panchayat in Dediapada block.
Child Rights trainings:
15 child rights trainngs were organized, 168 girls and 189 boys participated in these trainings. Topics such as what is a child, what are rights, what are rights, right to survival, protection, development and participation were facilitated. Through these trainings children learnt that no one can hit them or discriminate against them. They also learnt that they must not discriminate others as well. After the training was over, children even inquired about when the next training will be.
Residential Leadership Camp:
This Diwali vacation we organized two residential leadership camp, for the first time in Aaranyak program. Previously, we had only organized one-day training camps. Children and the team was very enthusiastic about the camp. 78 boys and 89 girls – 167 children of fourteen villages participated in these two camps. The theme of the camp was right to participation. Children learnt about what is right to participation, importance of right to participation, importance of collective and spaces where children can demand their right to participation.
10 Balsena children from Bhavnagar also participated in this camp. They shared about Balsena, its history, structure, programs, and most importantly how Balsena impacted their lives and lives of their friends and how collective has played an important role in it. They also played an important role in facilitating and taking leadership in many activities during the camp.
Children really enjoyed the camp, and demanded that we organized more such camps. One child said during the feedback session that he felt as if he was at home. Parents of 3 girls had come to pick them up mid camp to take them for outing, but the girls refused to go with them, saying that you all can go, but we are having fun here and learning so much, we want to stay here. One boy said to one facilitator, "you are explaining and teaching us so much, you must be tired, here, I want to gift you this pen of mine and 10 rupees!" The facilitator was really touched by this and he got tears in his eyes, he accepted the pen but returned the ten rupees saying that he could not accept such gift. All in all the camp was a big success.
AAGANWADIS:
From the month of August, we started working in sixteen Aaganwadis once in a week, in the fourteen villages of Samarpada and Sejpur panchayats. Currently, 68 boys and 92 girls are attending these aaganwadis. During past couple of years, we had observed that while nutrition work is being done through Aaganwadis, when it comes to pre-primary education, it is quite ignored. We would like to work in Aaganwadis, to ensure that children keep being curious, and learn about their surroundings through different senses.
We have been doing stories, songs, games and learning about vegetables, fruits, animals, birds, flowers, shapes, small things-big things, body parts, numbers upto 5, some letters, etc. through many teaching learning materials and surroundings.
Children have loved learning stories and songs, and say that we do it at home as well after this. They eagerly wait for our facilitators to go there; they ask the aaganwadi worker also.
Aaganwadi workers are also very supportive of our work and usually give different equipment to our facilitators, and tell that the activities that we facilitate with children are in their plan too, but they are unable to do it because they have much work.
Parents of these children say that children show what they learn from our facilitators at home, they tell those stories or sing and do the action songs.
VANSHALA:
The vision of Vanshala, is to create an open learning space for children where they can slowly learn to decide what they want to learn, how they want to learn, and learn by doing. Vanshala children also learn about child rights and life skills as well as do activities to learn about academics.
We also organized leadership camp with older children who are leaders in their villages. Children of all 14 villages participated in this camp, including 3 of Vanshala village. This created a great opportunity for children to interact and learn with other children and creating a common platform for friendship. Activities and games that create a positive atmosphere of friendship and cooperation were facilitated. Activities on team building, creative thinking and creating positive self-images were conducted. Children really enjoyed this leadership camp and are eagerly waiting for next round of camps. 18 girls and 16 boys of Vanshala participated in these camps. 4 Balmelas on the theme of Learning science through experiments were conducted with age appropriate experiments for both younger and older children. 66 younger and 83 older children participated in these Balmelas. Children really enjoyed doing science experiments on their own, as opposed to just seeing the demonstration like they have to in school. They were curious and asked questions around them as well.
2 Ramat-utsav- sports days were celebrated in Vanshala villages as per planning by children's sports committee. They selected the games with help of our facilitators. Games like lemon-spoon race, sack race, slow walking, frog jump race, three legged race, etc. were played by children. They had supreme fun and participated in each game with lot of enthusiasm. 76 girls and 68 boys participated in these Ramat-Utsav.
Adolescent girls and boys groups are created in both vanshalas with the older children to spread awareness about topics that affect them and to create a safe space for them to have conversation about these topics. Topics such as gender- what is a girl, what is a boy, girls and boys box defined by patriarchy and how each of us are affected by it, coming out of these boxes is possible were spoken about. Different physical, mental and emotional changes that come during puberty, menstruation, making safe decision, 6 steps to awareness, etc. were conducted in these mandals. 45 girls and 36 boys participated in these mandals.
Library:
Reading books can open up a lot of horizons for children. This can help in creative and critical thinking. This year with older children, we especially focused on adventure stories by Jule Vern, Thor Heyerdahl, etc. Children really enjoyed these book and it created interest among them to read more. We did this library day, once a week this time.
Sports:
Once in a fortnight, sports activities such as Kho-Kho, kabaddi, or team building activities as well as yoga and exercises are conducted. These experiences nurture the values of unity and cooperation along with learning sportsperson spirit.
Creativity:
Once in a fortnight, activities on creative thinking are conducted. Activities such as paper craft, drawing, zentangle art, and creative thinking challenges are facilitated. Children especially enjoy the activities with paper craft and making new things.
Festivals and Days:
Festivals like Rakshabandhan and days like Independence day and teacher's day are celebrated in Vanshala. In Rakshabandhan, children learnt to make rakhis and tied those self-made rakhis to their friends or family members. In bal samiti meeting children had asked for this activity. 77 girls and 73 boys participated in this program.
Children's movies which also teach leadership, creative thinking, problem solving etc. where shown to the children. Movies like Moana, home alone were shown. Chidlren really enjoyed these movies. On the occasion of teacher's day, we also showed the movie Chalk and Duster. 56 girls and 52 boys participated in these movie screenings.
Bal Dost Samiti Meeting:
5 Meetings with Bal Dost Samiti- (Samiti with parents, leaders of village, youth and children.) were organized in Vanshala. During these meeting, Vanshala facilitators discussed about child rights with samiti members to spread awareness about it among the adults. Samiti members also discussed the children who dropped out (were pushed out) of the school and facilitators paid them a home visit and tried to help them to get back to school. Children also presented about various forums and trainings they participated in.
Parents Meeting:
One parents meeting was organized in Pomlapada and nani Almawadi village as the attendance of children was decreasing due to some issues with location. We
Bal Samiti meeting:
6 Bal samiti meetings were organized to facilitate more participation from children in Vanshala. In these Bal samiti meetings, children decide about what they want to learn, or what activities to happen. There are six samitis in total- Education, Sports, Culture, protection, environment, and health. Each child is part of one samiti, and each samiti then elects two leaders- one male and one female. As per organization of samitis, this time programs like Ramat-Utsav, Rakshabandhan, and lot of academic intervention happened.
AASHRAMSHALA:
Aashramshalas are managed by different trust under tribal welfare department of state government. There are around 40 such Aashramshala (residential schools) in Dediapada block. Our ongoing intervention is in 11 such aashramshalas with 1541 children.
Children who study in Aashramshalas are more vulnerable, most coming from economically marginalized communities as well as geographically interior villages. Many children of single parents and orphans. These children are more vulnerable to different abuses that occur here.
We are working especially with adolescent girls and boys who are navigating the confusing age of puberty, talking to them about different physical, mental, emotional changes that occur with puberty, menstruation and menstrual hygiene and personal hygiene. We are also teaching them about gender and gender equality. We are also empowering them through child rights, especially teaching them about right to protection and working on enhancing their life skills.
Balmelas:
We started our work with in Aashramshalas with Balmelas. It is a great way to connect with children and build rapport with them and get them curios about learning new things. We organized 7 Balmelas with 399 younger children and 11 Balmelas with 945 older children. The theme of the Balmela was creativity, team building and problem solving along with many cooperative games.
Kishor and Kishori Mela:
Kishor and Kishori Melas (adolescent girls and boys fair) were organized to create a safe space for these children to understand about different physical, mental, emotional changes that come during puberty, menstruation and menstrual hygiene, what is gender and gender equality, etc. These sessions were very helpful for children because they didn't know much about what is happening with their bodies and how it is affecting them. Many of them went home and told about it to their parents and younger siblings and friends from their villages. 10 Kishor Melas and 11 Kishori Melas were organized and 477 girls and 411 boys participated in these melas.
Child Rights Training:
Child Rights trainings were organized in all the Aashramshalas to spread awareness about rights of children. Children learnt about who are children, what are rights, what are child rights, right to development, right to survival, right to protection and right to participation. 910 children participated in 11 child rights trainings.
Life Skills Education:
Life skills are very essential, they are ability to meet challenges of life effectively and live life with dignity and bring out one's own potential. Through activities and games, we taught life skills such as creativity, critical thinking, problem solving, self-awareness etc. to children of Aashramshalas. Children participated in these sessions with much enthusiasm.