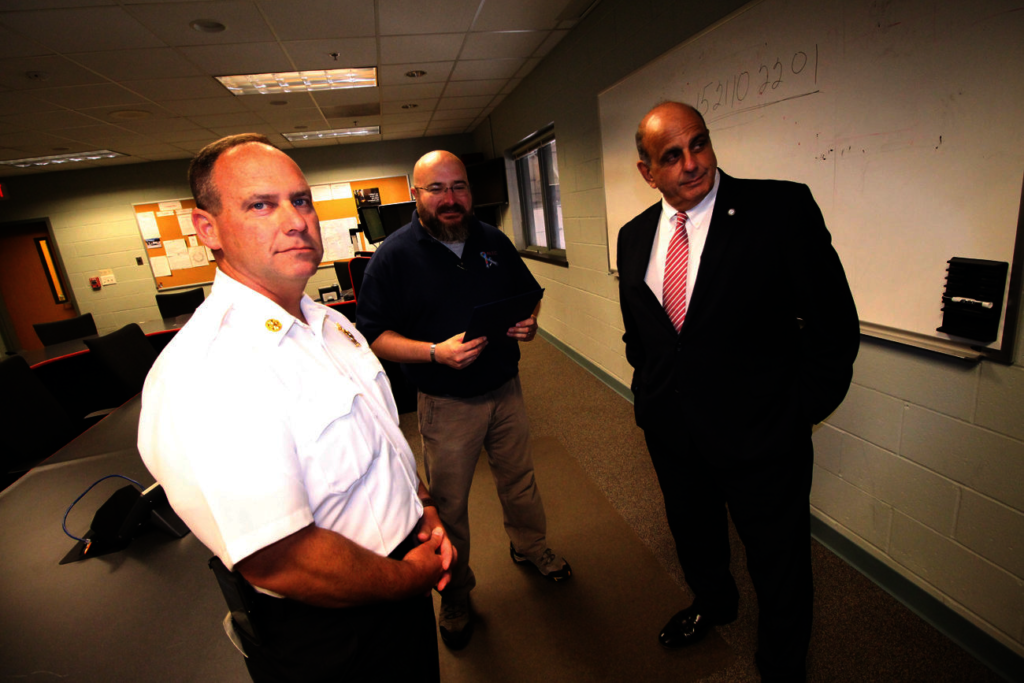 The Arc of South Norfolk FAC and the Norfolk County District Attorney's Office collaborated to form the ALEC program. ALEC has become a nationally recognized training program for professionals about best practices in managing crisis situation involving someone with autism. The ALEC program provides trainings for fire, police, EMS, hospital and courtroom personnel, parents and educators. ALEC trainers complete a comprehensive training on the ALEC curriculum. A unique component to our program is that all trainers are required to be First Responders who have a family member with ASD. The mission of ALEC is "to foster a deeper understanding of ASD amongst public safety and law enforcement personnel".
With recent awards from the Massachusetts Department of Developmental Services (DDS) and The Changing Lives Fund from the Northeast Arc (ArcTank Award in 2019), ALEC has been able to provide additional training in New England (Massachusetts and Rhode Island). Please see the latest on our with Fire Fighters in Rhode Island:
http://www.warwickonline.com/stories/sa-autism,143438#.XSe0ZNaFrVk.email
Funding from the Department of Developmental Services (DDS) has allowed us to train a total of 24,486 First Responders throughout Massachusetts.
ALEC has trained 1,131 EMS providers from the following towns and EMS agencies/educational programs with 49 trainings: Adams, Boston, Chicopee, County Ambulance, Eascare, Emergency Nurses Association, Fallon Ambulance, Greater Boston EMS Association, Highland Ambulance, Hilltown, Hyannis, Lowell, Lynn, Malden, MASS National Guard, Metro West Framingham, Mattapoisett, Metro West Natick, Mount Wachusett, Natick, Nashoba Regional, Pittsfield, South County Ambulance, South Deerfield EMS, South Shore EMS, Springfield, UMASS Medical Life Flight, Ware, Webster EMS, Wood Ambulance, Worcester, Anna Maria College, Holyoke Community College, Lowell University , Quinsigamond Community College, Westfield State University, Berkshire, Lifeline Ambulance, South Shore Hospital EMS.
ALEC has hosted combination trainings for multiple First Response agencies. These 19 trainings were for 704 First Responders in: Barnstable County (Fire, Police and EMS), Danvers Fire and EMS, East Bridgewater Fire and EMS, Hyannis Regional training for Fire and EMS, Leominster Fire and EMS, Mercy Hospital (Fire, EMS, Hospital Staff), Needham (Fire, EMS, SWAT Team), Berkshire County Regional Training (Fire, EMS, Police), Clinton Hospital Regional Training (Hospital Personnel, Fire, EMS, Police), Cooley-Dickerson Hospital (Hospital Staff), St. Vincent's Hospital (Hospital Staff including Emergency Room personnel), Newton Wellesley Hospital (Hospital Staff), Taunton Morton Hospital (Hospital Staff), Leominster OEM (Emergency Managers), The Mid State Fire Mutual Aide (Fire Chiefs Association), Brookline and Taunton Crisis Intervention Teams, Mass General Hospital (Hospital Staff and Security), and Milford Hospital (Hospital Staff and Security). Along with Police, Fire, EMS, Hospital and other Emergency Medical Personnel, ALEC has hosted 15trainings for families, training 160 caregivers on what to do during a crisis situation in the following cities and towns: Attleboro, Auburn, Chelmsford, Dennis, Fitchburg, Franklin, Greenfield, Hadley, Leicester, Milford, Randolph, Sharon, Swampscott, Westwood, and Yarmouth. ALEC has hosted 2 trainings to train 26 Park Rangers in Boylston and Boston at The Department of Conservation and Recreation; 3 trainings to train 294 Probation Officers at the MA Probation Department in Clinton; 3 trainings to train 83 Criminal Justice students at Tri County Regional High School and Holyoke Community College; 2 trainings for ADDP in Framingham to train 26 staff members, and 2 trainings to train 76 DPPC staff at the Shrewsbury DDS Regional Office.