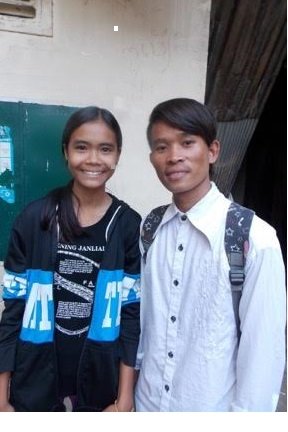 Tuesday, November 28 is Giving Tuesday match day at GlobalGiving.
A Real Cause for Celebration !
Early in 2017 we wrote about a family who has been in our program since 2002. This family, despite crushing adversity still managed to be a family, held together by the strength of a grandmother in her 60s when we first met her in 2002 and who is now nearing 80.
Vichet, the younger of two grandsons, has , from the beginning, remained devoted to his ailing grandmother, stayed at home to help and continued to study hard in school. In his spare time he studied English to prepare himself to pursue his dream of becoming a tour guide in Phnom Penh.
In 2015, at the age of 21, Vichet finally completed grade 12 and prepared to take the very difficult national examination that would earn him a high school graduation diploma. Despite his years of hard study, our Vichet, failed his exam in 2015 due to the poor quality of his rural education. Students who do not pass the high school exam are allowed to wait a year and retake the exam but, without the benefit of a rigorous tutoring program, chances of success only diminish with time. Having completed grade 12 and but failing to receive a diploma, Vichet went to work in a warehouse loading trucks in Phnom Penh. He now works six days per week for $120 per month.
Despite formidable odds and despite working full time, self study and nearly 2 years since leaving high school, we are thrilled to announce that Vichet has passed his exam and earned his High School Diploma! It is estimated that only 40% of Cambodian students even attend high school.Our Vichet has succeeded because of his hard work and determination.
Vichet still helps his family and will now have to evaluate what opportunities might be next for him in his long journey.
Our joyful congratulations to Vichet for his hard earned success. Your support of this fragile family and others make this possible and we are deeply grateful to you for your support !
Barbara & Mark Rosasco