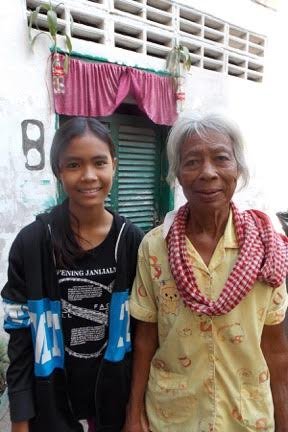 In the early 2000s crowded slums in Phnom Penh were frequently cleared by mysterious neighborhood fires that drove residents off of valuable land in the city center and into outlying areas on to the open rice fields of Anlung Kgang, about an hour's ride from the city. That resettlement area was reached over a series nearly impassible dirt roads. There were no houses, no electricity, sewer or water lines. Most families built shelters from plastic tarps, bamboo sticks and cardboard scraps they scrounged from surrounding roads and ditches. In the rainy season the area became a sea of mud and wet misery for the residents.
In 2002, in Anlung Kgang, we met a grandmother, then in her sixties, and her two AIDS orphaned grandchildren, two brothers, about 8 and 10 years of age. Although generously kind hearted, this grandmother was completely illiterate, not able event to write her own name. As AIDS orphans, the brothers qualified for assistance from our AIDS Patients Family Support Program (FSP). Over time, with the help of some generous friends, we helped the family build a modest wooden house on their tiny land plot. The government eventually built a primary school to serve the thousands of families in the settlement. Both brothers excelled in school, despite the fact that grandmother could not be of any help with their studies.
The older boy, Phiroum, became withdrawn as a teen, dropped out of high school and moved to the city to stay with friends and train as auto mechanic.
The younger boy, Vichet, who remained devoted to his ailing grandmother, stayed at home to help and continued to study hard in school. In his spare time he studied English to prepare himself to pursue his dream of becoming a tour guide in Phnom Penh.
In 2010 Vichet's aunt, also died of AIDS, leaving an orphaned six year old daughter. This little girl, Rantha, Vichet's cousin, came to live with Vichet and his grandmother. Both children studied hard studied hard while also taking care of their grandmother who suffers from many health problems.
In 2015, at the age of 21, Vichet finally completed grade 12 and prepared to take the very difficult national examination. If he passed, he would earn a high school graduation diploma. Despite his years of hard study, the poor quality of his education in a rural and poor public school did not prepare him adequately for the exam.
Unlike middle class children who often take a series of rather expensive "extra classes" in order to prepare for the national exam, children of the poor or in rural areas inevitably fail and our Vichet failed his exam in 2015 and he would need to wait one year to try again. Students who do not pass the high school exam are allowed to wait a year and retake it but, without the benefit of a rigorous tutoring program, chances of success only diminish with time.
Having completed grade 12 and but failing to receive a diploma, Vichet now works in a warehouse loading trucks, working six days per week for $100 per month. Sadly, due to lack of study and practice, his once fine English language skills have declined markedly. He would like to prepare himself to retake the high school graduation exam next July but as the main support for his family, he is, very understandably, unwilling to give up his full time job and Vichet is hoping to somehow tutor himself to success.
Unless Vichet enrolls full time in high school (again) and retakes grade 12 along with a battery of outside "extra classes," his chance of success is dim at best. Therefore, we are considering options for vocational training while also looking to re-enroll him in an English language program with the hope that he might one day gain the proficiency required to pursue his long ago dream of working as a tour guide. All of these options, of course, require funds: funds not only to replace his income for the family, but also funds for tutoring or vocational school. Indeed, changing Vichet's life's current trajectory , from a low paid manual laborer to a more middle class life as a tour guide, will depend on this.
Meanwhile, the Rantha is now fourteen years old and in grade eight and studying hard. Although she ranks #1 her English language program in a class of thirty students, in her Khmer language and other core program classes, Rantha ranks in about the 30th percentile.
We are very proud of both of these orphaned young people for their determined efforts and their kind treatment of their ailing grandmother.
We are the family for our families!
A central theme of our Program, has been a long term approach to help the children in our program, cruelly impacted by extreme poverty and HIV/AIDS, to somehow break out of the cycle of inherited poverty and move into the middle class. As you can see with the history of this fragile family, sometimes the " progress" in this goal is two steps forward and one step back and it is a very long and uncertain road to success.
We are very proud of both of these young people. In a society where young people are often focused only on their own gratification , this young man, Vichet, has been steadfast in his kindness and loyalty, taking care of his ailing grandmother and his young cousin, Rantha, while trying to continue to move himself forward despite formidable obstacles and odds against him. He is truly a kind and gentle soul.
Vichet is a member of our " family" , so our goal is to try to help Vichet build a life of hope and progress, and help him move forward along that very long and difficult road out of extreme poverty.
Our donor support over the many years has empowered us to help many other fragile families, all of whom, without our "family" support, would fall backward into a life of hopelessness. Instead, we try to see how we can try to help, by coming up with a different strategy, never giving up, for after all, we are the family for our families.
We deeply appreciate the continued support of our generous donors for the families in our care. None of this would be possible without you.
Barbara & Mark Rosasco