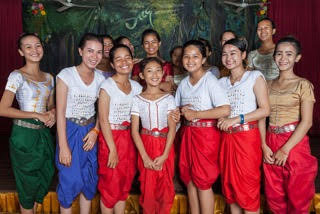 In the early days of our program in the early 2000s, many of our efforts were focused upon urgent, last resort, compassionate care for the women and mothers in our program. As the program evolved, more of our program participants were moms with children. Thankfully, as antiretroviral medications became readily available and affordable, our program evolved still further, focused upon assisting moms with AIDS. AIDS had evolved from an 18 month to 2 year death sentence from diagnosis, to a serious chronic illness that in many cases was " manageable".
Despite the evolution of our program participants, our core values for the program remained the same
keep fragile families together
protect the family from homelessness
protect the children from trafficking
provide basic housing, food and community support
and keep children in school.
Our long term goal was to break the cycle of inherited poverty by giving the kids in our patient families a real chance at improved economic prospects through education. The journey to success via this last goal has been tortuously slow, in some cases, spanning more than a decade of slow, steady support. In short, we function as the " family" for our patient families. But, boy, can we show results from our efforts !
The story of S: A rescued life or a "masterpiece" in progress?
In 2001, when S. and her sister first joined our AIDS Patients Family Support Program, S was just 4 years old and her sister had just passed her second birthday. Their mother was dying from AIDS and S., herself, was HIV positive, having contracted the virus at birth. These three fragile souls, themselves, had been homeless for a while but at the time we met them, they were sharing a single room with the mom's childhood friend, who, though herself quite poor, had taken them into her tiny home because they simply had no where else to turn. The situation was dire: a dying mom with AIDS and two toddlers, age 2 and 4.
S's family became one of our patient families. Less than 2 years after joining our program, her mom died in a hospice outside of Phnom Penh, leaving S, age 6 and her sister, age 4, in the care of the lifelong friend with whom they had been living.
Today, years after entering our program, we continue to support this fragile family. The girls live in that same room with their mother's friend, whom over the years, they came to love and know as their " new" mom. The friend discovered some years ago that she, too, is HIV positive and, despite failing eyesight, she somehow manages to earn a little income by sewing stuffed toys and other simple craft items for which she get's paid on a piecework by a local NGO in Phnom Penh.
Our Program's support and financial assistance have empowered these tiny orphaned girls to grow and blossom into confident, charming and accomplished young ladies. Among other skills, both girls have become confident English speakers with the help of many years of outside English language instruction sponsored and paid for by our Family Support Program. Both girls are still in school – S. is now in grade 12 and her sister is in grade 10 at a public high school near their home in central Phnom Penh. Both of the girls work and study half days at our Champey Academy of Arts. Despite her love of dance, S. was moved to the drawing and painting class after suffering several fainting spells on the dance stage. Her younger sister continues to study dance and she has developed into a fine dancer and has many times been included in our Champey 'traveling team' which performs at events and competitions outside of Champey.
In addition to studying drawing, S. also works as a member of our Champey "welcome team" – greeting tourists who visit our school, explaining our program of arts instruction to them and teaching them something about Cambodian traditional arts. Both girls receive a modest salary for their work at Champey and that money helps to supplement the earnings of their 'mother' and the monthly support payments which the family receives from our FSP.
What the future holds...
As a 12th grade student, S. is naturally thinking a lot about what she will do next year after she has completed high school but first she needs to pass the rigorous national examination required of all students before they can receive their high school diplomas. After that, S. thinks she might like to work in tourism, perhaps as a guide, but, depending on our available resources, both the management of Champey and our FSP field staff hope to see this very talented and confident young woman enrolled in university next year.
We are so proud of both girls, who despite formidable obstacles, continue to lead lives of quiet dignity and excellence, undaunted by the formidable challenges that have been ever present in their lives.
Because of you...
Your long term and steady support has allowed us to " rescue" and then support these young girls. Their own fine characters and hard work combine to allow us to claim at least a little bit of credit for their remarkable accomplishments as they continue their paths forward toward a better future
We are deeply grateful to you all for your support, for surely it has been a group effort , now spanning 15 years and I know that we all agree, the results have been worth the time and effort.
The average cost of basic support for one of our program families is about $ 140 per month plus additional costs of education, tutoring, etc. as appropriate.
Sadly, we cannot change the world. But, as you can see, we could change the world for these two young girls.
With our heartfelt thanks,
Barbara & Mark Rosasco