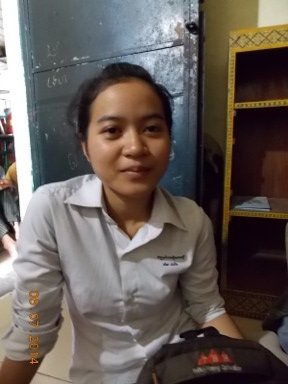 Our title starts with "On the edge" . Our report will give three examples of young people who are at a crossroads and who are " on the edge" of change.
Since 2000 our project has helped destitute moms with AIDS ( in Phnom Penh, Cambodia ) care for their kids through our AIDS Patient Family Support Program ( FSP). We have stepped in hundreds of times to provide modest housing and the social support that is essential to create a stable family lifestyle . We have rescued mothers and their children who are living rough on the streets , we have provided transitional housing to mothers snatched from death and returned to fragile but better health by the care of Sisters at a local AIDS hospice and we have stepped in to prevent families from becoming homeless.
But far beyond these essential services, our goal is to help children to stay in school and to help them see that there is a different life beyond the mean streets of the slums where they live. We want to give these kids the opportunity to break the cycle of inherited poverty. Key to that effort is the family support that we provide by actively monitoring the condition of each of our patient families through weekly or more frequent visits and providing additional support when needed.
We are so pleased that we have two students who are just finishing their high school studies and who will sit for the national high school examination in August. Both students have a dream of passing the exam and qualifying for entry in to college in the fall. Both have been in our FSP program and under our care for more than 10 years. Ravin, age 18, dreams of studying Chemistry and food science. Vichet, age 20, comes from Anlung Kgang settlement and wants initially to study English. If they pass their high school exams, both will become candidates for our college tuition program and Jobs for Cambodian Youth program.
Another young person in our program, age 14 , is facing an extremely serious and complex struggle. This young lady lives in a deteriorating family situation that may be on the edge of complete breakdown. Already quite fragile, the mother in this family has become extremely unstable mentally . It is not unusual for HIV/AIDS to cause dementia. We are unsure as to the precise cause of this mental illness, but it is taking a toll on 14 year Srey Maol. Never a strong student, she has fallen so far behind that she has dropped out of school and may likely not be able to return. A further concern is that she is exposed to a steady and frequent stream of new boyfriends by her mother's sister. Srey Mao and her mother live with this aunt. Neither mother nor aunt value education and so we are gravely concerned. We trying to find effective measures to help stabilize the situation including the serious challenge presented by the mother's deteriorating mental health of finding an alternative to the current housing situation.
One temporary solution is to find activities to occupy Srey Mao during daytime hours. We have decided that a possible temporary replacement to school could be full day class participation at our Champey Academy of Arts. This would provide structure 6 days a week and help her build self esteem. It will also keep Srey Mao out of the house and give her a break from the constant stress of her mother's illness and keep her away from her aunt's boyfriends who are hanging around.
We are not sure we can " win" this one, but we are trying hard to find solutions with the hope that bit by bit we can turn this situation around, or perhaps place this young girl on a different track of art, music or dance and exposure to stable adults.
Without your support, we would not have two newly graduating highschool students, and our young friend would be a just a tiny step away from a wasted life. Instead, we have two students with hopes of college, and young girl for whom we will try our best to keep moving forward to a better life.
Our heartfelt thanks to you all for your continued support of our efforts!
Barbara & Mark Rosasco