Project Report

| Jun 11, 2012
A project in the making- from service to action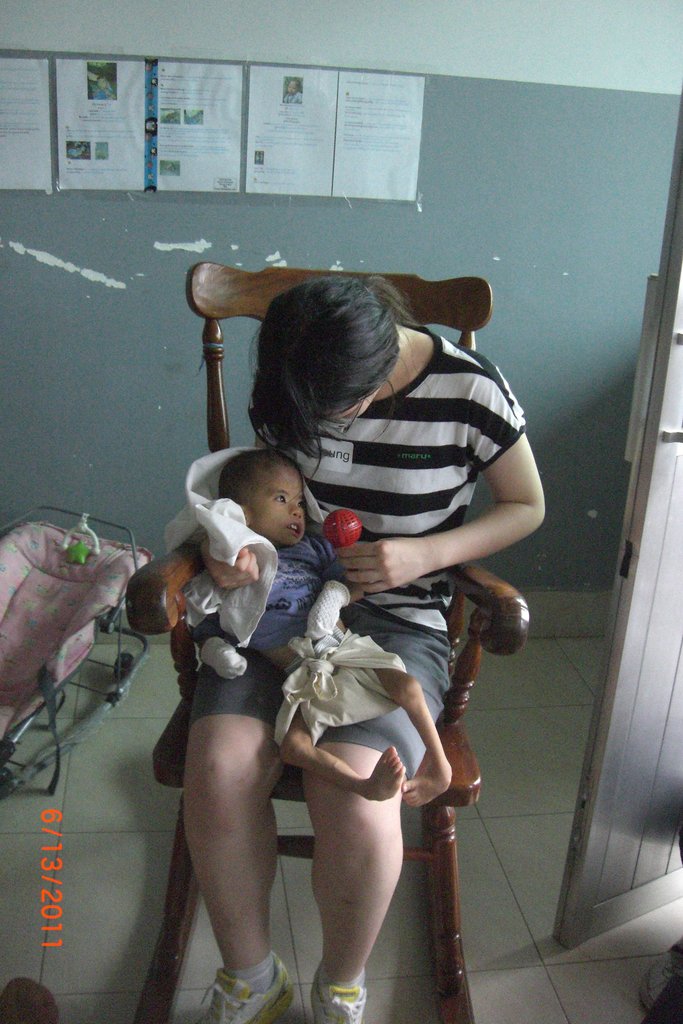 Behind the scenes at Kasumisou Foundation : How a school service idea gave birth to a project
Summer 2011 saw our first ever joint service effort. Our service team partners were 17 Junior and Senior students from Seisen International School in Tokyo, Japan. We first reported on this in our September 2011 update.
Seisen International School
In June 2011, Mark, organized and facilitated a team of 17 students and 2 Seisen teachers for a 10 day volunteer service program at the Phnom Penh Municipal Orphanage and the Home of Peace AIDS in Phnom Penh. The Seisen Service Team, paid their own way. Their service work was to provide companionship and individual attention to permanently warded children, with mornings spent at the Home of Peace AIDS hospice ( HOP) and afternoons at the Municipal Orphanage ( MO)
On the first day, several Seisen students bravely held back tears as they came to understand the medical reality of the fragile children with whom they would be working. Many of the children at the MO are extremely limited in their mental and physical abilities. All of the children suffer from some type of serious affliction or disability. Some of the children are permanently confined to bed. Due to inadequate funding, these kids often receive little attention beyond the basic custodial care of a diaper change and food. Overworked and understaffed, Staff work burdens do not include time for cuddling and holding. The Seisen Service Team provided a rare treat for these kids to have the individual attention of holding, rocking, or singing that our own children so easily take for granted. Other children at the Home of Peace hospice and the more mobile children at the Orphanage greatly enjoyed a chance for personalized attention, small crafts activities and games.
Background
In May 2011, the European NGO that had provided much of the funding support for Municipal Orphanage said that they must end their support after 10 years to their own funding challenges, leaving dire gaps in funding for essential services for the children at the Orphanage.
Although Kasumisou Foundation continues have its own serious funding challenges, operating its programs on month to month budgets. However, the dire funding needs for the most fragile children at Orphanage, caused Kasumisou Foundation to take on the task of providing supplemental support to the Orphanage. We could already see from the success of our Seisen Service Team that we could make a meaningful difference. We decided to add the " Malnutrition Room " room at the Orphanage, which is home to the most medically fragile children who require specialized support for their survival, to our FSP project budget.
While immensely satisfying, this addition to our program roster is also heartrending: we have lost three of these fragile children in the past 6 months.
Our New Project
Our support for the Orphanage includes assuming the salary responsibilities of the two full time staffers who man the Malnutrition Room 24/7. Additionally , we feel that human touch and kindness is an essential part of the care of all children, so we have recruited 3 of our older teenagers from own FSP families. These young women volunteer ½ day of their time 3 to 4 days per week working to play and provide comfort through physical contact to the children. Our young volunteers also serve as helpers with diaper changing and feeding for these and other children at the Orphanage. We pay their transportation costs.
There are currently about 115 children at the Orphanage: 1/3 have AIDS, the remaining children sufferfrom serious medical conditions including Cerebral Palsy, Downs Syndrome and a variety of severe birth defects. Many of these children are bedbound and are not able to feed themselves. Particularly for children with severe CP, feeding can take considerable time. The total cost of the support of the " Malnutrition Room " program assistance is $ 6,000 to $ 7,000 per year.
Our Service Team Results
The students and teachers who were on the Seisen Service Team returned to school in the fall, eager to tell about their experience in Cambodia. The enthusiasm of the entire team , both students teachers alike, created an amazing " Can do" attitude and a willingness to do their best at each and every task. It was the great success of the Seisen Service Team that inspired Kasumisou Foundation to take on the responsibility funding the Malnutrition Room at the Municipal Orphanage and to encourage our own Family Support teenagers to get involved and to give something back to children who are even less fortunate than themselves.
Our sincere and heartfelt thanks to everyone at Seisen International School and the entire Service Team for a great joint project. We cannot think of a better way to start a Service Team program.