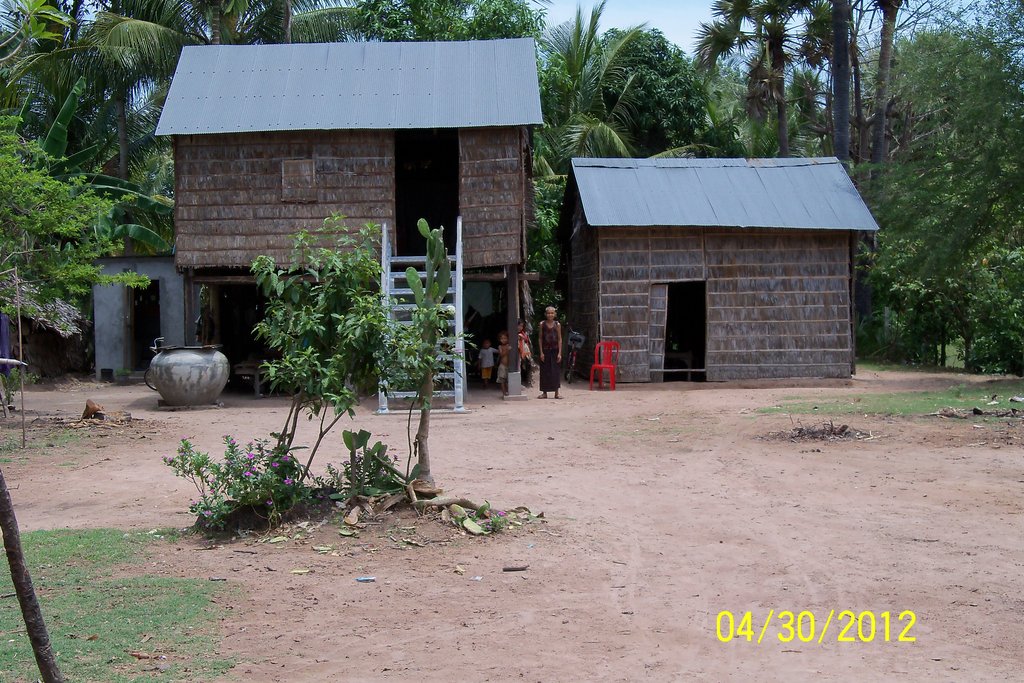 FSP in Action and Changing Lives
Mark returned this week from his quarterly trip to Cambodia where he met with almost all FSP program families and
conducted his standard line-item review of the AIDS Patient Family Support Program and other Kasumisou Foundation programs. The FSP continues without significant exception or change, maintaining a stable composition of 75 patient families and approximately 120 dependent children.
Its hard for us to explain to our supporters just how great it is to be able to report " no change". All of our patient families have already endured a great deal of individual and/or family trauma, so status condition reports of " no change" and " stable" are a welcome relief and change to patient families as the trauma that so often impacts the very poor can cause violent shifts in the flow of daily life.
In this quarterly report, we would like to share the story of one of "our" kids in the Family Support program to show you how the FSP, bit by bit, really can change young lives. For privacy, we will refer to our young lady as " Kay". Here is Kay's family history as best we can piece it together.
Kay's Story....
Kay is one of three children and she is from the outskirts of a "cross roads" town where two highways intersect in the countryside in the county of Kampong Cham. This town is about 2 1/2 hours away from Phnom Penh, the capital city, by car. Some years ago, Kay's mother and father both became extremely ill as a result of AIDS, causing them to lose everything and become extremely poor. At this time, with both parents gravely ill, and no means of support, Kay's mother gave away the older children. The location of those older children remains unknown. Kay's father died, leaving just Kay and her mother alone in the family and in desperate circumstances.
Kay's mother left Kampong Cham and , together with Kay, catching rides as best they could, traveled to Phnom Penh to try to seek medical treatment. Kay, now 14 years old, came to us 6 years ago when her mother, homeless and gravely ill from AIDS joined the FSP. Within a few months, Kay's mother died in the charity ward at the Russian Hospital in Phnom Penh, leaving Kay all but an orphan. We learned that Kay's grandmother, a widow who had lost her husband to a brutal death at the hands of the Khmer Rouge during the Civil War years, was still living in Kampong Cham. In recent years, Kay's grandmother had lived in extreme poverty, surving only on the kindness of neighbors.
We made arrangements for Kay to return to Kampong Cham to live with her grandmother. Extremely poor and with failing eyesight, Grandmother could not, on her own, afford to take care of or provide medical care for Kay.
Kasumisou Foundation's FSP stepped in and developed a practical low cost plan to enable this tiny family of grandmother and grand-daughter to stay together. A kindly neighbor in Kampong Cham allowed the FSP to build a house on their land: a tiny bamboo thatch house, with tin roof and dirt floor was built and became home. The house has a single room.
In the 6 years that Kay has been in the FSP, she has impressed us with her courage and ability. Kay, herself, has AIDS. Despite this, she has been the top student in her class for several years. Her current class in a government run school, is an 8th grade class which has 45 students. Kay is the top student in the class. Additionally, Kay studies English in a group class of 12 students (her class fee sponsored by Kasumisou Foundation) where she is also the top student. Over the years, Kay's grandmother's severe cataracts have made her nearly blind. Kay, at age 14, takes care of her 85 year old grandmother and keeps the household going in the little one room house. Kay is an honors student in school, top in her class, attends English class and she also works part time in a market stall to bring in money to the family. In frail health, Kay's grandmother will soon turn 86. Grandmother has requested that Kay become a ward of Kasumisou Foundation should the grandmother pass away.
The FSP brings Kay to Phnom Penh once per month by rural taxi ( $ 12) so that her illness ( AIDS) can be monitored and managed. To date, she has remained in good health and has bright hopes for the future. It is interesting to know that a rural taxi is nothing more than a flat trailer pulled by a motorcycle, or it might also be an opened pick up truck and once in a while an overcrowded van. The trip is about 2 1/2 hours each way.
The long term approach of " family support" by Kasumisou Foundation makes it possible for Kay to pursue her dream to become a teacher of Khmer ( Cambodian) literature and English.
We hope that this project report will give you a better idea of some of the many ways that the Kasumisou Foundation AIDS Patient Family Support Program ( FSP) works to help needy families in crisis and to help the children of those families work to break the cycle of inherited poverty.
We are deeply grateful to you all for your generous support.
Barbara & Mark Rosasco