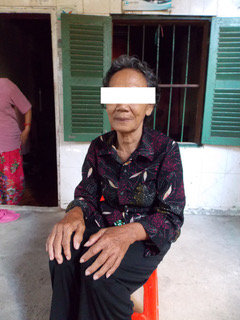 Life lines then ( 1998 ) and now ( 2019 )
When we started this work 21 years ago, much of the center of Phnom Penh, Cambodia's capital city, was covered by large slum neighborhoods comprised often of shacks constructed from cardboard, scrap wood and rusted sheets of corrugated metal. Many of our earliest FSP patients and their families lived in those slums. Today, though, the city is a vast construction zone with new high rises going up in every neighborhood and construction cranes looming over the remaining slum areas.
Many of the poorest residents have been forced to relocate to areas far outside of the city center as the old slum neighborhoods were cleared to make way for new development. Some of our former patients, women whom our staff had judged to be capable of caring for themselves, were among those who moved to areas far from the city center once their support from our program was stopped. Distance and Phnom Penh's now gridlock traffic congestion have made it difficult for our staff to stay in touch with those former patients who were no longer formally enrolled in our program and who, in many cases were forced to find housing far outside the city.
However , several of those patients still return regularly to the city for monitoring by the hospitals to which they were assigned for their anti-retroviral therapy and they have re-appeared on our program radar. In a few cases, we have admitted a few patients back into the Family Support Program after verifying that , without our program's support, they were struggling to survive .
In searh of a lifeline....
Last year one woman (approximately 70 yers old) who had moved to Koh Kong province to live on her son's tiny farm there, returned to Phnom Penh. She sought our support because life on on the farm was too tough for a 70 + year old with a fragile medical condition and the travel to Phnom Penh for bi-monthly medical checkups was more than she could handle.
In need of a lifeline....
Similarly, this month a woman who had been in our Family Support Program for many years but who had been transitioned out of the program about five years ago by our former director, sought our support again after a chance encounter with our field staff at the hospital in Phnom Penh where she gets a checkup and receives her ARV therapy every three months. Many years ago she lost her teenage daughter to the sex industry which left her with only her son. That boy is now nineteen years old but is severely mentally impaired and he is incapable of caring for himself.
Mark met with her and her son during his February visit and decided to restart our support for them beginning March 1. Those two cases and several others where the women or their children suffer from mental impairment or where they are otherwise unlikely to ever achieve self sufficiency are constant reminders of the ongoing need for a program like our FSP which provides for the essential living needs of some of the most destitute AIDS patients in and around Phnom Penh.
The support of you, our generous donors, has long provided the fragile families in our program with urgentl needed humanitarian assistance and we are deeply grateful to you all for your past and continued support.
Barbara & Mark Rosaso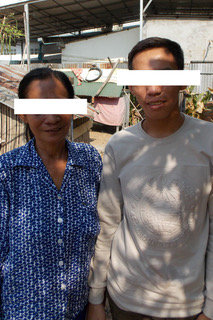 Links: