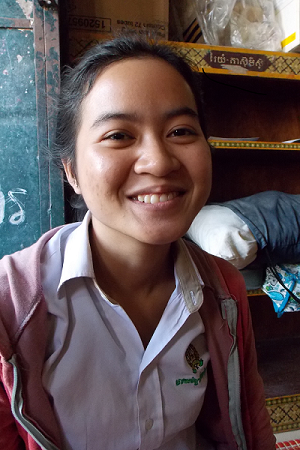 Ms. R and her mother were among the first families admitted to our AIDS Patient Family Support Program when we began in 2000. Now, 18 years later, Ms. R, who was a todler when she and her mother joined our progream is now a 22 year old student in her final year of study at the Royal University of Agriculture in Phnom Penh.
At the Royal University, Ms. R. has focused on studies of food science and food pathology. Her mother cleans houses to supplement the modest incomne which the family receives from our program. The Ms. R does not have AIDS but is physically challenged by a a severe limp. However, her determination to achieve success is unstoppable. She peddles her bycycle every day the many miles between her home and the University campus.
This month, Ms. R. is completing her last semester of classroom study at the University and in her upcoming final semester, she will be working to complete her thesis on plant parasites. She has applied for a $900 grand from USAID to help her complete her thesis and she will find out this month whether her grant application has been successful.
If Ms. R is successful in completing her program at the Royal University of Agriculture and receiving her bachelor's degree later this year, her dream is then to continue her studies overseas and to pursue a Masters degree in food science. She has recently begun studying Japanese in the hope that she might somehow be able to attend graduate school at a university in Japan.
Ms. R is one of our success stories and she is a wonderful example that unstoppable determination can lead to remarkable achievements when given just access to basic education and social support.
Without the support of the FSP all of these years, Ms.R would likely followed the sure path to lifetime poverty and exploitation that befalls so many people in similar circumstance.
We are grateful to you all for your continued support over these many years.
Barbara & Mark Rosasco