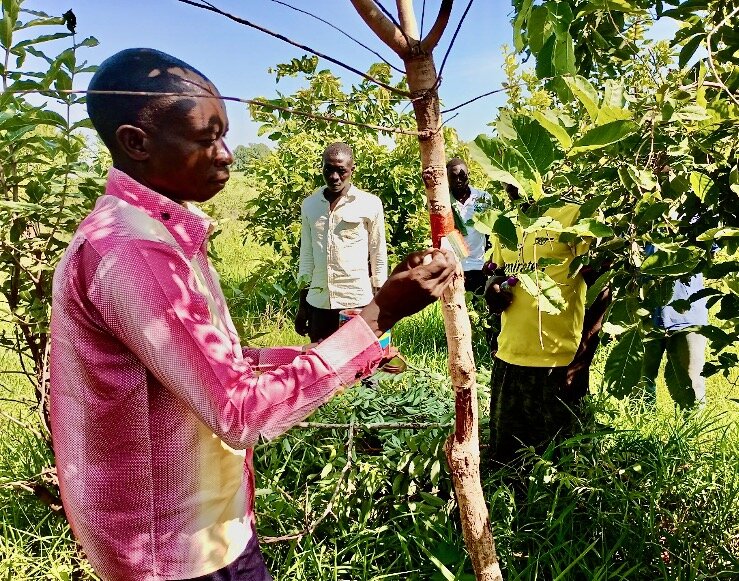 The photo is fuzzy. But the message is clear. A man is painting an indigenous tree because it has value. "Leave it and its nutritious fruit to grow", signals the bright red. Daily, refugees and nationals cut poles for building and fuel for cooking from the woodlands in which the refugee settlements are ensconced. The paint could save this useful tree, one of two Grewia species that grow in the region.
"Justin is a community leader," confirms our field worker Tiko. "He is painting this tree to indicate that it is edible, therefore shouldn't be cut."
This exercise was part of trainings that Tiko ran11-13 July on "farmer managed natural regeneration", commonly known as FMNR. We trained 75 people, 10 women and 65 men, in Rhino Camp Refugee Settlement, Siripi and Ofua zones. The training contributed to one of our goals: the conservation of natural woodlands and indigenous tree resources.
"In FMNR, tree seedlings do not need to be purchased since living stumps are already there just hidden within the soil," says the text that we use to train from. That is an inspiring statement. Just by managing the sprouting stems of these stumps, by favouring the two or three of the strongest ones and removing the others, we can bring back trees. The root system still is intact and pumps all its energy into growing the stems we leave. They shoot up and can form a tree with a canopy that creates tree cover.
If we do not "manage" the stump, however, it will forever resemble a bush, with many thin straggly stems, which may be used to make rope, but are not otherwise so useful or "multifunctional" for people or the ecosystem. The living tree stump cannot break out of that growth form without human intervention.
The ability of cut trees to regrow is very common in tropical trees, except for palms and tropical pines, but is not just a tropical phenomenon. The northern hemisphere originally relied heavily on the ability of trees to coppice and is returning to it as it shifts from fossil fuels. For centuries, English metal workers coppiced species such as hazel for their iron forges. And today, in another project, ICRAF is taking advantage of the ability of willows to coppice. Out-of-work miners are creating green jobs by growing biomass to generate electricity and heat for homes in a degraded former coal mining area in Bosnia.
In East Africa, sprouting stumps are often astoundingly plentiful. "There's one every meter or so!" exclaimed Tony Rinaudo, the man who popularized FMNR, said when he visited our refugee hosting area. (See the link below to his fabulous book about his journey.) And Lalisa and other colleagues found 67 living stumps per hectare in NW Uganda in one of our early studies, also linked below.
It's simply a "no brainer "that we promote FMNR. Planted seedlings have a serious failure rate. They can go into shock, be stepped on by a cow, or fail for a panoply of other reasons. From previous reports, you'll recall that Sarah's study found a 52% survival rate of our planted seedlings. Our monitoring in 2022 found a survival rate of about 64%. With FMNR, success could be said to be almost 100%. Long-surviving stumps rarely perish. They have already withstood fire and more. What a win!
Though this was not our first training in FMNR, our new approach of community visioning flagged it up again as a way to go. "During community visioning," said Tiko,"communities identified inadequate firewood and lack of construction materials due to pressure exerted by the population influx. Conservation of natural resources by practicing FMNR was an ideal solution."
The training in FMNR was also a way to address the thorny issue of indigenous tree species. Our training curriculum explicitly defined Its main objective as "to impart knowledge and skills on management of trees raised from living stumps in order to add trees to the existing crop or range lands by facilitating the growth of important indigenous tree species." The italics are mine.
The challenge is real, says Tiko. "During community visioning, refugee preferences were mostly fruit trees and fast-growing exotic species such as Gmelina, Melia and Neem. The uptake of indigenous tree seedlings is very poor though we continue to educate the community about the relevance of growing those trees."
The following were the topics covered by the training: definition of FMNR and its principles; advantages of practicing FMNR; and steps followed in FMNR. We thank Tiko and team for the training, the community for keenly picking it up, and you for funding it!
In a sneak preview, so far in 2023 we have raised 116,000 seedlings of 24 species, 12 of which are indigenous to Uganda and 12 of which come from other parts of the world. Half are fruit/food species, the others mainly grown for timber, poles, and energy. All, but particularly the indigenous species, provide varying ecosystem services such as shade, stabilization of rivers, habitat for pollinators, and improvement of soil.
Thanks so much. We appreciate every donation. If you can, do consider donating again or converting to a monthly donation. If you already donate regularly, thanks for being a stalwart.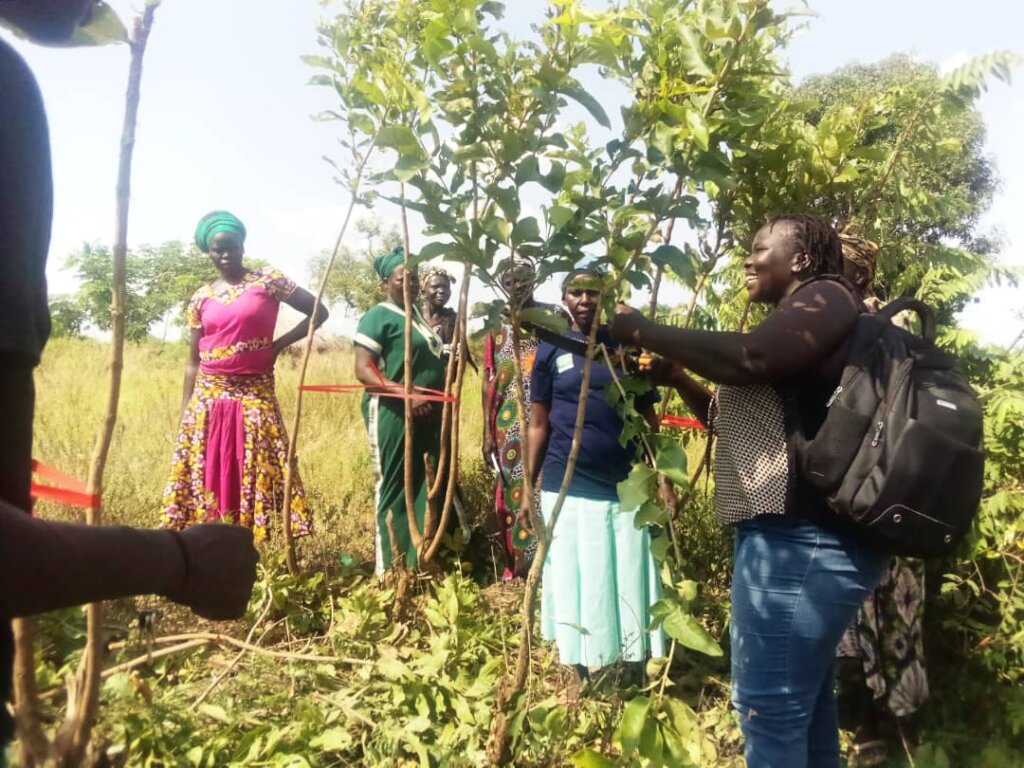 Links: