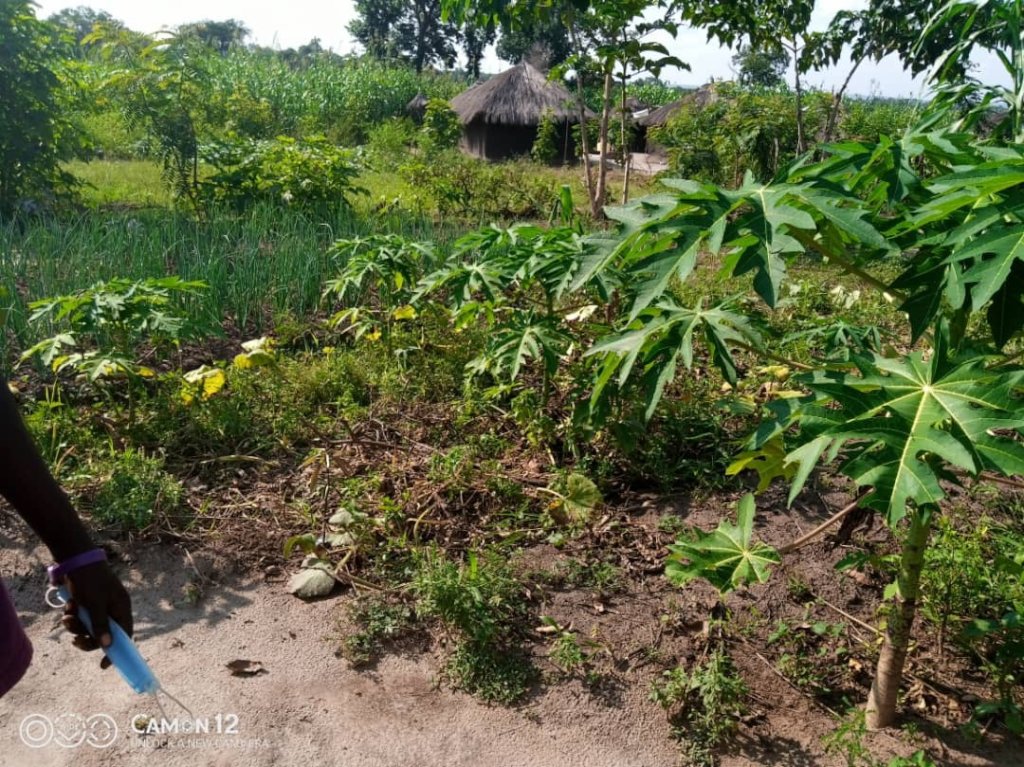 Almost two years into raising funds on GlobalGiving - thank you all so much - and almost three in this region of over 400,000 refugees, we have hit our stride.
We are making a big impact on fruit consumption for refugee and host community families. And we are making a dent in the damage to the natural ecosystems caused by refugees' entirely legitimate need to use wood for cooking
You've got to love papaya, also called pawpaw. To date, this fruit species is our most rewarding. In 2020 we have distributed 16,700 papaya seedlings, In less than a year it has the potential to be loaded with large orange-fleshed fruit that can also be cooked when unripe into a vegetable stew.
Pointing to a pawpaw tree 4 meters high, one refugee farmer told us, "I have just finished eating a ripe pawpaw fruit and my wife cooks the raw ones. She peels the outer layer and slices the pawpaw into small pieces that are cooked with sesame or peanuts."
Out of the 123,053 seedlings raised since January, 54,627 were either fruit or food trees. Food trees in this region produce edible leaves and include Moringa oleifera, the leaf powder of which you may find where you live in a health food shop marketed as a superfood. It is indeed very nutritious.
We are very happy about these inroads that we are making into the lack of micronutrients that can characterize local diets, which can be starchy.
On fuelwood, we are really delighted that women are making fewer long treks because they can use prunings from trees like Senna that we have provided for them. There is also an almost imperceptible but still real drop in the use of natural vegetation.
In total, we have raised 11 species of trees this year, a good range that includes mahogany, which produces neither fruit nor fuel but is a hugely important species for the local ecology. The latest field report says, " When it comes to numbers of seedlings planted, host communities usually plant more given the larger land sizes they hold. Hosts are also willing to plant long-term trees like Khaya (Mahogany) and Afzelia while refugees mainly prefer fast-growing trees like Moringa, Melia, Senna, and papaya for quick returns."
The field team has also sent photos of our trees being used as hedges, fodder banks for livestock, windbreaks, and for the supply of poles.
One of the most exciting developments of the last quarter was the use of radio to reach a broader group of refugees and host families than the ones with which we interact personally (about 400 households). We were super generously gifted $1000 by GlobalGiving itself to intensify our communication in this time of COVID-19. Two of our team spoke for an hour reaching an estimated 44,000 listeners.
Phillip opened the show by saying, "People often think - refugees come for a short time and will be going back home, so why plant trees? But we say No, it's not like that. When refugees reach Uganda, the first thing they do is put their luggage under a tree and sit to rest there. That shows the connection between trees and people. We have found refugees are really interested in growing trees."
Hosted by a DJ called Baby Frank, the call-in show received 15 calls. The most common question was - "when are you bringing trees to our area?" Phillip reassured listeners that the project will expand - but in truth, it is a challenge. Natural resources are underfunded generally and do not have a high profile in humanitarian crises. This project is gathering data that is going to change that.
Gertrude, another of our young foresters, also spoke but in Lugbara, the main language of the region. She prompted Phillip when he did not know the Lugbara name for shea butter. She helped him by adding "In our region, people eat a lot of shea. It's very healthy and it does not come from anywhere except for a tree."
Phillip stressed how the oil from the kernel of the shea fruit is good for immunity. "This is important when pandemics like COVID come our way and we have to resist them."
It is a pleasure to work with such smart young people. We thank you immensely for your support.