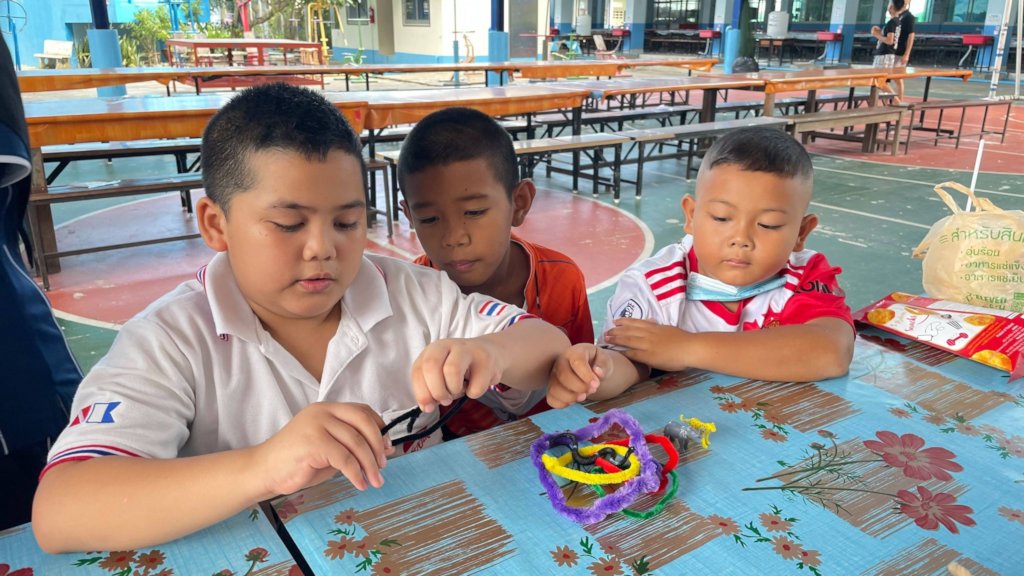 Since the start of the new school year in June, due to COVID, we have not been able to have sports or cooking at the afterschool Coconut Club or host birthday parties or beach cleanups; the children have missed all these activities. Instead, in the afternoons, after class we set up at safe distanced tables outside in the fresh air, PHBGTU teachers and volunteers spent time with the children. It is a good chance for students to practice their English outside the classroom. In an informal setting we help the students with their homework. Our teachers show support and have positive interactions with the children. When students feel supported, they are more likely to trust their teacher, engage in the learning process and have better academic outcomes.
We want to be close to the students who have to live at school as, living away from their family for much of the year, they need positive role model, support, and someone they can trust. Our teachers believe it is crucial to build a rapport with the students and these relationships are more even important — and more challenging — than ever in uncertain times, like during this coronavirus pandemic.
In mid July Government schools were closed. Over 200 residential children remained living at school, where they are safe. However, they would be bored with nothing to do, so their PHBGTU teachers organized English Enrichment Classes. In the mornings we provide fun outdoor English sessions for small groups of students split according to their age. We set up fun engaging activities with a small number of children: between 5 and 10, in each group. This direct contact with their English teachers every day allows children to grasp and master their English skills faster.
With schools still closed, in August, as well as giving homework sheets, our teachers started Online Learning. This is important for the children living in the village who were missing interaction with their teachers and classmates and who could only revise topics, not learn new subjects. These are the first ever online classes for students attending Kamala School and we are hugely proud of the research and extra work our teachers have done to make them such a success.
PHBGTU teachers are now teaching English, Mathematics in English and Science in English online lessons for Primary Year groups 1 to 6. Those students able to log on are excited to be learning with their teachers and classmates again. The teachers are thankful to be able to move on to new topics, explaining new concepts to the children and seeking their feedback. After class the students send photos of their class and homework to their teacher via LINE groups.
Not all children living in Kamala village are able to join online classes. However, we are delighted to have seen an average of 68% of the village students logging in as their parents have, or are able to borrow, devices and wifi. We are researching how many families need support to get online. Should online learning need to continue next term, we will put out a call in the wider community for second hand devices and lend them to students in need.
We will continue to do all we can to ensure the disruption of the children's education due to COVID is as minimal as possible.