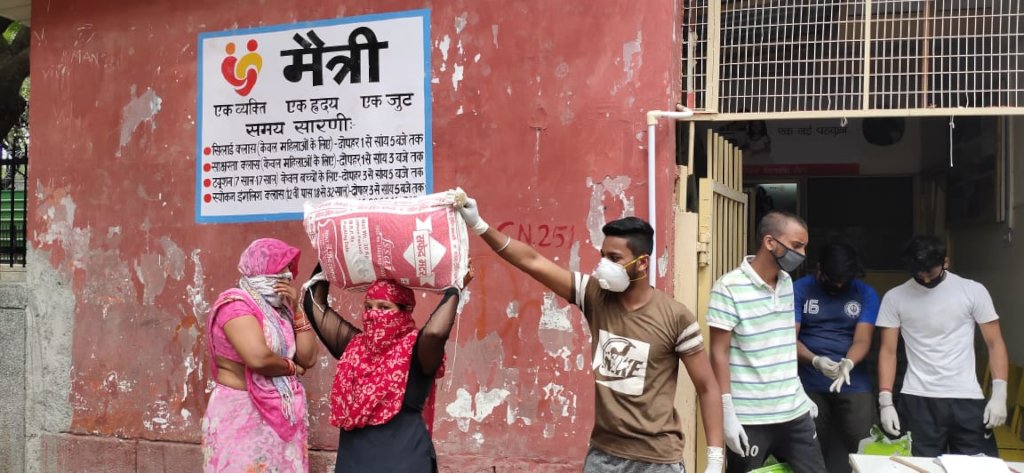 Dear Maitri Friend,
The Covid-19 pandemic has led to a heavy lock down in Delhi with all schools shut since March 22 2020. During this time of crisis, our Afterschool Programme for underprivileged children and vocational centre (Stitching and tailoring classes) remains closed. However, we have reached out to families and communities of our students. With the state of emergency and lock-down their parents have lost any opportunity to earn any money. Their abilities to earn a basic living and feed their families has been compromised.
The communities consist of a mixed population of migrant workers, domestic workers, labourers, daily wage earners, and others who heavily rely on informal sector. Our efforts were to support the most vulnerable families, who are stuck with no jobs & food and are hit hardest by the pandemic. The unprecedented cycles of lockdown have disrupted their lives. They lived through their small savings and by borrowing money and raw essentials. But as the lockdown extended, they exhausted all their resources and means.
With the help of our staff members, and support from our donor, we were able to distribute dry rations to 225 families. One ration kit consists of: 10 kg rice, 10 kg atta, 2 kg dal, 2ltr oil, 1 kg salt, 1 kg sugar, Mirchi, haldi, & Sanitary pads. We distributed rations kits to families of children we work with along with other vulnerable families identified by staff and community members. All items were procured and delivered at Maitri's community centre and the families were informed. The teachers and volunteers proactively ensured that everyone maintained distance and the distribution went smooth. Two Police officials were present during the distribution. The ration kits have brought a huge respite to all the families. However, there are a greater number of people who are still seeking support.
We sincerely hope you and your loved ones are staying safe and healthy during these unprecedented times. We won't let the most vulnerable among us be side-lined during this time of crisis , but we need your support. Now, more than ever, our community needs us and we need you. We hope we will overcome this traumatic period together, and reopen our learning programme.