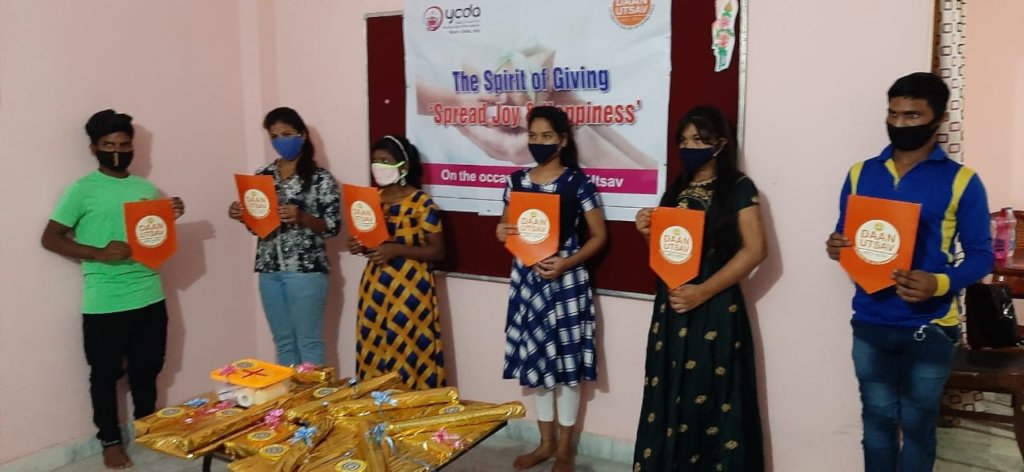 AfterCare Support during COVID 19 Pandemic and its Impacts

Aftercare is a measure for rehabilitation and social reintegration of young adults who leave institutional childcare system on attaining certain age, as specified in law. This system is based on the premise that children going out from child care institutions (CCIs) are vulnerable to unemployment, psychological stress, physical and mental illness, homelessness and dependency, in view of the absence of family or dependable adults who can act as a pillar of support. The process of their transition from protected institutional care to independent adulthood and life thereafter may derail.
Seen in above light, aftercare can be termed as a preparatory stage for young adults during which they are provided financial support, training in skills, handholding for career development, counseling for managing emotions and such other measures that contribute to the process of their social mainstreaming.
During the last quarter, YCDA has focussed on the After Care services which have been provided through a Group Housing system and independent living through which it has been provided Education, health, employment and training like vocational skill for self sustainable.
During the last quarter the following activities have been conducted:
Round table meeting on aftercare
Motivational camp & career planning for aftercare Young Adult
Psycho social counselling Support
Rapid Assessment for the critical support to the aftercare children /care leavers during COVID 19 and critical support
Annual review meeting of the care leavers
Skill Linkages & Job Placement
Round Table Meeting on After Care:
Looking into the COVID 19 situation in the country YCDA Resource centre in collaboration with District Child Protection Units was organized different Round Table meetings on Aftercare taking different stakeholders like DCPU, CCIs and technical institutes. Different issues were discussed and decided that the children living in the child care institution and completed their 18 years of age needs to identify and prepare their career planning. The DCPOs has shared the Context and narrated that Children leaving the institutional care are struggling in their life. Most of them are jobless and unable to meet their basic needs. Basically these adults are in more vulnerable condition during COVID19. Then Program Manager, YCDA delivered his view and presented the process and steps to promote aftercare programme and its importance. Mr. Pradhan clarified the role and responsibility of the stakeholders for mainstreaming the care leavers through the aftercare support and needs of the DCPU team to make it successful
Motivational Camp & Carrer Planning for the Aftercare children
Particularly the career aspirations and realistically matching personal interests and abilities with job opportunities are big challenges for children living in the child care institution, even more so for those living long run in institutional care. Many of them have no interest on job or education and are often busy ensuring their own and their subsistence. They tend to know little about their own personal interests and abilities and lack clarity about what they want to be and do in the future. In many cases, they tend towards unrealistic expectations and objectives and a lack of knowledge about the work-related needs and opportunities around them. The education careers and academic development of some youth are disrupted because of various reasons. The career guidance is absolutely requires to respond to these needs and help youth to define their path their lives, in particular during their transition from institutional life to independent life, or from job insecurity to continued education.
So looking to the need of the hour , YCDA Resource centre was organized virtual motivational camps/career plannings for the young youths living in the child care institutions Around 130 nos of young youths and pre aftercare needs children are participated across two districts .
The session was taken by Trainer, NIAM educational Foundation, DDUGKY on the scope and opportunity of technical/Vocational education. He emphasizes the importance of vocational education in current days. He thoroughly explained the trades are available in DDUGKY and in his institute with eligibility criteria, course duration and placement opportunity of vocational education. Apart from this trade they are also providing soft skill training to the children. After children got admission in their institute, they are responsible to provide employment opportunity. Stipend facility also available for the on job trainees. He advised the children to show their hidden quality and work hard to maintain a successful life through some group activities. The Senior Programme Manager, YCDA. During his session he encouraged the young adults to set their career plan through motivation, qualification, skills, ability, strengths and the scope and opportunity available for them soon after leaving the child care institutions. He facilitated his session through some exercise and group activity and how to set their individual goal before identify the career opportunity. He emphasizes the importance of timeline for the young adults. He also advised to create a role model through their own skills and set the Goal accordingly. He also orients the young adults on differences between general education and the technical education and the advantages of technical education for institutional children. He defined that to get the skill based job one has to complete the vocational training where in general education one has to go for several steps to get the employment.
Career planning session was facilitated by The DCPO, Sundergarh. He encouraged the children to take vocational education or technical education for their early employment.CCI representative along with YCDA will counseled the 16+ children to find out their interest and support accordingly for after care. Around 100 aftercare eligible children have been benefited and prepared their career planning
Rapid Assessment of aftercare children /care leavers during COVID 19 and critical support
Looking into the COVID-19 Pandemic and the numerous crisis that the world is going through , YCDA performed a quick assessment taking 100 young adults from the care leavers association to map the situation of the young care leavers who have left an alternate care arrangement and belong to the age group of 18-21 years. This document is the first rapid assessment report in a series which gives a clear picture the current situation of care leavers in States of Odisha. The report walks the journey of care leavers to understand the challenges they face and offer solutions for improvising the outcomes of care leavers in Odisha. Although few young adults have been reintegrated but their living conditions are something which needs attention.
With higher rates of unemployment the graph of financial breakdown goes parallels. The newly employed ones may also feel the heat of economic disruptions. After the COVID outbreak the youths were found to be more likely than prime-age individuals to experience higher unemployment and underemployment rates. Hence, the young adults who have lost their jobs during the COVID and facing the financial crisis should get appropriate support. Employable opportunity should be explored based on their need, interest and skills. The youth who are deprived of their entitlements such as their identity should be more focused up on so that they can be linked with the existing Govt social security schemes. The care leavers continuing their study should be encouraged, explored and facilitated with means of online studies. Providing counseling in this regard is of utmost importance. Their psychological needs are to be determined and support be provided with available resources to avoid any uncanny situations
Looking into the situation YCDA Resource centre has been provided critical support to the care leavers and aftercare children who have been losing their jobs during the COVID 19.Arround 75 numbers of care leavers have been benefited and access the critical support for their food, shelter and travel to reach to their home town from their destination point .During the lockdown situation different mobile sets were provided to the aftercare children for their on line classes.
Annual review meeting of Care Leavers
Looking to the COVID 19 situation in the country YCDA Resource centre, was organized an Annual Governing Body Meeting of Odisha Care Leavers Association (OCLA) on August 2020 through in virtual mode. Almost 25 participants were participated including all the governing body members of OCLA and given their valuable suggestion for the growth of OCLA in coming days. The President of OCLA for further carried out the meeting. He discussed the following points during the meeting:
Presentation on progress of Odisha Care Leavers Association (OCLA)
Internal Governance, financial allocation and budgeting
Future planning, Suggestion and opinion
Open house discussion
Way forward
Psychosocial Counselling Support
Looking into the pandemic situation YCDA resource centre organized the psychosocial counseling programme for the aftercare children and it was facilitated by the experts from Basic Need India(BNI).This programme could supported to the issue of the mental health and depression among the aftercare children. Around 65 aftercare children and care leavers have been joined in the programme and learnt the aspects to reduce their depression, and anxiety. Time to time YCDA staffs are visiting & providing counseling to the Young adult and engage the Young adults in Paper cutting , Crafting, making Hand bag etc.
Skill Linkages & Job placement for mainstreaming in the society
During this quarter , we received 10 Nos. of aftercare orders from Child Welfare Committees (CWC) for the aftercare support. In course of time both Counseling and psychosocial support is being provided to all the adults as when required and those coming to the aftercare folder. 5 Nos of adults were enrolled in ITI with different trades and one adult has been enrolled for home nursing. YCDA also has done advocacy for their job placement for 2 adults and they are going to join in the month of November 2020. YCDA Facilitates to support for getting Aadhaar Card and bank accounts of 4 adults and also provided 5 numbers of smart phones to the aftercare adults for their online classes.
Support to a Young Adult

A Young adult of aged 19 years, who has lost his father during his childhood several years ago, is staying with his single mother. His mother is working as a House keeping staff in a small company and having two other siblings. After the death of his father it was too difficult for his mother to manage the family with her low income. So, his mother placed the children in Child Welfare Committee (CWC) for seeking institutional care. As per the order of CWC, The Young Adult was referred to a Child Care Institution (CCIs) for further care and Protection when he was just 9 years of old. From that day onwards that CCI became home for him and now he has completed his 10th class examination with 40%. But now he is 18 years of adult and as per the JJ Act guideline he was referred to Youth Council for Development Alternatives (YCDA) by Child Welfare Committee (CWC) for the aftercare support.
After several round of counseling sessions & doing carrier interest mapping. It was noticed that he has interested in technical Vocational education. Looking to his best interest he was applied & got admission in IT Smart city trade at Govt. ITI collage, Bhubaneswar with the Support of Youth Council for Development Alternatives (YCDA).Now, He is very happy that he started his skill education in technical trade for employment opportunities.
Thank You GlobalGiving & Supporters to make a better life....