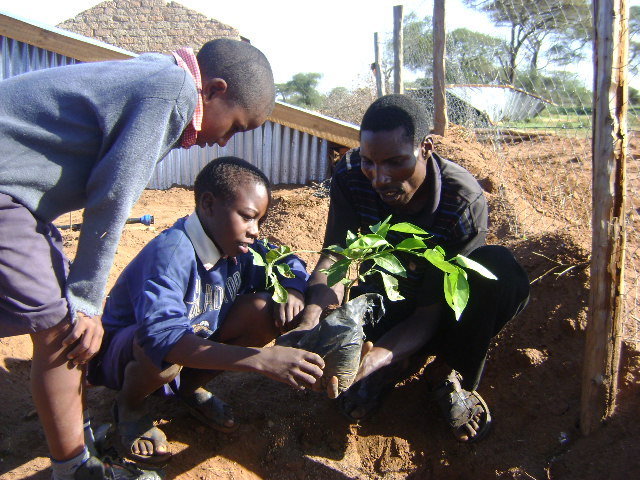 "The climate has changed and it is not as easy to grow crops and vegetables as it used to be. Therefore, it is fantastic that ActionAid is supporting us….we are learning farming techniques that makes it possible for us to adapt to the dryer and harsher climate."
Cecilia Mwangi, 60, of Kenya, is one of over 13 million people who were affected by the severe and persistent drought that started across the Horn of Africa last year. When it became apparent that the rains across much of East Africa would not be enough to sustain the crops and livestock that comprise the food economies of the region, organizations like ActionAid ramped up their activities and partnerships to reach as many people as possible with lifesaving food, water, and medicine. But the work doesn't end there.
Cecilia participates in ActionAid's Food for Asset program by working at the Kambi Sheikh farm project, one of over 28,000 participants building community-owned assets in exchange for staple foods.
The droughts, conflict, and high food prices that caused the 2011 food crisis and famine have not gone away. Over 9.1 million people in Djibouti, Ethiopia, Kenya, and Somalia are still in need of humanitarian assistance.
"Before, I planted crops and they dried out on my own farm. Now I can grow crops even when the rain is not enough."
"I managed to sow just before we got some rains 3 months ago. If it keeps improving, I believe that I will be able to cope without the relief food we receive at some point."
The goal is simple: find long-term solutions to long-term rain shortages.
Not (too) far away, students at the Matuiku Primary School are enjoying the benefits of two recently completed water projects: the construction of separate latrines for boys and girls, and the completion of a water tank stand for a new rainwater harvesting tank for drinking, eating, and school activities.
Mr. Ronald Kamadi, the Kenya Rainwater Association Technical Assistant who constructed the latrines and water tank stand, says this project has already had a dramatic impact on the lives of students at Matuiku Primary School:
"The headteacher of Matuiku Primary School told me that the project has had a very positive impact on the school and community so far. Absenteeism has gone down, and he believes this is because the children are suffering less from water-borne diseases such as diarrhea. He has also noted an improvement in the assertiveness of girl pupils in class, which he attributes to them feeling more comfortable in the school environment (due to the improved latrines) and to feeling less tired as they no longer have to walk a long way to collect water."
"There is still a need to improve the nutrition of the children. Future donations will be used to construct a farm pond to supply water to the school vegetable garden, which will improve the school feeding programme. Funds will also be used to upgrade the capacity of the existing 10,000-litre tank, as there is a growing need for water for drinking, handwashing and cleaning."
The Kenya Rainwater Association would like to thank the generous donors of GlobalGiving UK for the £581 grant which is helping to make these plans a reality.
We here at GlobalGiving would also like to thank you. Thank you for your generous contribution to the Horn of Africa Drought and Famine Relief Fund in support of the people who found themselves in dire need last year. Please remember, though, that this year's rains are still delayed, and over 9.1 million people are still in need of assistance. Would you consider giving again? Your donation will support programs such as emergency feeding programs, medicine for the sick, and training and support for life-sustaining rainwater harvesting and climate adaptive farming techniques.
Warmly,
Mattie Ressler