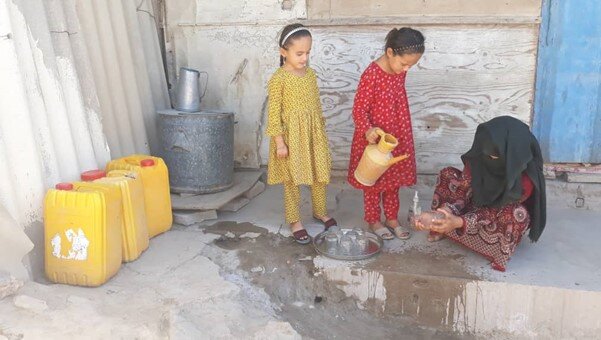 The generosity of our supporters is truly making a difference for families in Afghanistan. In 2021, HALO teams in Afghanistan cleared 26,041,881 square meters of land across 24 provinces, making land safe for nearly 800,000 Afghans by destroying 134,021 landmines and explosive items and 443 abandoned IEDs. We could not do this life-saving work without our supporters at GlobalGiving – thank you!
Many families living in Afghanistan rely on farming, but landmines make this very risky. Agha, a village chief in Afghanistan told us, 'We cannot plant our wheat. We cannot feed our families. The land should feed us, but it is killing us.'
Clearance of these deadly explosives not only saves lives, but it also transforms communities.
Ahmad* and his wife live in Balkh province with their three daughters and two sons. Ahmad spoke to us about what life was like before HALO cleared the land in his village.
Ahmad: 'Our neighbor had a guest from Kabul visiting. He went out together with some other boys and they found an unexploded mortar while they were playing. They tried to open it up, and unfortunately, the mortar exploded. One of the boys died and the two other boys got serious injuries. I will never forget that bad accident.
We are thankful to HALO Trust for clearance of contaminated areas and for providing information regarding the dangers of unexploded mines and ammunition… we [now] collect firewood and sell the firewood in the market. HALO Trust has provided the opportunity for us to get all the benefits.'
When asked who benefits from the land that has been cleared, Ahmad emphasized that all residents – men, women, boys, and girls – benefit from the cleared land.
Ahmad: 'People established firms in the area and use the area for grazing and for gathering firewood and bushes. Most of the people sell the firewood and bushes for their livelihood. All of the residents use the area equally. The women mostly keep sheep, cows, and chicken. Everyone uses the cleared areas.'
Ahmad's biggest hope is that others across Afghanistan will also benefit from clearance.
Ahmad: 'We hope that all the districts of Afghanistan will become free of mines and any other dangerous materials, as our district did.'
*Names have been changed to protect identity