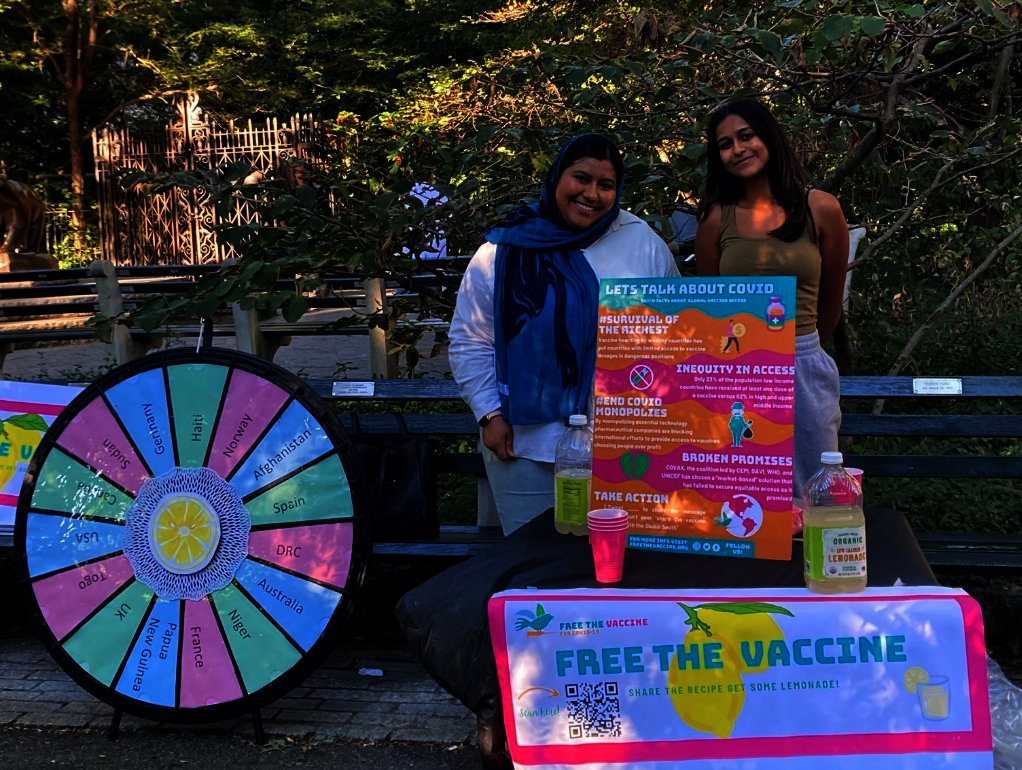 Sharing a brief update on our Free the Vaccine for COVID-19 campaign for globally accessible Covid vaccines and treatments.
Our Free the Vaccine campaign Season five took place during the Summer of 2022, bringing together a team of global, experienced activists to design actions around the UN General Assembly in September 2022. We held two calls weekly with participants to brainstorm, design, and plan as well as weekly organizer calls with leadership to guide the team. We worked with two overarching goals: to make COVID-19 tests, treatments, and vaccines, sustainably priced, available to all, and free at the point of delivery and to grow the access to medicines movement.
But to get there, let's take it back to the beginning. As of July 2022: 51% of people in high income countries had access to COVID-19 vaccines; as did 31% of people in upper-middle income countries; 14% of people in lower-middle income countries, and just 1% of people in low income countries. Vaccine inequity is running rampant, even as high income countries like the United States boldly proclaim that the "pandemic is over."
We began our season by learning about the ongoing inequities in vaccine access, and left the season's participants with a key question:
SO WHAT ARE WE GONNA DO ABOUT IT?
That's where our Free the Vaccine missions come in. Each week, our participants meet to complete a mission - one week the mission is to make a message, the next week it might be to design a flyer.
Three actions were planned and executed. Firstly, our lemonade stand was an in-person interactive and engaging action to educate the public and spread awareness of vaccine apartheid. We set up a lemonade stand offering a chance at free lemonade. Participants spun a wheel with different countries, and they would receive or not receive lemonade based on what country they landed in. This mimicked global vaccine access or lack thereof in different countries. We did two iterations of this action on September 23 and September 24, and we were successful in engaging the public. Secondly, we designed a Wordle ("We Don't Talk About Covid") graphic to be projected onto a building in New York City in a high-trafficked area. We recruited a projection team to help us successfully execute this action on September 21st. Lastly, we are in the process of creating a parody video of the popular song from Encanto ("We Don't Talk About Bruno") named "We Don't Talk About Covid."
We have had a busy summer of actions and the fight for global health equity continues.
Onward!
Links: