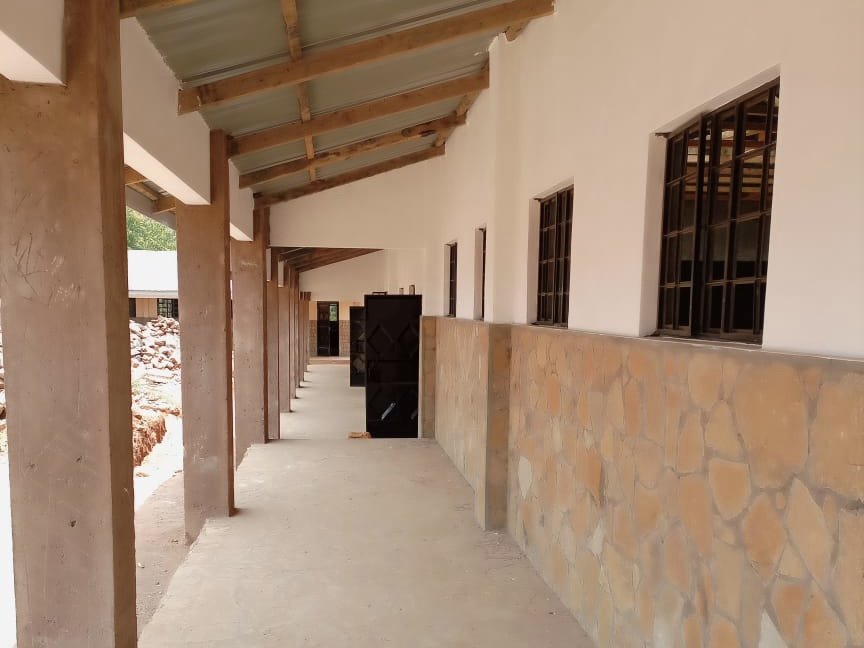 The latest phase of our redevelopment of Mkamenyi Primary is nearing completion, with work due to commence almost immediately on the next.
We had hoped to have this current phase - which includes a block of three classrooms and a block of twelve toilets - finished before schools reopened at full capacity in January but we've been setback by various problems including supply issues with materials as well as challenges excavating the waste pit for the toilets.
We have however been able to deliver a first batch of 150 new desks and chairs and also to complete the second fix electrical works in the new staffroom and offices, which will be in use once schools reopen in May after the school holidays which began this week.
With only six of the eight year-groups due to return after the holidays and schools not operating at full capacity again until the end of July, we have a window of four months to undertake work that would otherwise cause disruption to school operations. We will be using this opportunity to demolish an existing block of twin-classrooms, which we will replace with a new block of three.
Simultaneously we hope to be able to supply another batch of 150 desks and chairs which would mean that all upper primary pupils have their own desk and chair.
Before the end of the year we also hope to complete construction of a further (and final) two classrooms, another block of toilets, and to at least begin construction of the kitchen and dining hall.
We are particularly grateful to the Ratanben Zaverchand Kara (RZK) Foundation, who have provided funding for much of the furniture supplied to date and for the triple classroom block we are due to begin work on shortly, as well as a pledge of funding for the kitchen and dining hall.
Our immediate fundraising priorities include a further £6,000 for the next batch of 150 desks, as well as circa £25,000 for the final two classrooms and the second block of toilets.
*****
"We thank you very much for the support you have given and are still giving us at Mkamenyi Primary. We do not know where we would have been, especially in these Covid days, were it not for your all-round support."
Joseph Maganga, teacher
*****
You are receiving this report because you currently donate to or have previously donated to this project via GlobalGiving or have registered to receive updates (for example, when voting for us in GlobalGiving competitions). If you no longer wish to receive these updates please click 'Unsubscribe' below. Please note that this will not unsubscribe you from receiving mailings directly from African Promise if you currently receive these.

*****