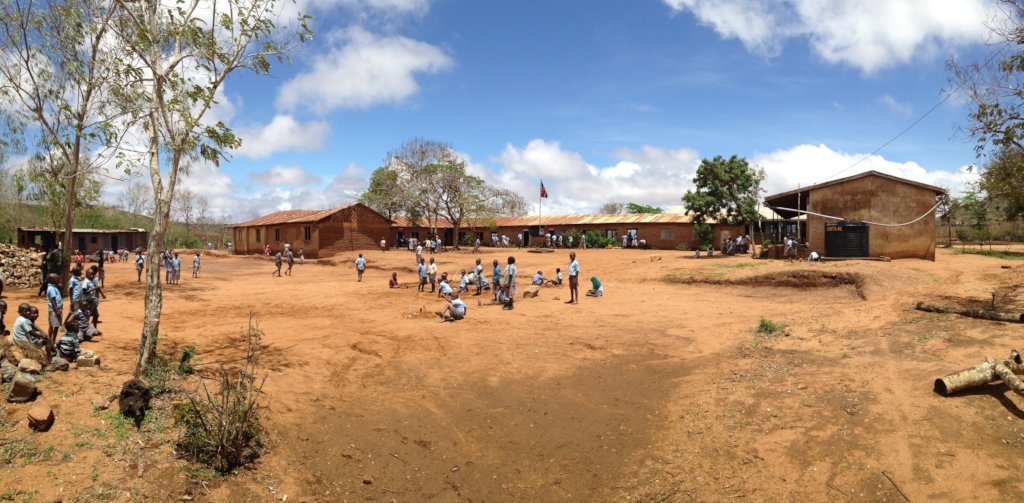 It's a year this week since we broke ground on our redevelopment of Mkamenyi Primary School and what fantastic progress we've made in that time, despite the challenges presented by Covid.
The school now has five spacious new learning spaces, a large staffroom plus four private offices, as well as a gated entranceway, a pair of modern toilets for staff, and 40,000 litres of rainwater storage capacity; all completed at a cost of approximately £60,000.
Last month we began construction of three further classrooms as well as a block of twelve toilets, which we hope to have complete before children are due to return to school in January 2021. The new toilets will double the number of sanitation facilities at the school and halve the current 1:40 ratio of toilets per pupil!
Looking ahead, we have prioritised the supply of new classroom furniture as this is an area that was already a major problem even before Covid came into our lives. In these Covid-times, ensuring children have access to their own desk and chair (or, at worst, share a desk with just one other pupil) is critically important. Ideally we would like to at least furnish the eight new classrooms that we have built/are building before the scheduled reopening of schools in January but we will only be able to do this if we are successful in raising at least £20,000 before the end of the year.
Beyond that there is still approximately 50% of building work to complete including yet further classrooms, an upgrade of the existing pre-school, a kitchen and dining hall, and further pupil toilets and washrooms, as well as installation of at least 60,000 litres more rainwater harvesting and storage capacity, major electrical works and landscaping.
However we are well on course to have the project largely completed within the two-year timeframe that we set ourselves before we began.