Welcome New York Times Readers!
GlobalGiving.org is a non-profit website that connects you with a million little-earth changing ideas that offer solutions to some of the world's biggest problems. We've been recommended by Pulitzer Prize-winning New York Times journalist Nicholas Kristof as a "comprehensive site" for "do-it-yourself foreign aid" in several of his articles. GlobalGiving was also featured as a way to provide women with opportunities to end suffering in his best selling book Half the Sky.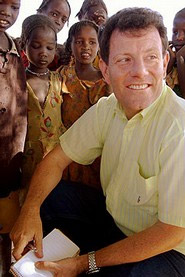 "Another approach is to browse a comprehensive site like Global Giving, where organizations around the world have posted their wish lists. On Global Giving, my family has donated, for example, to an aid group in Bombay, India, that keeps at-risk girls from being trafficked into brothels. For Father's Day last year, I suggested that instead of giving Dad another necktie, people sponsor a "HeroRat" through GlobalGiving. HeroRats are trained rats that sniff out landmines or TB cases, and what father wouldn't want to be associated with a super-macho super-achieving super-altruistic oversized rat? The column raised more than $150,000, and last I heard the rats had detected 594 landmines in Mozambique.
-- Nicholas Kristof, New York Times
GlobalGiving is highly rated on Charity Navigator. Since 2002, GlobalGiving has raised $409,228,557 from 929,534 donors who have supported 23,585 projects.
Ready to start making an impact? Here are some projects that Kristof has recommended: