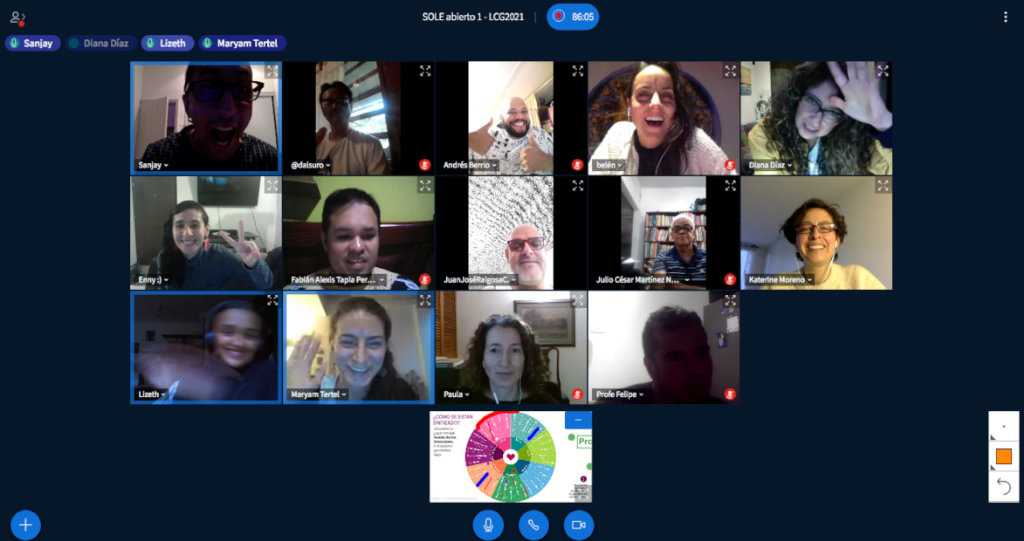 At SOLE Colombia we believe in the power of self-organization to learn, dialogue and make decisions together. We raised approximately one million pesos (just over 300 USD) thanks to our LittleByLittle campaign in March with the purpose of co-creating, with the already growing SOLE Colombia Community of educators, librarians, volunteers and citizens, a self-organised decentralized project to undertake immediate collective action towards the challenges children and youth are facing due to pandemic and rising violence spreading throughout the country.
We knew that many heads are better than one, so we gathered our most active members of the SOLE Colombia Community, Ambassadors and Grannies, in a set of virtual Cocktails and asynchronous conversation to decide what to do with the money raised. Parallel to this we also held 6 open SOLE Sessions with teachers, students, principals, parents and organizations to discuss what the new school during and after the pandemic should be. Many ideas emerged from this discussion to inspire what actions to undertake.
We used these ideas in our latest Cocktail at the end of july. We not only thanked them for their commitment, their optimism, their resilience but admired the great heart they have shown in this last year to continue living together and enthusiastically undertaking in the SOLE ecosystem. We know that, without them, the great changes we long for could not be possible.
With this background weencouraged them to propose alternatives to put that beautiful million pesos to use… Isn't that a nice figure? A million of something always sounds like being able to do great things!
And how many great things we heard in this meeting...
Paula, one of our Grannies from the Granny Cloud in Spanish, shared that her boyfriend revealed something dear to her: when you have to start something new, you need to align your hearts first. Reactivate primary motivation, the one that prompted us to participate in the first place.
Yhon Iván, one of our SOLE Ambassadors, said that by keeping true to the core values , we can do the same, but in a different way ... it is not necessary to reinvent ourselves, but to sustain our core principles.
So, how to find a common place for these two ideas that impacted us in the conversation? Ideas began to emerge ...
The great impact that children have suffered, with virtuality, which in Colombia is so precarious, is evident. More than half of the country has little or no connectivity and, the half that can connect, has a shortage of devices: sometimes children have to wait for parents to arrive from work to use their mobile to connect to their school sites , or it is through whatsapp that their teachers manage to get the contents to them. Many times, they have to share the device among several siblings, relatives or people living in the same house. ...
At SOLE Colombia we have computers that were donated by organizations with which we have worked with. People from our Community and other organizations could have more devices idle.
So... What if we change the day to day of a few children? Isn't that what SOLE Colombia and our supporters wanted from the beginning? Isn't it what aligned our hearts in the first place?
Big changes take place through small steps. So there we have it: we can use LittleByLittle's money to ship those computers into the hands of a few children who can change their own way of learning, their siblings', other cohabiting children, and even their neighbors and other children from their environments. They can become agents of change NOW!
The next steps, which we are already taking, are:
Get those little ones who will be the recipients of this new magic wand, in some way they can be the next generation of SOLE Ambassadors
Establish contact with Servientrega, one of the most important courier companies in the country, where Yhon Iván can negotiate a preferential rate for our organization.
Maybe there could be more computers that we can send? let's do it! we are going to look for more organizations that want to donate their equipment. Do you have one to share?
And right now we are, through Loomio, our decision-making platform, establishing, together, the next steps to follow. That is how you do a lot with little. With 1 million pesos we could get over 100 idle devices to 100 children all over the country.
This story is about to have a denouement, don't miss it :)