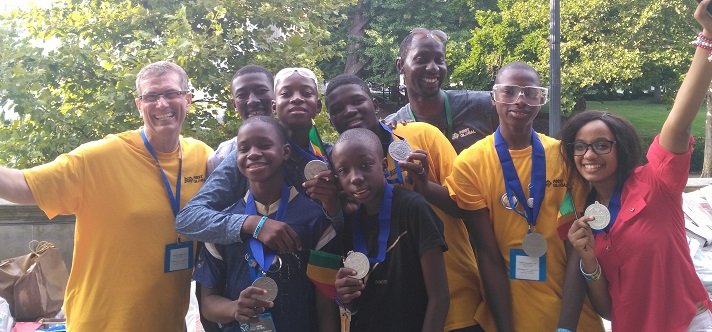 Dear Supporters of Team Mali at FIRST Global,
As you probably know, 7 young Malians in Washington, DC, along with 3 additional teammates back in Bamako, accomplished the stupendous feat of winning a silver medal in their very first participation in an international robotics competition against a field of 157 countries. Thanks to your support we were able to take good care of the kids in Washington - they ate well, took in some sites and had a magical stay where their only concern was how to pilot "The Eagle" robot to victory.
The entire country was estatic with the success of their young people. The Minister of Higher Education greeted us as we got off the plane from DC, a news flash went out on national television followed by a coverage of a ceremony of honor for the Team. We were congratulated by the US ambassador to Mali at the embassy a few weeks ago and by the President of Mali at the Presidential Palace last week. The team conducted a training in robotics for the top students in Mali's national middle school and high school brought to Bamako from all the regions of the country.
A real movement has started here in Mali. Our slogan throughout the training was that we were going to show the world that Malian youth have talent. The kids did that, and much more. They showed Malians themselves that their youth have talent and capacity equal to any nation in the world and that despite the great obstacles the country faces Malians can do great things on a world class standard. This is not an insignificant lesson that the kids offered to their country. Every day when I read about Africa in the US press I feel so saddened by all the negativism. If I believed half of what I read I would have given up a long time ago. This effect is shown by the tiny number of you that stood up to help, that believed in what the kids were trying to do and believed that they could do it - it could have been hundreds or even thousands but it was just a handful, a very precious handful.
It will take time. The Malian government and the Malian people recognize the importance of this effort to their country and what we started will grow and strengthen. The same is true in many of the other African countries that participated in FIRST Global. The young people that have been formed by this experience will be a force for growth in Mali - the world will eventually take notice ... but whether they do or not the transformation here has already started.
Please enjoy the videos from Malian national television (with subtitles) I've posted on YouTube recounting the triumph of Team Mali.
Report from Washington, DC https://youtu.be/wrgNN3Pf7SA
Victory Celebration https://youtu.be/1N9Y4fUba0g
Michael Leventhal / Coach Team Mali / textscience@gmail.com