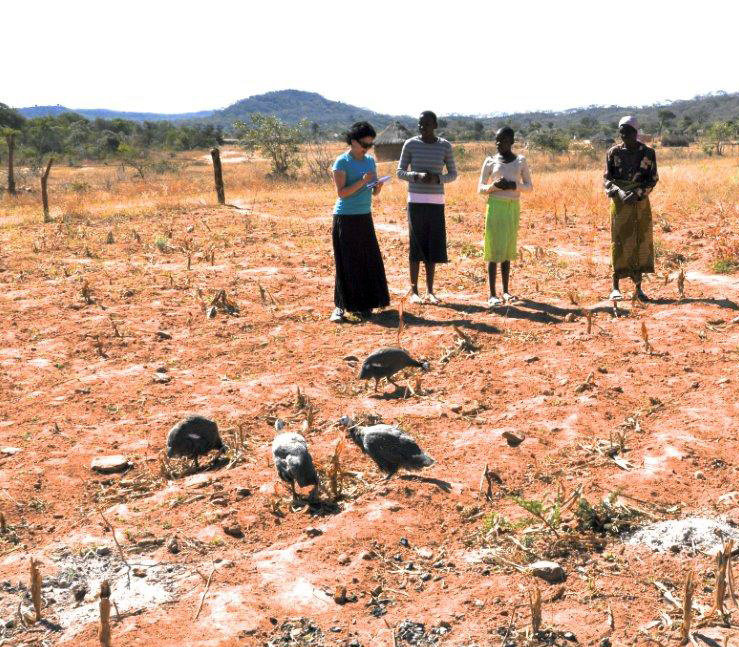 I met Violet last summer during my annual visit to all our projects. A sweet, shy 17 year old, Violet is the eldest of three sisters and she lives with them and her sickly mother. AFCA has gifted violet and her sisters with some guinea fowl a couple of months ago and I wanted to see how they and she were doing. When I arrived at their hut, I couldn't stop staring at the incredibly dry "garden" they had hoed and prepared for the seeds we promised them.
It was obvious that they had worked hard under the Zimbabwean sun, but without rain, it seemed impossible for those seeds to do more than die. They attended trainings on conservation farming and determined to grow veggies with little water, they dug holes and planted their seeds. To their total amazement, their garden started producing and they now have added tomatoes, kale, onions, spinach and carrots to their diets. With guinea fowl eggs to add protein to their meals, the girls and mom have seen a difference in their health and strength, too.
Violet, still shy and sweet, dreams of becoming a lawyer and is currently doing her advanced level couses at the local school. She often has to spend the night with relatives in town because the 2 hours walk to school each day is grueling. But, she is a determined young lady whom I am honored to know. I wish you could meet her! Actually, if you want to, you would be welcome to, of course.
AFCA takes volunteer teams to Uganda, Kenya, Nepal and Zimbabwe, with 30 going with me to Zimbabwe this summer. If you are interested in ever being part of something like this, please email me at tweaver@AFCAids.org or check out our Vacation with a Purpose pages at www.AFCAids.org. And, sign up for our e-newsletter! That way, you'll stay informed of projects we're working on and how the kids in our programs are doing.
For now, know you have touched the lives of Violet and her family, as well as the lives of so very many other children. You are amazing and we appreciate your generosity. Violet certainly does!