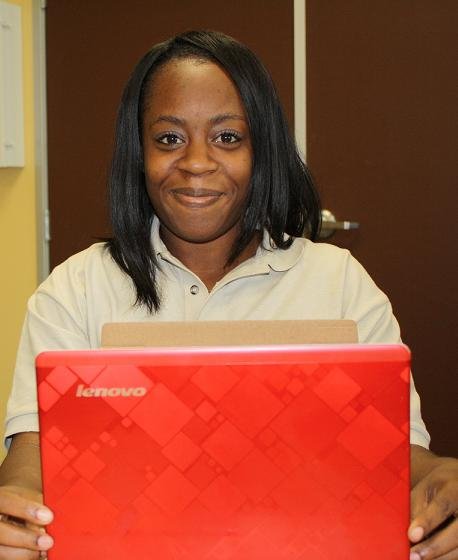 Your generous donations helped jumpstart Domineisha's nursing career. Her project is fully funded thanks to your support! Domineisha is very excited to begin an internship early next year with full confidence her financial needs will be met while she dedicates her skills to college classes and a rewarding internship. She is happy to report she recently moved her family to a safer apartment and obtained a living wage job at the Los Angeles International Airport. Domineisha Edwards is a 2013 Russell Kantor Scholarship recipient. Her inspiring story is featured in the Microsoft Youth Spark blog http://blogs.technet.com/b/microsoftupblog/archive/2013/06/11/give-for-youth-domineisha.aspx
This month Suphatra Laviolette, Digital Marketing Manager for Microsoft Corporate Citizenship & Public Affairs, visited the LA Corps from Seattle with photographer Mike Kane to write an article for Microsoft's YouthSpark blog as a follow up to the Give For Youth online fundraising campaign. During the photo shoot, Domineisha visited the Los Angeles Conservation Corps to retrace the positive experiences she gained while being an LA Conservation Corps member. She reconnected with her former supervisors and co-workers at the Sea Laboratory in Redondo Beach and the Transition program. Suphatra and Mike learned more about our programs and services and had the opportunity to meet with Young Adult Corps participants and scholarship recipients to find out how the LA Corps has impacted their lives. Domineisha received a laptop computer, just in time for the new school year!
Microsoft YouthSpark is a companywide initiative designed to create opportunities for hundreds of millions of youth around the world. Look out for the follow-up blog article at the end of September, when YouthSpark celebrates its one year anniversary.
Thank you for your continued support!
Viki Goto and Roxana Aguilar