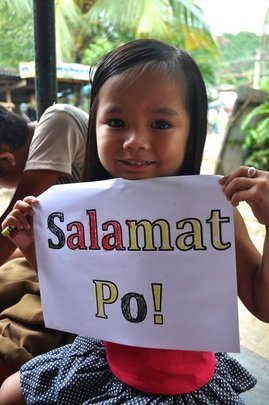 Thanks so much for providing hot meals for evacuees like for Felisa.
Felisa is sixty-eight years old She lives with her daughter, son-in-law and three grandchildren in a poorly constructed house dangerously close to a river in the community of Banaba, just outside Manila, in the Philippines.
Every year there are floods, and Felisa's house is often inundated, including just a few months ago. Even when the water recedes a thick layer of disease carrying silt is left behind and takes days to clean.
During floods Felisa and her family have to spend days sleeping on the floor of an evacuation centre. This is a traumatic experience already, and it's made worse as Felisa and her family often have to go hungry.
Yet now, because of your generosity, we'll be able to provide hot food for Felisa and her family during evacuations.
Hot meals will be available when the next flood forces Felisa and her family to leave their home. Evacuation will never be easy for Felisa, but your generosity means that she and her family won't go hungry. Thanks so much!
We'll send you updates about how your gift is changing the lives of Felisa, her family and other families like theirs right here on GlobalGiving.
Should you ever have any questions about how we're using your donation, please don't hesitate to email Andy@IDVolunteers.org. We'd love to hear from you!
One last time, thanks so much for ensuring that Felisa and her family can enjoy hot meals during floods.