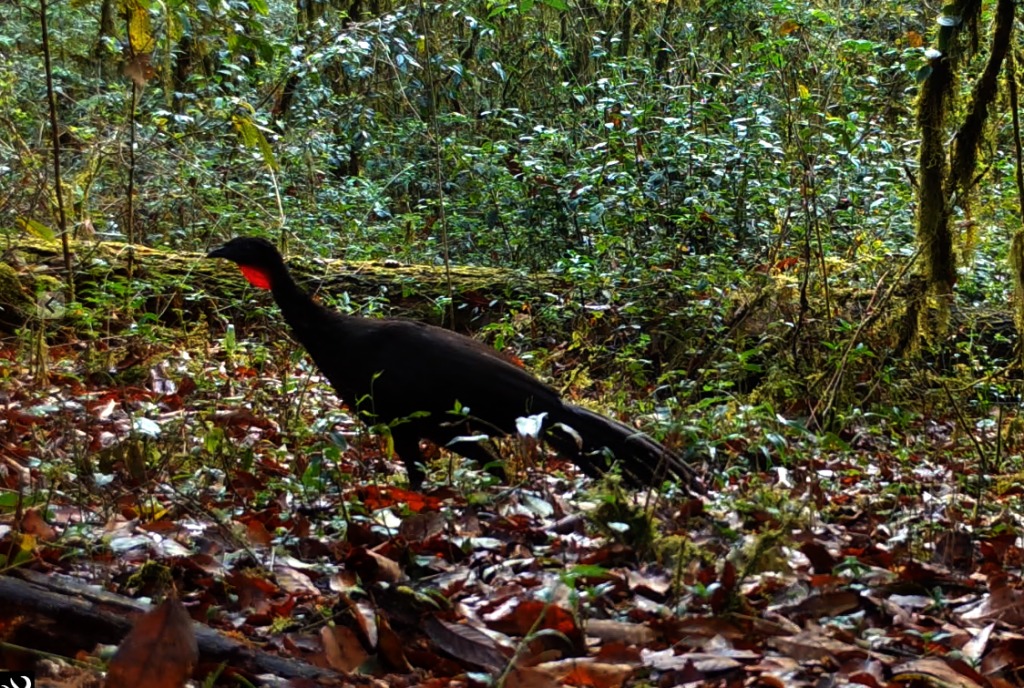 English
With the sixth mass extinction underway, eliminating species, ecosystems, and life on our planet at a rate 10,000 times the natural rate of extinction, it is always a pleasure to bear witness to the wildlife present in the Sierra Gorda. The reserves that we protect are without a doubt islands for jaguars, pacas, and tayras offering safety from the influence of humans, in a relationship where wildlife always loses. Immediately outside of some of the reserves, illegal logging happens in the absence of authorities applying environmental laws. The effects are there for all to see, with lumber being taken in a wasteful way offering little benefit. It is a vicious cycle that unfortunately still is widespread in the region.
During this period, we did the work of maintaining and constructing new fences with metal posts and barbed wire, to keep the neighbor's cattle out. With the current drought and lack of fodder in the neighboring lands, the cattle are obviously attracted to the reserves and their vegetation. For this we got additional workers who worked long days, given the long distances traveled to get to the reserves, and for their weathering the ticks- that no one is immune from. They also carried these materials, with the help of a donkey to the site. We are grateful for their work. They left the forests better shielded from threats.

We visited "Hoya Verde" or the Green Jewel Reserve, the site of a 2019 fire, which burned pine-oak forests, to see how they were recuperating. Although it will take many more years for a full recuperation, the forests are healing and new trees are growing.
To document the presence and wellbeing of our beneficiaries, in this case, the wildlife, we placed the 2 cameras bought with donations to the micro-campaign on GlobalGiving. In their first mission, they registered various species like pumas, margays, crested guan, paca, coatimundi, tayra, skunks, and javelinas, which demonstrate that these forests are alive and kicking. Without a doubt, the reserves serve as spaces where fauna find refuge. We add to that the adjacent properties where the property owners are part of our project, in which they receive payment for the CO2 capture done by their forests. This helps us achieve forest connectivity and biological corridors for wildlife. It is our pleasure to share some of these first images and we are extremely thankful to the people that generously contributed to this program.
Español
Con la sexta ola de extinción masiva barriendo a especies, ecosistemas y la vida en nuestro planeta con una tasa 10,000 veces más letal que la natural, siempre es un gusto constatar que la Sierra Gorda sigue latiendo. Y que las reservas que protegemos son sin duda islas de vida donde de jaguars a tepezcuintle o tayras, ofrecen resguardo en un paisaje bajo mayor o menor presión de nuestra especie, pero donde siempre la vida silvestre pierde. En varias de ellas, apenas cruzando su límite la tala ilegal sigue haciendo de las suyas, aprovechando el vacío de la autoridad y aplicación de la normatividad ambiental, por lo que con todo cinismo y de manera pública los bosques están siendo degradados y la madera aprovechada con desperdicio y escaso beneficio. Un círculo vicioso desgraciadamente aún muy extendido en la región.
Asimismo, en este periodo nos dimos a la tarea de construir y dar mantenimiento a nuevos cercados con alambre de púa y postes metálicos, para mantener fuera al ganado de los vecinos, que con la presente sequía y falta de forraje en los predios vecinos obviamente son atraídos a las reservas y su vegetación. Para esto contratamos a trabajadores adicionales, a quienes estamos sumamente agradecidos por su esfuerzo, largas jornadas dada la lejanía de las reservas, la abundancia de las garrapatas de las que nadie se salva, acarrear los materiales (incluida una burrita que colaboró en ello) y haber dejado así blindadas a esos bosques. Por otro lado, realizamos recorrido de evaluación al área donde el incendio del 2019 dejó calcinados a los bosques de pino-encino de la Hoya Verde, constatando que, aunque lentamente las heridas del bosque se van sanando y nuevos árboles crecen. Su completa recuperación tomará años sin duda.
Para documentar a la presencia y bienestar de nuestros beneficiarios, en este caso a la fauna silvestre, las 2 cámaras donadas por GlobalGiving iniciaron con el pie derecho, pues apenas en su primera vez colocadas en una de las reservas, registraron a varias especies, como pumas, margays, pavas cojolita, paca, coatí, tayra, zorrillo, jabalinas, lo que demuestra que esos bosques siguen vivos y funcionales. Sin duda las reservas sirven como espacios donde la fauna encuentra refugio seguro, a lo que sumamos los predios de propietarios colindantes que están comprendidos en nuestro proyecto de pago por captura y almacenamiento de CO2, con lo que se asegura la conectividad forestal y buscamos proteger al gran corredor biológico del que forman parte las reservas. Nos complace compartir algunas de las imágenes y extendemos nuestro completo agradecimiento a las personas que generosamente aportaron con sus donaciones.