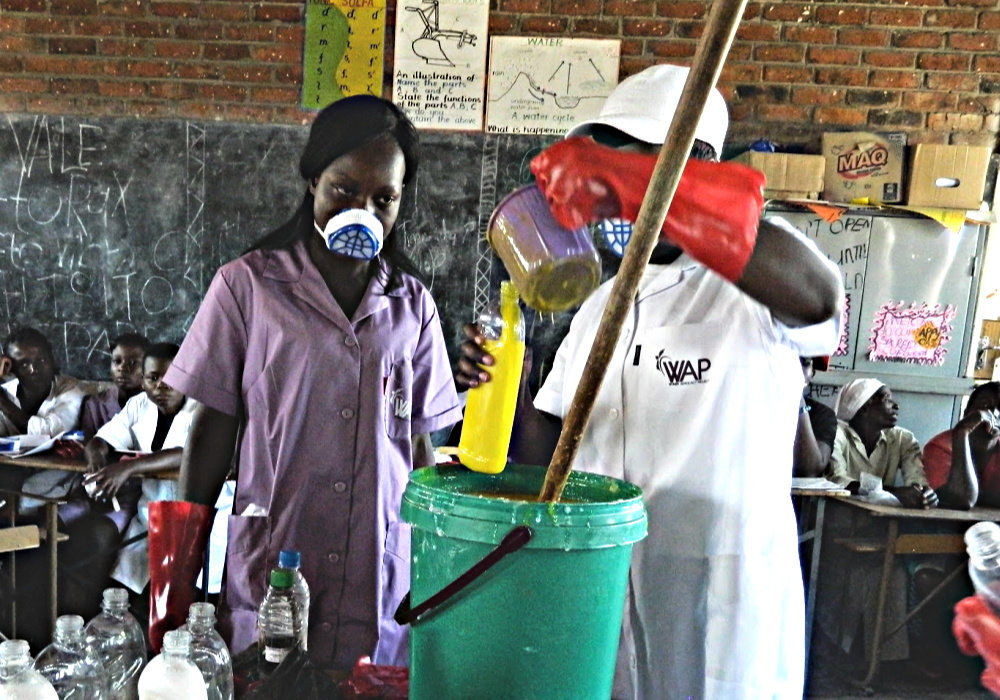 This report is being sent to everyone who has supported the work of our partner in Zimbabwe, the Women Advocacy Project (WAP). So far, 36 donors have given $4,131. Thank you!
As we have pointed out in our previous report, one third of all girls in Zimbabwe marry under the age of 18, in violation of the law and at great risk to their health. WAP's director, Constance, is determined to put an end to this, and she has selected several dynamic young women to serve as "girl ambassadors" against child marriage. Each ambassador is responsible for managing a club where girls learn about reproductive health and the risks of early marriage. Their efforts seem to be paying off: not one of the 150 participants has married since the trainings began last year.
Poverty is one of the driving forces behind early marriage, and early in September WAP launched a soap training program for 30 girls in the community of Chitungwiza. The goal was to provide their families with an economic incentive to resist the pressure to marry. Using your donations and a grant from Germany, WAP hired a professional trainer, Mr Paul, and purchased protective clothing, equipment, and material. The girls provided a snappy brand name for their soap – "Clean Girl." Two ambassadors – Evelyn from Chitungwiza and Trish from Epworth – coordinated the training.
Over the past month, Mr Paul has given weekly trainings at the house of a WAP friend, as shown in the photo. Some of the girls, who have dropped out of school, have told WAP that they will use anything they may earn to enroll again.
Clean Girl is household soap and not of a particularly high quality. But these are early days and the program is off to a quick start. The trainees produced 180 liters during the first month. Each girl was asked to find 10 recycled bottles (most of which were provided by Pepsi) and this saved some money. In the end, each half-kilo bottle of soap sold for about $1.50.
This will not be enough to cover the production costs and produce a decent income after the donations run out, but that lies in the future. WAP's priority at present is to lay a strong foundation by improving the quality of soap and putting an efficient and transparent process in place. The soap is sold by five confident girls who take the bottles to local "Tuck Shops" and make their sales pitch. Like any good businesswomen, they keep invoices and hand the money over to WAP for safe-keeping. (Banks charge $20 a month, which is beyond WAP's means for the time being.) AP will visit in November and offer suggestions.
Meanwhile, on a separate but related note, we have been asked by the UN Population Fund (UNFPA) to exhibit advocacy quilts at a major international conference in Nairobi next month. The Conference (ICPD25) will mark the 25-year anniversary of the ground-breaking 1994 Cairo meeting on population and development.
Early marriage will be on the agenda, and we have commissioned a quilt on child marriage from the girls of WAP. Their embroidered squares are powerful, as you can see from the photos. One, by Kundai, shows an orphan girl being forced by her guardian to marry an old man to pay off the cost of her upbringing. The other squares are equally graphic. Constance will attend the conference and use the quilt to publicize WAP's work before an international audience.
Much of this success is due to the effforts of our two Peace Fellows who have worked at WAP - Alex (2018) and McLane (2019). This past summer McLane put up with endless power cuts and breakdowns to raise over $1,500, write proposals and coordinate the making of the embroidered squares. Like Alex she showed that graduate students can be extraordinarily effective at launching innovative startups for social change.
We'll have more news from the Nairobi conference and the soap-making in Harare in our next report!
In gratitude
Iain and the AP team.