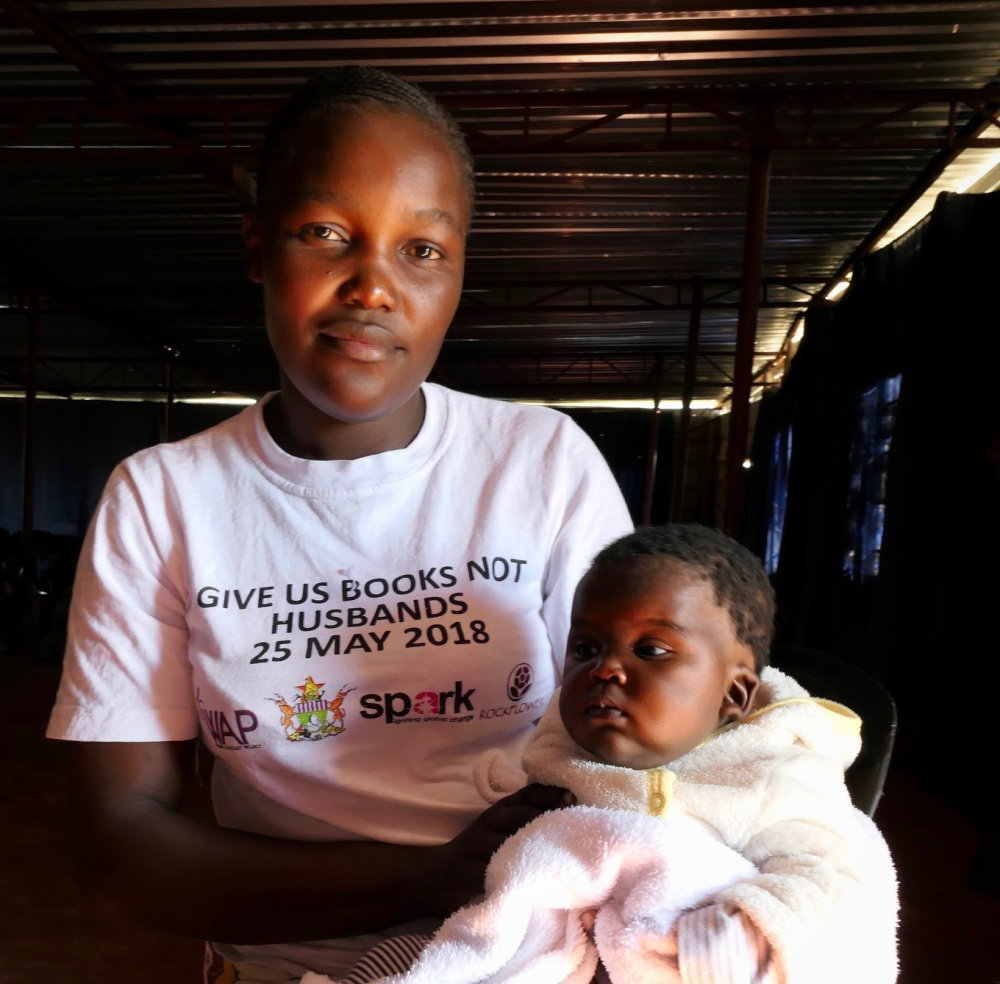 This report is being sent to friends who have donated to our two appeals on GlobalGiving on behalf of girls in Zimbabwe. The funds have been used by the Women Advocacy Project (WAP) in Zimbabwe and The Advocacy Project (AP) in Washington to test out a new pilot project to end child marriage. Up to this point, 18 generous individuals have donated $2,146 to the appeals – thank you!
WAP was launched in 2012 by Constance, an advocate for women's rights in Zimbabwe who is well known for her opposition to early and child marriage. According to UNICEF 32% of all girls in Zimbabwe marry before their eighteenth birthdays. As we explain below, this causes enormous misery and distress.
Last summer, WAP asked us to send a Peace Fellow to help develop a new campaign. We selected Alexandra, a student at The School of International and Public Affairs, Columbia University. Alex had worked at Human Rights Watch and was an expert on child marriage, but her fellowship was anything but easy. Zimbabwe was in the middle of an election campaign, and was suffering from a severe economic crisis after years of isolation.
In spite of this, Alex and her hosts at WAP travelled widely and met with 136 women and girls, many of whom were profiled by Alex in excellent blogs and strong photos. By the end of the summer, WAP had come up with a completely new approach, which AP is happy to support. We have recruited another impressive graduate student – McLane from the Fletcher School at Tufts – to serve as a Peace Fellow at WAP this year.
The Challenge
Child marriage is by no means limited to the Global South. In the United States, no fewer than 167,000 girls under the age of 17 married between 2000 and 2010, and 49 states currently allow child marriage.
The law in Zimbabwe, in contrast, is explicit and uncompromising – no marriage below the age of 18. Unfortunately, as WAP and Alex found during their field trips last year, the law is not being enforced.
WAP has zeroed in on four main reasons.
First, many girls lack any understanding of reproductive health. One UN study found that only 4% of the girls between 10 and 19 understand pregnancy. This can have tragic results. Timotenda, from the neighborhood of Hopley, found out that she was pregnant at the age of 16 and was forced to marry her boyfriend after she was thrown out of the house by her father. Pregnancy at such an early age puts an end to school and poses severe medical risks.
The second driver of child marriage is poverty. Zimbabwe's economy is in a freefall and 85% of the population is out of work. In this context, marriage seems to offer protection and security, particularly to young women like Anaisha, who married at the age of 17 after both of her parents died. Another young woman who talked to WAP, Sara, took up sex work to pay the bills.
The third cause of early marriage is cultural practices like Kuripa Ngozi, which allows families to offer their daughters in marriage to pay off debts.
Finally, there is religion. The Apostolic Church in Zimbabwe (also known as the White Garment church after its distinctive white robes) is powerful. As Alex wrote in one powerful blog, the church has also been accused of encouraging child marriage. WAP met one young woman, Rudo, whose father had six wives and 26 children: "My father was praying with the White Garment Church. That is the culture. When you are growing in the church, you have many wives to bring in more followers."
The Response
WAP's response to this multifaceted crisis centers around four tough-minded girls who serve as "ambassadors" against child marriage. If Constance has learned one thing it is that girls are the most effective advocates against child marriage. Her four ambassadors - Evelyn, Yeukai, Trish and Ashley - certainly have what it takes. Trish, 18, used to live in a village and had a boyfriend, but that has stopped: "When I moved here (to Harare) my Auntie grabbed me by the ears and warned me off boys saying, 'this is Harare.' Now I have no boyfriend."
The four ambassadors are seen in the photo below with Constance from WAP and McLane, our 2019 Peace Fellow. Each girl manages a girl's club for up to 40 other girls who meet each Saturday to discuss reproductive health, hand out sanitary pads and address other practical concerns. The ambassadors have also used these meetings to identify around 20 girls who are at risk from marriage, and Constance is now planning to intervene with their families. WAP hopes to halt at least 10 marriages by the end of this year. The good news is that not one of the 150 girls who have been attending clubs since last December have got married.
WAP is also offering an economic incentive in the form of soap-making. All-purpose soap sells well in Zimbabwe but the cost of materials is high and it requires specialized training. The first training will take place in Epworth for the four ambassadors and 26 vulnerable girls. WAP has set a target of 2,000 bars by the end of the year.
The final component in this imaginative program will be advocacy quilting. Helped by our Peace Fellow McLane, twelve girls will describe child marriage through embroidered squares which will be brought to the US, assembled by an expert American quilter, and used by WAP's international friends to promote WAP's work abroad.
With your help, and grants from donors like the Rockflower Foundation which is dedicated to empowering community-based advocacy, WAP has laid the foundation for a bold new model. We'll report back to you at the end of the summer and hope to show some impressive results by the end of the year.
Thank you once again!
Constance, Iain and the WAP/AP teams.