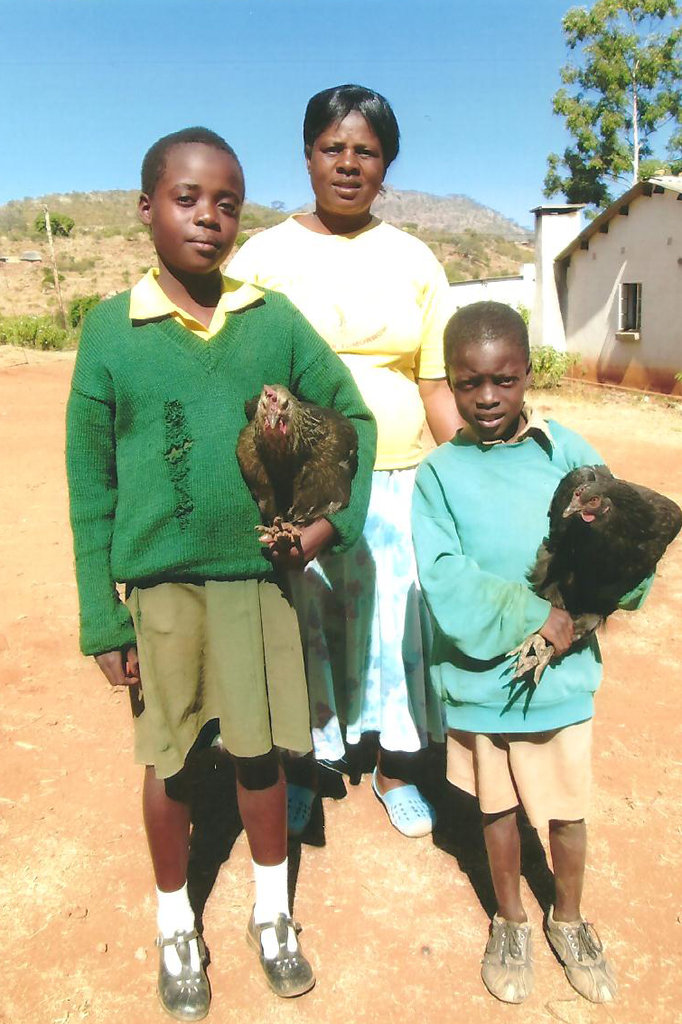 When we set out to give children the opportunity to get out of poverty through training and the provision of animals and seeds, it was a dream. Then, one family at a time, we saw changes happening. Now, over 682 families have benefitted from this project and I'd like to introduce you to two of them:
Anesu is a ten year old girl from Biriri, Zimbabwe, in the Chimanimani district. Anesu's mother died when she was four years old and her father died when she was eight years old, leaving her with a severely disabled sister to care for. Thankfully, a 78 year old well wisher, Mrs Muchinapo, took them into her home and took care of them. Mrs. Muchinapo is very old and is not gainfully employed but she loves the girls and does the best she can for them. She heard about our program and registered. The community voted and she was added to the waiting list. She attended trainings on husbandry and gardening and waited until her time came to be called to receive her animals.
Little Anesu says that losing both parents was very harsh and the most painful thing in her life. She was pretty despondent and hopeless, something a 10 year old should never be. She said, "I thought the whole world hated me and my sister. I did not think there was anything that would make me happy again until the coordinator who helps with the AFCA livestock project said my family qualified and that we would receive chickens. We were given four hens and a rooster!! We are very happy and the chickens have already started laying eggs. With four hens and three already laying eggs, the challenge of shortage of food and the school fees problems will soon be a thing of the past".
In the same area of Zimbabwe, Biriri, there is a young boy names Morelife Rwangu. He is eight years old and his father died in 2006 when Morelife was only one year old. His mother passed away in 2009. Morelife and his younger brother were left without any elderly guardian until Cecilia Mukono, a 79 year old lady took the two boys in. The family was given four chickens and a rooster, as well, and two hens already have seven mature offspring each. The other two hens are laying eggs, too - some for the family to eat and some to allow to grow up. Morelife says he is very happy with the chicken project. While they have had a lot of challenges in the past, he feels the project is the right answer to these challenges. He also had this to say:
"The eggs are very nice. I love the taste of them! We no longer have problems with not having enough food. The manure is also accumulating well and we have already started using it in our vegetable plots. I feel someone, somewhere cares and loves us by giving us such special gifts. We will continue to look after the chickens well because we want a large flock that can help support us."