To Engage Youth, Show Them The Possibility Of A Brighter Future
Find out how a youth engagement leader in Nepal connected hundreds of young people to volunteerism after a 7.8-magnitude earthquake struck their home.
---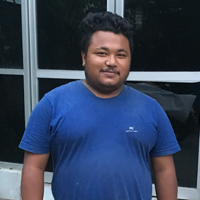 Bipin Kumar Shrestha
Program Officer
Who He Is:
Bipin Kumar Shrestha is a program officer at Environmental Camps for Conservation Awareness (ECCA). Established in 1987, ECCA promotes conservation in Nepal through social mobilization and community development. Bipin is a graduate student of social work at Tribhuvan University in Kathmandu, and he's helped hundreds of young people across Nepal get involved in ECCA's mission. To date, ECCA has trained more than 6,000 professional volunteers, called counselors. Currently, more than 100 counselors are actively involved in its projects and campaigns.
Q: Why is youth engagement important to ECCA?
A: From the beginning of ECCA, young people have played key roles in the sector of community development and conservation. Letting them learn from experts and putting their own effort in improving different aspects of the community can help create a better path for them as future leaders of the country. To be better leaders, young people must also gain experiences, increase their professionalism, and gain field experience.
Involving young people in community development work will motivate them to be innovative, which will help develop Nepalese communities in a sustainable way.
Q: After the earthquakes struck Nepal in 2015, how did you engage young people in earthquake relief and long term recovery efforts?
A: During the time of earthquake, there was high probability of occurrence of waterborne diseases. For its prevention, ECCA firstly involved youths on production and distribution of chlorine solution in earthquake-affected districts. More than 300 counselors—the term we use for trained youth volunteers— were trained on life skills and trauma services. They were assigned to schools of earthquake-affected districts, where they organized trainings, which proved to be a huge relief for earthquake-affected victims. They were additionally involved in managing health camps and distributing relief materials, including tarps, safety kits, food, tent, medicine, clothes, and blankets. Young people also conducted baseline surveys in field. Based on the information collected, ECCA developed projects on long term recovery, including water sanitation projects and climate change education. Youths from Kathmandu Valley and various rural areas are presently involved in different earthquake-affected areas to conduct awareness program and complete construction of school buildings, toilets, hand washing stations, drinking water stations, and water tanks.
Q: How does ECCA motivate young people to get involved in its mission?
A: Here are some tactics that work for ECCA:
Give priority to youth ideas and implement them in target areas.
Create a friendly environment for youth.
Incentivize youth involvement with a reward system and a small monetary compensation for involvement in key activities. Every year, on the anniversary of ECCA, ECCA rewards 10 top "Counselors of the Year" and one counselor as "Best Counselor of the Year." It is a way to motivate young Nepalese to get and stay involved in community work.
Q: What advice do you have for nonprofit leaders who are struggling to involve young people in their work?
A: Most of the youths in Nepal are going abroad hoping for a better future, which means they did not see their future being better in their own country. If nonprofit leaders can make these youths aware of the possibility of a better future by being involved in community development, it will be easier to involve young people.