API Explained: This Technology Will Transform Your Company's Charitable Giving
As GlobalGiving's newest Business Partnerships Fellow, one of the most frequent questions I get from companies is: "What is an API, and how can I use it to power my charitable giving?" I needed to understand how GlobalGiving uses its free API to power charitable apps and websites for companies around the world. So, I turned to GlobalGiving's Chief Product Officer, Kevin Conroy, for answers.
---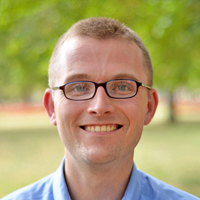 Kevin Conroy
Chief Product Officer
Who He Is:
Kevin leads GlobalGiving's product team, a talented group of programmers, system administrators, designers, communicators, and marketers that work tirelessly to improve the GlobalGiving website. Before joining GlobalGiving, Kevin designed next-generation television user interfaces and did research for a major consulting company until he realized his skills were being wasted on things that weren't making the world a better place. Kevin is a member of CTOs for Good and graduated from the University of Maryland, College Park with a B.S. in Computer Science with Honors and a B.A. in Economics.
Q: Kevin, what is an API?
A: API is an acronym. It stands for Application Programming Interface, which is a method for letting a program work with another app or website. For example, with GlobalGiving's API, you can seamlessly build giving experiences directly into your app or website for your stakeholders and connect them with thousands of vetted organizations and projects around the globe.
Q: How do companies around the world use GlobalGiving's API?
A: As the original nonprofit crowdfunding platform, GlobalGiving has an extensive community of vetted global nonprofits and a trusted donation platform. Companies have customers and employees who want to give to a good cause, but they often don't want their customers and employees to have to become familiar with another platform or leave their own website. Companies can use GlobalGiving's free charity API to access our portfolio of more than 3,000 projects in 160+ countries, including the United States, and put choice in their users' hands. Our API allows you to include great causes and content in your user interface, and even allows for donation processing, meaning users can select and give to a charity directly through a company's website or app, and we'll handle the rest.
Q: So, an API is similar in some ways to a website widget or plug-in?
A: Yes. It enables any website to display charitable projects by country, region, and theme, for purposes as varied as birthday celebrations and earthquake response.
Q: How does the GlobalGiving API enable credit card donations?
A: We built our API upon Braintree's extensive credit card payment solutions so that you can leverage Braintree's robust hosted payment architecture while still flowing funds to charitable causes in 160 countries. This means you don't have to worry about the complex details of PCI compliance or IRS regulations for charitable donations.
Q: How have companies used GlobalGiving's Charity API?
A: It's always better to show, rather than tell. Here are some ways innovative companies have used this technology:
API By Country or Region
JustGiving.com, a UK fundraising website, incorporates GlobalGiving's UK-eligible project portfolio. And SDGfunders, a project of the Foundation Center, integrates projects that align with each of the Sustainable Development Goals into its philanthropy platform.
API By Theme
ChimeforChange.org, a program founded by Gucci, Beyonce, and Salma Hayek, uses our API to allow visitors to see, fund, and read updates on projects designed to improve the lives of women and girls globally.
API For Employee Giving
Benevity provides companies with a one-stop shop for global employee engagement, featuring all international organizations vetted by GlobalGiving. They handle the user interface; we handle the global disbursements.
API For Cause Marketing
The Guestbook lets customers donate 5 percent of their purchase to the charity of their choice.
API For Celebrations
Heartful.ly allows users to fundraise in honor of a special occasion with charitable wedding registries and birthday fundraising pages. By integrating with our API, they are able to incorporate even more projects around the world.
API For Disaster Response
KizunaCranes.com was an engaging site designed to raise funds for the Japan earthquake relief efforts in 2011.
Q: Those examples are so exciting! My cousin works for an interior design boutique and her team wants to give back. How might they implement a charity API on their website?
A: There are so many possibilities. If they offer gift registries, they could add charitable gift options with our API. They can give back to communities who make or buy their products by processing donations with each purchase. They could start a loyalty program where they reward customers with gift cards redeemed on their own website.
Q: Everybody loves lists. In closing, can you share a short list of ways a company could use our free API?
A: With the GlobalGiving API, you can:
1. Get a current list of all projects on GlobalGiving
2. Display information about specific projects listed on GlobalGiving by theme or another criteria of your choosing
3. Send GlobalGiving Gift Cards
4. Enable a donation to a specific project
5. Get up-to-date progress reports from the field
Featured Photo: Bridging the Technology Gap in Denver and Kenya by Technology Partnership

Is your company interested in using the GlobalGiving API?