How To Explore The Power Of Video For Fundraising (For Under $20)
You don't need a big budget to explore the power of video in your next crowdfunding campaign. Clara Nowak of Tree Of Life For Animals (TOLFA) did it for under $20. She tells you how she used her smartphone to create a video to connect donors to urgent needs at an animal hospital.
---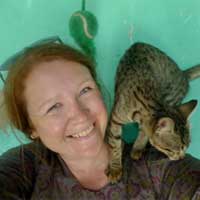 Clara Nowak
Executive Director, TOLFA
Who She Is:
Clara is Executive Director of TOLFA, a nonprofit which runs an animal hospital and shelter in Rajasthan, India. Clara first experienced TOLFA as a volunteer in 2008 and hasn't looked back. She has a passion for animal welfare and the work of small charities.
Q: What did you aim to achieve in your video?

A: We wanted to connect with the viewer by having someone at TOLFA talk directly to the camera. In this particular video, we also wanted to show a sick dog in a kennel being cared for by a member of staff. We wanted to make a video that would appeal to the emotions of the viewer and showcase our work.
Q: How did you select the subject of your video?

A: Our charity is quite small and is all about grassroots work with tangible results, so a simple, direct appeal works very well. Bunty is our head nurturer, so he spends most time giving care and extra feeding to dogs (rather than just giving medical treatments). But there's another reason why we chose him—he's very popular with visitors and volunteers!
Q: How did you produce the video?

A: Logistically, it was not too hard to shoot and edit the video. A volunteer filmed Bunty on their phone in India and the footage was shared via a social media app we downloaded for sharing pics and videos. I then downloaded the video clips and used a video-making website to edit it together. Don't be scared to just do it yourself and with the resources you have available. Our video was filmed and shared over mobile and edited at home on a laptop. The rough edges are part of the appeal.
Q: How did you share the video with your donors?

A: Most volunteers work alongside Bunty when they're at the animal hospital, so we knew that ex-volunteers would be more likely to comment on and share a video with him in it—as they would be keen to say 'Oh Bunty, I know him, I worked with him.' It gives familiarity and credibility to our charity. The day before we released the clip on social media, we shared a couple of short 'outtake' clips as a teaser for the main video. Stick to a very simple phrase or hashtag that can be used to sum up the campaign. Find the simplest fact about what you want to achieve and repeat it consistently. Ours was "27 kennels can save up to 500 dogs a year."