How 17 Companies Are Tackling Sustainable Development Goals
The Sustainable Development Goals offer a bright vision for the future. But without the private sector, they'll certainly fail. See how 17 companies are setting 17 SDG strategies.
---
Introduced as part of the 2030 Agenda for Sustainable Development, the Sustainable Development Goals aim to wipe out extreme poverty, fight inequality, and tackle climate change. But UN Secretary-General Ban Ki-moon has framed the SDGs not as a lofty vision, but as a practical opportunity for companies to deliver global solutions.
"The case is clear. Realizing the Sustainable Development Goals will improve the environment for doing business and building markets," he said at a forum last year.
Companies in a wide array of industries have already embraced Sustainable Development Goals. If your company hasn't, you should consider whether and how to support an SDG that aligns with your core activities.
It isn't just about philanthropy, or corporate social responsibility. It's smart business. Consumers and employees expect companies to be authentic, transparent, and responsive to community needs.
"The brands that have not yet caught on to this, and are not thinking about how they will embed environmental and social sustainability within their business model, will not be around in the next 50 years," Chief Marketing Officer of Unilever Keith Weed wrote in The Guardian.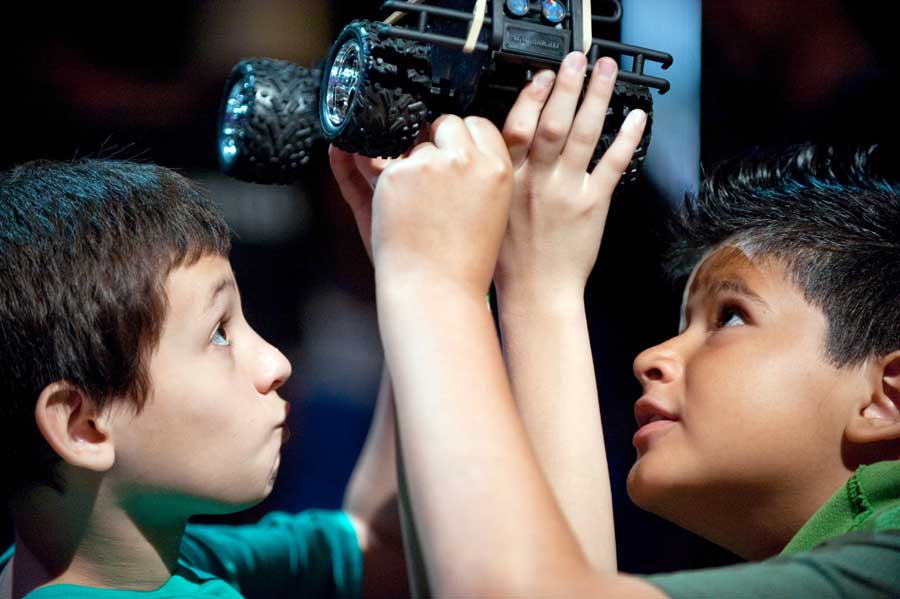 Provide Hands-On Learning for Underserved Students by The Tech Museum of Innovation
If your company is struggling to define its role in achieving SDGs, there are a few steps you can take to get started. Try surveying your employees and customers to see what's most important to them. They have invaluable insights about what's happening in the communities where they live and work, and they're your most visible brand ambassadors.
Online tools can also help you map out a custom plan. Check out the SDG Indicator Wizard to match keywords in your company's mission statement with SDG goals, or the SDG Compass, which includes a free inventory of tools that will help your company align its strategies with the SDGs. GlobalGiving also maintains a chart of Sustainable Development Goals, which comes with a list of vetted nonprofits that are SDG-focused and in need of corporate support.
Still searching for inspiration? Here is a list of 17 SDGs and 17 companies that are doing their part to make the world a better place:
1. NO POVERTY
Visa brings financial services to the underserved.
2. ZERO HUNGER
General Mills gives meals to local food banks.
3. GOOD HEALTH AND WELL-BEING
Kaiser Permanente invests in healthy communities.
4. QUALITY EDUCATION
LEGO funds children's play, learning, and creativity.
5. GENDER EQUALITY
Participant Media teaches students worldwide about Malala.
6. CLEAN WATER AND SANITATION
Kimberly-Clark recognizes that toilets change lives.
7. AFFORDABLE AND CLEAN ENERGY
Cummins is investing in solar power.
8. DECENT WORK AND ECONOMIC GROWTH
Microsoft YouthSpark helps young people develop computer skills.
9. INDUSTRY, INNOVATION, AND INFRASTRUCTURE
Qualcomm brings wireless technology to underserved communities.
10. REDUCED INEQUALITIES
Citi sees diversity as a source of strength.
11. SUSTAINABLE CITIES AND COMMUNITIES
Siemens celebrates communities that foster green and sustainable economic solutions.
12. RESPONSIBLE CONSUMPTION AND PRODUCTION
Nike uses recycled materials in most of its gear.
13. CLIMATE ACTION
JetBlue teaches customers and crew about climate change.
14. LIFE BELOW WATER
Discovery Channel supports clean oceans.
15. LIFE ON LAND
The North Face protects outdoor areas.
16. PEACE, JUSTICE, AND STRONG INSTITUTIONS
Airbnb helps provide refugee relief workers with places to stay.
17. PARTNERSHIPS FOR THE GOALS
TripAdvisor partners with GlobalGiving to identify and support locally-driven nonprofits with SDG-focused missions.
This article originally appeared in The Huffington Post as part of a series produced to mark the occasion of the one-year anniversary of the adoption of the Sustainable Development Goals. See all the posts in the series here.
Featured Photos: Students compete in the Tech Challenge, a hands-on learning opportunity supported by Dell and Microsoft.